Coronavirus Supply Chain Effects: What to Expect
By:

Kellie Lynch

Date:

Jan 29, 2020 4:37:02 PM

Categories:
COVID-19 is impacting cargo flows across supply chains worldwide
Reminiscent of SARS or MERS from the early 2000s, a new coronavirus is sweeping across China, sickening tens of thousands and killing over 1,000 people since being first discovered on Dec 31, 2019 in Wuhan.
To stop the spread of the virus, the governments of China and other neighboring countries have begun locking down cities, closing borders, and shutting down key transportation corridors which will have a major impact on the movement of freight into and out of the region.


In this article, we'll take a look at how the coronavirus is impacting supply chains and factories in China.
Table of Contents
Coronavirus Supply Chain Impacts At-A-Glance
Globally, more than 73,337 cases and 1,875 deaths

have been attributed

to COVID-19.

Nearly 60 million people in China have been under full or partial lockdowns to prevent the spread of infection.

For most cities, the Chinese New Year (CNY) holiday was extended to Feb 10. Some enterprises have slowly been resuming work since Feb 10, but many are working from home or still under quarantine.

Cargo is expected to stand still until late February or possibly early March.

Air travel and air cargo will be most impacted; travel bans and canceled flights will reduce available air cargo capacity.

Importers who rely on factories in China will feel the squeeze on their inventories due to the extended factory shutdown.
Impact of Coronavirus on China At Large
What makes the coronavirus particularly alarming is its timing: it started infecting people right before China's busiest travel season, with over 600 million people traveling at the same time.
"This is quite a bit different from SARS…in that it happened during the Lunar New Year just before people started traveling. This makes isolation harder, much harder," said Jon Monroe, Worldwide Logistics (WWL) supply chain expert with over 20 years in the field and our "boots on the ground" in China.

Jon Monroe, clad in a facemask, rides an empty subway in Shanghai.
If you are unfamiliar with the Lunar New Year, it is one of the biggest public holidays in China — for at least two weeks, all factories close and employees go on holiday.
Millions of people left cities where they work to return home to visit their families or travel to other countries for vacation, possibly putting all they came in contact with at-risk for infection. In fact, the mayor of Wuhan estimated that five million people left his city before the lockdown was imposed. This makes it incredibly challenging to determine the true spread of the virus.
"Consider that workers from Wuhan might go home to a place like Xian. At the same time workers from Shenzhen go to Xian. The opportunities for mass infection are endless," Monroe explained. "The timing for this type of crisis created the perfect storm."


Left: In Shanghai, few stores are open. The shelves are not entirely empty but milk, eggs, vegetables, and fruit are in high demand and it is these shelves that are often bare. Right: People lined up outside of pharmacies to get face masks as soon as they open.
Due to the outbreak, CNY was extended across all of China to contain and control the spread of the virus.
"We believe [CNY] was extended to the 9th to see what happens in Wuhan by then since the incubation period is 10 to 14 days," said Monroe.
"The economic impact in China will be larger than most people might expect. The Chinese New Year was on January 25th. But many factories started closing earlier in the week (Monday was the 20th). And some took vacation time so they could get home and back and still have time for the holiday," said Monroe.
"The key issue will be labor. And since many workers are from the areas that have extended their holiday, resumption on factory activity will be weak at best. That is if all of the workers decide to return to their jobs, which is in question. This could mean factories are not up to full strength until the end of February," explained Monroe.
"We are not expecting any real movement in product until the end of February possibly beginning of March."
Extended factory closures could make suppliers unable to fulfill orders, causing companies to draw down their inventory.
"Expect Supply Chains to be strained as product availability is limited to what is already in US warehouses," Monroe said, "In the meantime, the China Government has sequestered factory supplies of medical equipment slated for export from China to re-route to cities in China."
Factories slowly coming back online, but delays persist
Labor will be a key issue for manufacturing
Importers who rely on factories in China to produce their goods may see a prolonged impact into March as manufacturing slowly comes back online. Some cities like Shanghai, Qingdao, and Tianjin are expected to fully recover to normal around Mar 10.
Our agents on the ground in China have reported that some enterprises in big cities like Shanghai, Beijing, and Shenzhen have been gradually resuming work since Feb 10, but many laborers are working from home or still under quarantine for 14 days for observation. Hubei Province is still under lock down, mandated by the Chinese government and no one can go back to work there until the government's further notification.
North China (Beijing, Qingdao, Tianjin, Dalian)
The manufacturing and drayage recovery is relatively better than other areas in China, with further improvements expected next week.

East China (Zhejiang, Ningbo, Jiangsu, Nanjing, Shanghai)
For areas that have been heavily impacted by the virus like Wenzhou (Zhejiang), drayage is a major problem. The government has permitted some factories to resume operations, but productivity hasn't yet fully recovered due to raw materials and labor shortages.

South China (Shenzhen, Xiamen, Fuzhou)
In major cities like Shenzhen that were seriously affected by the virus, drayage is recovering very slowly. Our agents predict at least another week before the situation improves.
Impact of Coronavirus on Transportation
Drayage remains an issue due to a shortage of container drivers
The primary method for stopping the virus in China has been lockdowns and quarantines. This virtually halted most transportation across the country, especially in affected areas.
"Basically almost everything is shut down. Even on roadways, they have road stops where temperatures are taken," said Monroe.
According to our agents in China, more than 90% of the drivers at each port are non-local and most return to their hometown during CNY. Due to the virus impact, a proportion of drivers may still be confined to their hometown and the number of drivers returning to work is slowed.
The below chart shows the current terminal, manufacturing, and drayage status in China. As you can see, drayage is still a problem in many areas as there are very few providers available to pickup the freight.
Terminal
Status
Manufacturing Recovery
Drayage
Recovery
Notes

Shanghai

All Terminals Reopening

60%

35%

No trans-city/trans-province service will be allowed. Drayage cost increased around 30%.

Zhejiang (Ningbo)

All Terminals Reopening

50%

30%

No trans-city/trans-province service will be allowed. Drayage cost increased around 30%.

Jiangsu

All Terminals Reopening

50%

20%

No trans-city/trans-province service will be allowed. Drayage cost increased around 30%.

Qingdao

All Terminals Reopening

70%

30%

No trans-city/trans-province service will be allowed. Drayage cost increased around 30%.

Tianjin

All Terminals Reopening

45%

25%

No trans-city/trans-province service will be allowed. Drayage cost increased around 30%.

Dalian

All Terminals Reopening

90%

60%

No trans-city/trans-province service will be allowed. Drayage cost increased around 30%.

Shenzhen

All Terminals Reopening

50%

15%

No trans-city/trans-province service will be allowed. Drayage cost increased around 30%.

Xiamen

All Terminals Reopening

70%

35%

Most companies/factories reopened, but the employees have to work in split shifts

Fuzhou

Mawei & Jiangyin Terminals Reopening

70%

35%

Most companies/factories reopened, but the employees have to work in split shifts
Updated Feb 18, 2020 @ 2:48 PM
Impacts to drayage situation in China vary by location. Hubei is generally regarded as a forbidden area, while Zhejiang, Anhui, Henan, Hunan, Guangdong and Jiangxi are treated as restricted areas.
Road checks are being performed throughout the country. "Some inspection spots will check the driver's GPS to make sure they have not visited the seven key restricted areas in the past 14 days. As a result, the trucking companies are cautious to take business from these areas, for fear of being asked to isolate after the return trip," our agents explained.
Other drayage updates include:
Jiangsu, Zhejiang and some other regions require the temporary access license and require 2-day advance notification
Driver body temperature screenings at inspection spots: Beijing (some parts of the highway closed); Shanghai (restricted on Hubei trucks); Guangdong (restricted on Zhaoqing and Jingmen trucks); Hunan; Gansu; Liaoning; Inner Mongolia; Shanxi; Sichuan; Tianjin; Yunnan
Road Pass required for the trucks from outside provinces: Jiangsu (limited to seven restricted provinces); Zhejiang; Chongqing; Shandong; Fujian; Henan; Guangxi; Guizhou; Hebei; Heilongjiang; Xinjiang
No access allowed for trucks from outside provinces: Anhui; Jilin; Jiangxi; Shaanxi;
On Feb 12, the Ningbo port office issued measures to alleviate the current severe shortage of container drivers, including speeding up health checks and issuing health certificates for returning drivers which would exempt them from 14-day isolation.
The shortage of trucking is expected to ease by the end of February.
Impact of Coronavirus on Air Freight
Airfreight will see the hardest impact as demand for air travel to and from China falls from fears of the virus, travel restrictions, and canceled flights. More than 25,000 flights to, from or within China have been canceled, and many air freighters are scaling back their scheduled flights to China due to production shutdowns from extended CNY.
"Essentially, the extended factory shut down will cause companies to run low on inventory. While air freight may have been a quick fix for importers any other time, lack of commercial flights due to the coronavirus means that cargo aircraft will be severely overbooked," said Chris Krawczyk, UWL Vice President of National Sales. "Airlines may pull planes from the Asia market and redeploy them elsewhere, which will even further reduce capacity."
"Last time when we had SARS, almost the same situation, the biggest impact from a freight standpoint was that the airlines cut way back on flights in and out of Hong Kong and China, which meant air freighters were all full," recalled Duncan Wright, UWL President.
Indeed, travel between China and the rest of the world may soon come to a stop if mass quarantines in China don't curb the spread of the virus. On Tuesday, Jan 28, United Airlines said it will suspend some flights to China beginning on Saturday, Feb 1, because of a "significant" drop in demand, FreightWaves reported.
We'll also see an impact stateside. On Monday, Jan 27, the U.S. Centers of Disease Control and Prevention raised its travel warning to Level 3 for the entire country and urged U.S. citizens to avoid all nonessential travel to China.
The CDC also announced they will be screening travelers at 20 American airports, including Los Angeles, San Francisco, John F. Kennedy International Airport in New York, Hartsfield-Jackson Atlanta International Airport and Chicago's O'Hare International Airport to name a few. These airports receive 90% of all passengers from China.
Impact of Coronavirus on Ocean Freight & Ports
UWL Import Pricing Supervisor, Carston Cash, explains the current impact of the virus on ocean bookings.
"Our agents in China have confirmed that some bookings in February will be impacted, especially if they originate in Wuhan or close to it," he said, "Factories, truckers, and ports will be also closed until at least Feb 3."
In response to the extended holiday and virus outbreak, carriers across all major alliances have announced over 100 blank sailings. More sailings could be cancelled into mid-March and even April if the situation does not improve.
For a complete list of announced blank sailings and more information, check out our article covering the Coronavirus Impacts on Ocean Freight by clicking the button below.
Cargo types from many industries could be impacted as heavy traffic in industrial goods, raw materials and inputs flow through the affected area.
If the prevalence of the virus increases across the globe, port authorities may implement reporting and quarantine measures to guard against the spread of the disease from vessels that have previously called at infected ports or close ports altogether, which could cause delays.
What is the COVID-19 Coronavirus?
Now that you know the impacts of the coronavirus, let's go over what it is and how to protect yourself from possible infection. The novel Coronavirus (COVID-19, 2019-nCoV), which gets its "corona" name from its crown-like shape, was first reported on Nov 17, 2019, in Wuhan, China's seventh most populous city (11.08 million people).
It has been closely linked to coronaviruses found in bats and snakes, and, may have initially spread from wholesale seafood markets in the region. China has confirmed human-to-human transmission, similar to the flu, which aided its rapid spread globally.
Symptoms of the coronavirus include fever, coughing, shortness of breath, fatigue, and respiratory stress. In severe cases, it can lead to pneumonia, kidney failure, and even death. Most of the people who have died reportedly were elderly (70+) and had compromised immune systems.
The virus has a 10 to 14 day incubation period where people could be infected and contagious without showing symptoms.
Global COVID-19 Coronavirus Cases
[Click the image below to view the most up to date map]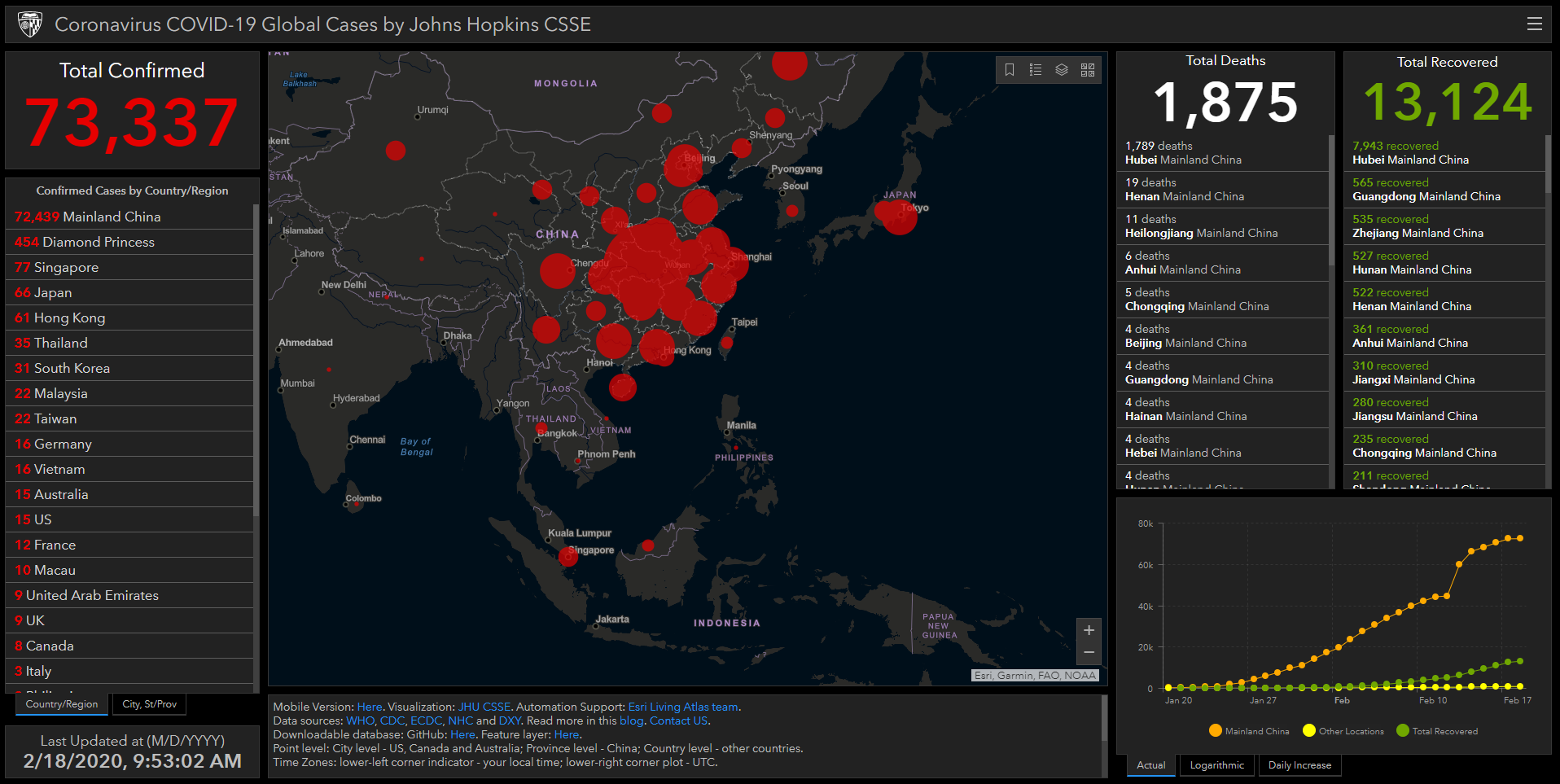 Source: Data collected from John Hopkins CSSE as of 2/18/2020 9:53 AM EST
To reduce the risk of infection, the WHO is urging the public to be diligent about basic hygiene: Wash your hands frequently, cover your mouth and nose when coughing, avoid contact with anyone who is sick, avoid contact with live animals, and avoid consumption of raw/undercooked animal products.
Conclusion
The COVID-19 Coronavirus is currently impacting the movement of freight into and out of China. UWL is monitoring this situation closely and we are committed to working through any delays and communicating with you quickly and effectively to minimize the impact of the virus on your operations.
As a recap, for most cities in China, the CNY holiday has been extended until Feb 9. Cargo is expected to stand still until late February or possibly early March, so expect some delays. Air travel and air cargo will be the most impacted as travel bans and canceled flights will reduce available air cargo capacity.
We will continue to keep you informed of any developments. Should you have any questions, please contact your local UWL customer service representative or get in touch with us via the button below.