UWL Wins SDCE 2023 Top Supply Chain Projects Award
By:

Kellie Lynch

Date:

Jun 21, 2023 2:55:00 PM

Categories:
UWL's Sun Chief Express Wins 2023 Top Supply Chain Projects Award for Boosting Efficiency for Clients in Asia-US Trade Routes
Award features innovative projects designed to automate, optimize, streamline and improve the supply chain.

CLEVELAND, OH — UWL's innovative new ocean service, Sun Chief Express, has earned it a spot among the winners of this year's Top Supply Chain Projects Award by Supply & Demand Chain Executive.
"This recognition is a powerful testament to the innovative solutions we've been developing. We are not just creating a new footprint in the market, we're providing tangible solutions to the persistent pain points our clients and BCOs encounter throughout the supply chain," said UWL President Duncan Wright.
UWL received the award due to the success of their Sun Chief Express service in collaboration with Swire Shipping, which operates between the Pacific Northwest and Southeast Asia. The speed, reliability, and guaranteed capacity of the service have made it a favorite among many high-end retailers, footwear manufacturers, and tech companies.
Sun Chief Express Provides Guaranteed Capacity for Fortune 500 Fashion & Retail Brands
One long-term supporter, a well-known Fortune 500 fashion brand and retailer, chooses Sun Chief Express eastbound service as a cost-effective, fast alternative to air freight transportation. Sun Chief Express provides consistent, reliable transport of their hottest containers and allows the retailer to reserve guaranteed capacity to support their seasonal and topical fashion launches.
"Because UWL and Swire Shipping publish their schedule nine months in advance, our purchasing and logistics teams connect our high priority launch dates with the vessel schedule well into the future and reserve that capacity," said their Senior VP of Supply Chain and Procurement. 
"Launches are critical for us, and this allows us to 100% guarantee that the capacity is locked in. Because we know the vessels are rarely late – we can take that back to the team as a guarantee. It is a huge win for our team, our brand promise, and our customers," they shared.  "Even now with supply chain issues easing a bit, we see a number of blank sailings [with other carriers] and we simply cannot afford to have unannounced changes impacting our launches."
"Our mission-critical POs are on every ship," the retailer's Director of Inbound Logistics added. "This is the product that is already late for various reasons or sell-throughs that are better than anticipated. Sun Chief Express allows us to get products here and in our hands faster than any other ocean product."
This is just one example of why Sun Chief Express has become a top choice for fashion brands and retailers, ensuring that their products arrive on time and meet the expectations of their customers.
Collaboration Fuels Modern Supply Chain Innovations
The supply chain challenges of the last few years have compelled shippers and logistics providers to work together to navigate complex issues and mitigate disruptions, resulting in innovative, long-term solutions and better connectivity.
"From demand planning and forecasting to implementing the ultimate in warehouse automation, the past 12 months have seen companies within the supply chain and logistics space upgrade, enhance, adopt and adapt in order to achieve greater efficiency along the chain," says Marina Mayer, Editor-in-Chief of Supply & Demand Chain Executive and Food Logistics. "That's why it's important today's supply chains run on collaboration."
"Companies partnered to implement each others' software and technology and work smarter, together. And, it's these partnerships that have enabled many supply chain organizations to better manage inventory, reduce costs, retain employees, track data and analytics and build resilience for whatever disruptions may lie ahead," Mayer adds.
UWL and Swire Shipping continue to collaborate and expand upon the success of Sun Chief Express, which now offers both eastbound and westbound express ocean transportation. As supply chains evolve and expand throughout Asia, UWL and Swire Shipping have worked with partner carriers to establish a comprehensive feeder network to improve access to these traditionally underserved markets. Sun Chief Express now includes a number of feeder connections to countries such as Bangladesh, Cambodia, India, Indonesia, Malaysia, Singapore, and Thailand, providing US importers increased access to factories, manufacturers, and suppliers. This is key for many apparel and footwear companies who often source their raw materials and products from markets in Southeast Asia.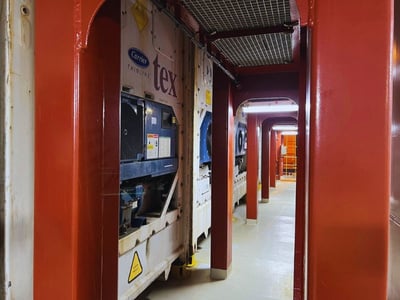 Sun Chief Express has also added reefer equipment into the rotation, giving US Exporters and Importers more capacity to transport their frozen and refrigerated products to and from markets in Korea, Vietnam, and Thailand. In 2022, the Sun Chief Express reefer service helped US apple exporters in the Pacific Northwest reach more buyers in Vietnam.
This year, in addition to apple exports, Sun Chief Express has added a westbound call to Busan, with a transit time of just 12 days, to help US cherry exporters reach buyers in Korea. The service is also enjoyed by some of the largest protein and seafood producers, as well as other produce and vegetable producers.
In the US, UWL's sister company, World Distribution Services, opened a new distribution center in Tacoma, WA to provide nationwide transload services for Sun Chief Express clients. The 303,866 sqft. (28,230 sq. m.) facility also provides inventory management, consolidation/deconsolidation, and a number of value-added services, including labeling, wrapping, kitting, and more. UWL has also developed inland point intermodal (IPI) services through Union Pacific (UP), Norfolk Southern (NS) and Canadian National (CN) to move Sun Chief Express freight inland to key destinations such as the fashion hubs of Chicago and Columbus, as well as Cleveland, Kansas City, Memphis, and several Canadian destinations.
On the technology side, clients of the Sun Chief Express service can take advantage of UWL's proprietary supply chain management platform, WorldScope, to make online bookings, track freight movements, and analyze their shipping activities in one place. WorldScope provides shippers with freight visibility from origin through delivery, as well as enhanced supply chain analytics that make it easy to understand how their business is performing, forecast upcoming needs, and identify potential risks.
About Supply & Demand Chain Executive
Supply & Demand Chain Executive is the only supply chain publication covering the entire global supply chain, focusing on trucking, warehousing, packaging, procurement, risk management, professional development and more. Supply & Demand Chain Executive and sister publication Food Logistics also operate SCN Summit and Women in Supply Chain Forum. Go to www.SDCExec.com to learn more.
Dive Deeper