UWL Market Update | Week 29
By:

Kellie Lynch

Date:

Jul 23, 2021 1:27:13 PM

Categories:
This week's latest supply chain news and updates.
The Great Race for Space
So I'll be completely transparent with you, it's been incredibly stressful trying to write these Market Updates. I really want to have some good news to share but, sometimes, it feels like the global supply chain is falling apart.
Instead of focusing on the bad, however, let's take a moment to reflect on the good. Even though the market may be stressful right now, we have a lot of great people working behind the scenes to figure it out. I'm particularly partial to our logistics coordinators and the folks out in the field because they've been fighting really hard — harder than ever before — to get the space and equipment you need to keep your freight moving.
And challenges, they just keep popping up. Every day, we come in to work to something new, like, "Wait, what happened now? What's next—a ship getting stuck in the Suez Canal?" And then boom, it happens.
Just recently, one of our LCs, Sharla Taylor, had a classic logistician's holiday nightmare in Houston right before the 4th of July. A drayman we had dispatched to pick up a load by July 2nd said even though they accepted the load, they were now unavailable and the LFD was July 4th. Taylor not only went out and pulled together transload rates but also sourced drivers through our other drayage partners and was able to get the container pre-pulled and delivered at 8am on July 5th (the National Holiday) to meet the customer's needs and avoid demurrage and per diem. This is the kind of hard work and dedication that we are so thankful for!
Whether it be navigating effects from the pandemic, a bridge getting taken out by a hopper, or rails temporarily shutting down service, our LCs and field team will figure it out and do everything in their power to get your products delivered. So a big thank you to the team making it happen—for being so tenacious, innovative, and resilient. They keep pushing forward, unshaken by the obstacles and we appreciate them so much.
If you have a story about one of our LCs going the extra mile for you, we want to hear it! Please send your story to marketing@shipUWL.com and we might just feature it in our next Market Update.

And with that, let's get into what's going on in the market.
Rates continue to escalate with no signs of stopping, reaching heights we have never seen before. And with traditional Peak Season fast approaching in August, the worst may be yet to come. Carriers are limiting the FAK rates they're releasing, and we're seeing premiums on ocean freight rates ranging anywhere from $2,000 to $10,000 in some lanes — and that is just the premium.
For shipments moving port to port, all-in rates in some cases can top $20,000 once you factor in premiums and other surcharges. It's crazy to think how prices like this were completely unfathomable just a few short years ago. Now, this could be the new normal.
How did it get this way? "It's more complicated than most realize," said Duncan Wright, UWL President (follow Duncan on LinkedIn). "It started a few years back, when three main ocean carrier alliances were created that now control 85% of global container capacity." While it wasn't in the news much, the move to three well-structured alliances quietly shifted the balance of power from importers to ocean carriers as they improved their pricing and capacity disciplines.
"During the last couple of years, we began to see this improved discipline creep into the trades — with carriers beginning to take out supply, mainly through blank sailings, to keep rates higher than demand on the current capacity we were seeing. This foundation of discipline created the perfect storm and the root problem that has now exploded."
In our latest blog post, Wright, a 20+ year veteran of the shipping industry, provides an inside perspective on the factors that have created the ocean freight market that exists today.
Retail cargo sees double-digit growth
Another cause of high ocean freight rates has been an unending deluge of retail imports overwhelming US ports. National Retail Federation (NRF) released a few updates this month to put this into perspective. The trade association revised its 2021 annual forecast, anticipating retail sales to grow to "more than $4.44 trillion this year as the economy accelerates its pace of recovery."
NRF is also forecasting retail cargo imports to continue their growth through at least September 2021. The US ports covered by the association's Global Port Tracker handled 2.33 million TEU in May, up 8.6 percent from April and up 52.2 percent from a year earlier. This is a new record for the most containers imported during a single month since 2002 when NRF began tracking imports.
"The challenge for retailers and supply chains is keeping shelves stocked as port congestion and other supply chain disruptions continue to impact the industry," said NRF Vice President Jonathan Gold.

Learn more about the current Retail Cargo trends here >>
Container congestion is causing delays just about EVERYWHERE
Congestion is affecting ports at every corner of the world now. "Extreme consumer demand, principally in the US, has combined with Covid-19 shipping and port dislocations all year, creating unprecedented congestion across the globe as well as record freight rates and all-time lows for liner schedule reliability," Splash247's Sam Chambers reported.

It is estimated that nearly 10% of the world's shipping capacity has been taken out due to port congestion issues according to liner shipping expert Lars Jensen.
Recent data from Seaexplorer showed as many as 328 ships waiting outside of ports and 116 ports reporting disruptions.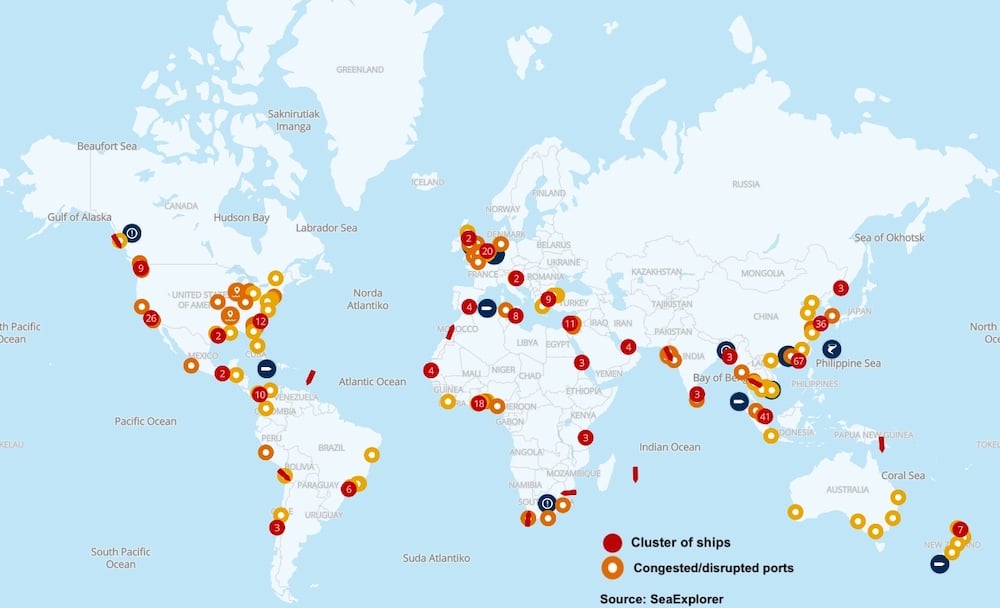 All of this congestion has understandably impacted expected lead times for importers. "Cargo continues to move at a record pace. There's no lull in the action, no half-time intermissions," said Port of Los Angeles Executive Director Gene Seroka.
Container dwell time at the LA/LB terminals "continues to hover near its peak of five days. On-dock rail time is running at about 12 days, not far from its peak in the spring. And with warehouses filled to the rafters, street dwell times ran as high as eight days in June," Seroka shared. "The bottom line is that the continued surge has strained all nodes of the US supply chain and we must change these trends."
The chart below reflects the "new normal" for lead time, which has essentially doubled since 2019.
Expected Lead Time (Cargo Ready through delivered in DC)
Add 6 to 8 weeks to your current order cycle for West Coast delivery and another 4 to 10 weeks for IPI.
| | | |
| --- | --- | --- |
| Activity | Time Needed (2019 Activity) | Time Needed (2021 Activity) |
| Booking | 2 weeks | 4 weeks |
| Safety Time (allow for rolling) | 0 week | 4 weeks |
| Transit | 2 weeks | 2 weeks |
| Waiting to Berth (S. Cal) | 0 weeks | 1 week, maybe 2 |
| On Terminal | 2 to 4 days | 4 days |
| Delivery | 1 day | 1 day |
| Total Time | 4 to 5 weeks | 8 to 9 Weeks |

Note: Add 4+ weeks for LA/LB Ports. If a rail move, add 35 days.
Source: Worldwide Logistics, Jon Monroe, COVID Supply Chain Update 2021: 7-14-2021.
Blank Sailings & Equipment Report
Port congestion has gotten so bad, it's led to "unintentional blank sailings" where the ocean carriers have had to cancel sailings due to the growing queues waiting outside of ports for a berth. On the trans-Pacific trade, there are 41 cancelled sailings or omitted calls from Weeks 28 - 36. 17 of those blank sailings are in August. Traditional Peak Season also begins in August, so we expect to see the vessel backlog uptick again.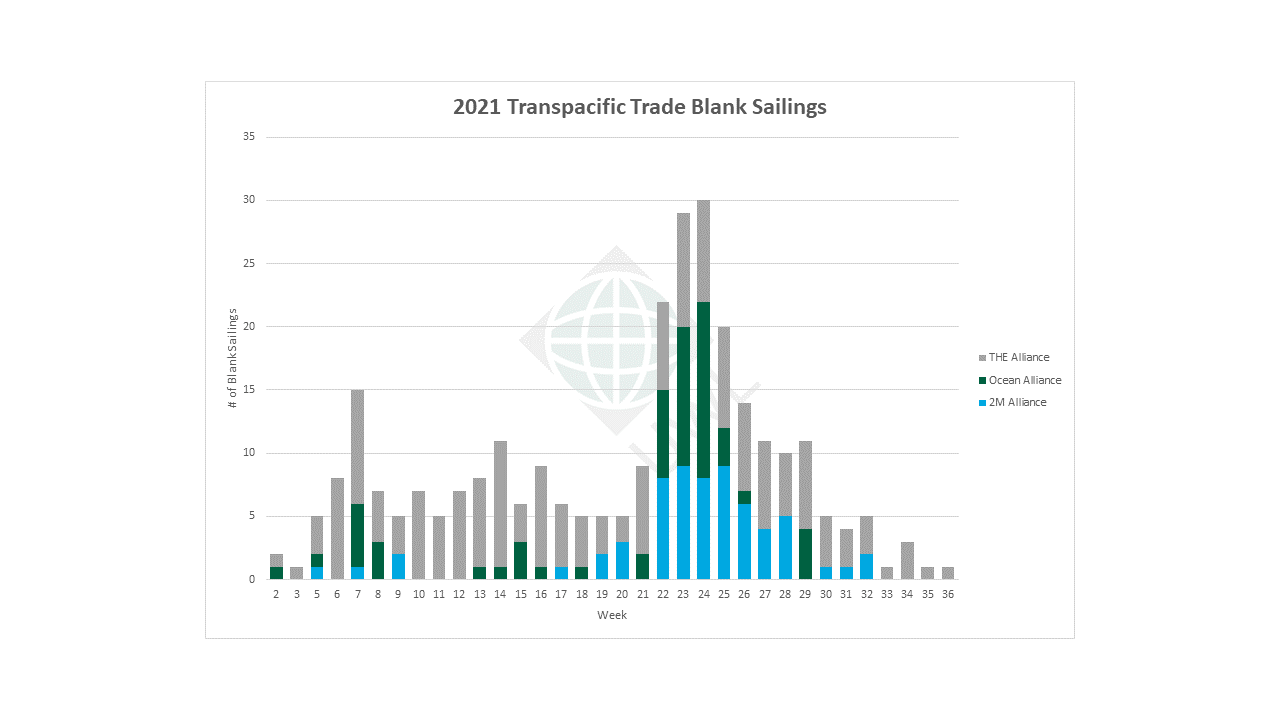 | | | | | |
| --- | --- | --- | --- | --- |
| | 2M Alliance | Ocean Alliance | THE Alliance | Grand Total |
| Q1 | 4 | 11 | 55 | 70 |
| Q2 | 46 | 44 | 81 | 171 |
| Q3 | 13 | 4 | 35 | 52 |
| Total | 63 | 59 | 171 | 293 |
Get the latest blank sailings list, extra loaders list, and equipment availability by Asia origin in this handy report.
Updated 7/21/2021. 1.5 MB .XLXS
Transloading can help solve issues with IPI and rail service
Inland Point Intermodal (IPI) and Rail Inland Point Intermodal (RIPI) services continue to pose issues for many shippers due to port congestion and delays. In fact, carriers are limiting IPI bookings and UP announced a temporary embargo on rail service from the West Coast to Chicago due to a backlog of containers (more on this later). Rail dwell time from the West Coast has increased and in some cases, depending on the carrier, it can be anywhere from weeks to months.
To avoid these issues, we recommend bookings to coastal ports and then transloading the freight for domestic delivery instead of railing it to get it to your end customers faster. With a network of distribution centers in key port cities like New York/New Jersey, Savannah, Virginia Beach, and more, we're well-equipped to handle any cross-dock or transloading needs through our distribution company, World Distribution Services. Please ask your UWL Representative if you'd like a quote or more information.
Problem Areas/Delays
US WEST COAST TO CHICAGO: Railway company Union Pacific (UP) recently announced the eastbound rail suspension from all US West Coast ports to Chicago Global IV Terminal effective from Sunday July 18, 2021 at 23:59 to improve fluidity and reduce backlog of Global IV.
"For a period of up to 7 days, all eastbound shipments to Global IV from any U.S. West Coast marine terminals (Los Angeles, Long Beach, Oakland, and Tacoma) will not be accepted. It will impact the delivery of on-board or discharged cargoes to Chicago, therefore, please expect delays. There will be some restrictions on new bookings from Asia to Chicago destinations, in order to clean-up any already in-transit cargoes," a notice from steamship line Hyundai Merchant Marine (HMM) said.
According to Trains.com, around 40,000 TEUs will be stuck at the West Coast Ports over the next week due to the embargo.
"The biggest issue seems to be a shortage of pool chassis to support normal operations at this wheeled terminal," said Intermodal analyst Larry Gross of the congestion at Global IV. "But I'm told that if a drayman shows up at Global IV with their own chassis to pick up a grounded box, they can't get the box loaded."
BNSF is following suit and also began metering space on intermodal trains between the Port of LA/LB and Chicago. According to JOC, the railway will be rationing international intermodal space for two weeks between the ports of Los Angeles and Long Beach and Chicago.
These restrictions apply to international containers and are not expected to impact domestic 53' containers.
GEORGIA: We are currently seeing trucking delays in Georgia due to an accident which caused officials to close down parts of I-16. A hopper struck the Georgia State Route 86 overpass and dislodged it 6 feet last week. Some truckers are rejecting loads in Atlanta due to the traffic congestion and difficulties in the area.
VANCOUVER: The CN and CP rail lines have faced disruptions, including temporary shut downs and slow downs, as wildfires rage across British Columbia. The rail lines are reportedly operational but expect delays due to transport congestion. Ships calling on the Port of Vancouver are facing delays to be unloaded and there are delays getting cargo through the port for export, Vancouver Sun reported. The situation may take several weeks to resolve.
YANTIAN: COVID-related safety restrictions have been lifted at the Chinese Port of Yantian after it was shut down for six days at the end of June. Port productivity has improved, but delays still persist as dockworkers continue to dig out of a backlog of cargo. As of July 1, the rolling seven-day average dwell time was 12.9 days for exports and 4.2 days for inbound cargo, compared to last month's peak of 25.4 days according to Hellenic Shipping News.
To get an idea of how bad the logjam was, at one point, there were over 40 vessels waiting for a berth. We also saw more than 48 vessel strings omit calls at Yantian during Weeks 24 to 28 to avoid getting caught in the snarl and congestion. This, understandably, caused congestion at other nearby ports like Shekou, Nansha, and Hong Kong, and delays for many shippers. It could take a month or more to clear the remaining backlog, but it appears as though the situation is improving.
VIETNAM: Rising COVID-19 cases in Vietnam are contributing to shipping delays as vessels begin to back up, similar to the situation we just saw in Yantian. Vietnamese officials have put the southern region on lockdown and many factories have been forced to close. We'll be keeping an eye on this situation to see how it plays out and will keep you updated as more news comes out.
Air Freight
Even though air freight rates dipped slightly in early June on major intercontinental lanes, according to FreightWaves, analysts are predicting another summer peak before a big peak in the fall as economies reopen and inventories remain tight. The average price of shipping by air is currently around 6 times more expensive than shipping by ocean (down from 12 times more expensive pre-COVID) according to IATA, but congestion at the ports is pushing many companies to secure air capacity to ensure their products will arrive in time for the holiday season.
"Increased volumes are moving via Air as delays and bottlenecks in ocean freight push more and more ocean shipments to switch modes," shared James Constantinidis, UWL Director of Air Freight (follow James on LinkedIn). "The biggest change in the air freight market right now is that airlines are decreasing capacity out of Asia to the US, citing disruptions due to a resurgence of COVID cases. Rates have increased and will likely stay higher through the end of the year, though we could see some fluctuations as the market is changing daily," he said.
"The dense nature of cargo that usually moves by ocean, however opens up some opportunities for shippers of volumetric air cargo to secure lower rates. Airlines need to match the heavier shipments with lighter cargo to maximize their use of space, so if you have light, "fluffy" cargo — you may be in luck and could get a discount," explained Constantinidis.
Additionally, we are rolling out two new Air Freight Services: a weekly Air Import service from Shanghai to Chicago and a weekly Air Export service from Texas to Germany. You can reach our air freight team with any questions at airquotes@shipuwl.com
Regulatory Updates
US supply chain issues are finally getting the federal government's attention:
China Law prohibits dangerous chemical transport on the Yangtze river
The Chinese Government passed a law called the "Yangtze River Protection Act of the People's Republic of China", effective March 1, 2021. The law prohibits the transport of all highly toxic and dangerous chemicals set by the state on the Yangtze River. All Yangtze River ports and Shanghai's WaiGaoQiao terminal (excluding Yangshan terminal) are involved by the law. All prohibited dangerous chemicals are not permitted for export/import/transit/transfer handling through those ports, with the exception of Yangshan terminal. For the involved UN numbers, you must provide MSDS, declare name and CAS number information.
View the full text of the Protection Act

View the Prohibition List

Additional Resources:
First off, THANK YOU for making it to the end of this article, we hope you found the information within it helpful. To make sure our Market Updates are always meeting your needs, we would love to hear from you! We'll use your feedback to improve our future updates. Please take our survey here and let us know what you think - it will only take a few minutes.
Dig Deeper
Learn more about the topics covered in this article by checking out these resources.
Ashe, A. (2021, July 19). BNSF metering space on LA-LB to Chicago intermodal trains. JOC.
Braverman, J. (2021, July 16). I-16 detour: Here's the route you need to take as major highway expected to be closed for days. 11Alive.com.
Buttigieg, P., & Walsh, M. (2021, July 21). Opinion: Truck drivers are essential workers. We need to treat them that way. CNN.
Chambers, S. (2021, July 20). Ships back up across Covid-hit southern Vietnam. Splash247.
Chambers, S. (2021, July 21). Global liner congestion worsens, 116 ports report disruption. Splash247. https://splash247.com/global-port-congestion-worsens-116-ports-report-disruption/.
CIRS. (2021, March 4). Transportation of Highly Toxic Chemicals is Completely Prohibited in Yangtze River Basin. CIRS.
Commission, F. M. (2021, July 12). New FMC and DoJ MOU Supports Interagency Collaboration on Antitrust Issues. Federal Maritime Commission.
Gallagher, J. (2021, July 16). Shipper to Congress: Inflation 'rampant' through supply chain. FreightWaves.
Gallagher, J. (2021, June 15). Congress drafting law barring ocean carriers from refusing US exports. FreightWaves.
Hoekstra, G. (2021, July 18). Transport bottlenecks from B.C. wildfire rail interruptions will take time to clear. Vancouver Sun.
The White House. (2021, July 12). FACT SHEET: Executive Order on Promoting Competition in the American Economy.
HUATAI. (2021, March 26). Yangtze River Protection Law - Ban on Transportation of Acutely Toxic Chemicals in the Yangtze River Basin as from March 1, 2021. Xinde Marine News.
Inman, D. (2021, June 9). Retail Sales to Now Exceed $4.44 Trillion in 2021, as NRF Revises Annual Forecast. NRF.
Kallada, S. (2021, May 21). China - Yangtze River prohibited chemicals. IMDG Code Compliance Centre.
Knowler, G. (2021, July 12). Air cargo cost differential with ocean halved: IATA. JOC.
Kuhlisch, E. (2021, July 9). Port of Yantian productivity rapidly improves but export delays persist. FreightWaves.
Kulisch, E. (2021, July 9). Stranger things: Air cargo becomes value play over ocean freight. FreightWaves.
Miller, G. (2021, July 15). Los Angeles port braces for Yantian catch-up, peak season combo. FreightWaves.
Mongelluzzo, B. (2021, July 8). Fight for trans-Pacific vessel space intensifying. JOC.
Shearman, J. C. (2021, July 8). Retail Cargo Continues to See Double-Digit Increases Over 2020 as Supply Chain Disruptions Continue. NRF.
Stephens, B. (2021, July 14). Union Pacific suspends inbound international container shipments to Chicago for a week. Trains.
Szakonyi, M. (2021, July 20). FMC to audit container lines' detention, demurrage billing. JOC.
Szakonyi, M. (2021, July 23). US rail regulators target container demurrage billing. JOC.