UWL Logistics Roundup | May 2019
By:

Kellie Lynch

Date:

May 30, 2019 1:29:11 PM

Categories:
U.S.-China trade discussions broke down in May, leading to more tit-for-tat exchanges between the two nations. In this month's roundup, we'll take a deep dive into the latest trade war updates, plus take a look at what's happening in the world of logistics - from strikes to blank sailings and more.

International Trade, Regulatory & Compliance News

U.S.-China Trade War: Deep dive into the latest updates
The trade war between the U.S. and China stalled out in May, with President Trump threatening to increase tariffs on Chinese goods after Chinese negotiators reportedly attempted to renegotiate parts of a trade deal that was in the works. China has retaliated against the tariff increase and with tensions on the rise, it appears the two countries are now further from reaching a deal than previously thought.
UPDATE: USTR extends entry deadline for 10% tariffs on List 3 to June 15
USTR is extending the amount of time for importers to enter certain goods exported from China before the goods will be subject to an additional tariff increase from 10% to 25%.
Covered products that were exported from China to the United States prior to May 10, 2019 will remain subject to an additional 10% tariff if they enter for consumption into the U.S. before June 15, 2019.
Originally, the deadline to enter the U.S. before the goods would be subject to an additional 25 percent tariff was June 1, 2019. This limited extension will further account for customs enforcement factors and the transit time between China and the United States by sea, the USTR said.
In a CSMS notice, CBP offered guidance for importers: Importers entering subject goods on or after June 1, 2019 which were exported before May 10, 2019, and would be affected by this change, should consider waiting to file the entry summary pursuant to the ten day entry summary filing period. This will allow importers to file the appropriate duty rate with the entry summary when CBP updates ACE.
Importers who file entry summaries, and retroactively become subject to a lower duty rate, may refile the entry summary (if the entry summary is still in trade control) or file a Post Summary Correction with the appropriate duty rate (if the entry summary is in CBP control).
UWL will be working to refile any entries previously submitted that are now eligible for the lower duty rate.
If you have any questions, please contact your local UWL representative.
View USTR deadline extension notice >>
View CBP CSMS 19-000274 update guidance >>

U.S. increases tariffs on Chinese goods on List 3
Section 301 Tariffs on List 3 rose from 10% to 25%, effective with respect to goods that were:
Entered for consumption, or withdrawn from warehouse for consumption,

on or after 12:01 a.m. EST on May 10, 2019

, AND;
Exported to the United States

on or after May 10, 2019

.
For Chinese goods exported to the U.S. prior to May 10, the applicable duty is 10%.
View the official Federal Register (84 FR 20459) announcement here >>
View List 3 of Chinese products here (Pg. 11) >>
Exclusion requests for Chinese goods on List 3
USTR has established an exclusion process for the Tranche 3 products, including procedures for submitting requests. Requests for exclusion will have to identify a particular product and provide supporting data and the rationale for the requested exclusion.
The window for submitting exclusion requests will open on or around June 30, 2019.
View the Federal Register notice detailing the process, including 301 Exclusion Request Form >>
View USTR Section 301 Exclusion Process resources >>
USTR proposes fourth list of Chinese goods for potential Section 301 tariffs
In addition to raising tariffs on Chinese goods in May, USTR has released a fourth list of goods from China that it is proposing to add Section 301 tariffs to, possibly at rates of up to 25%.
The list covers 3,805 HTS subheadings, totalling around $300 billion, and includes items like apparel and textile products. The proposed product list covers essentially all products not currently covered by action in the investigation. However, pharmaceuticals, medical goods, and some mineral products were excluded.
At the Finanical Services Committee meeting on May 22, Treasury Secretary Steven Mnuchin explained to House members that consumer goods were considered last for a reason. "There won't be any decision [on the fourth list] probably for another 30 to 45 days," Mnuchin said.
When pressed on what the "end game" with China is, Mnuchin said, "Unfortunately China took a big step backwards. The two presidents will likely see each other at the end of June. The idea is not to have tariffs, the idea is for them to treat our companies fairly."
USTR will have a public hearing on the proposal on June 17, and the new tariffs, if they go forward, could go into effect some time after June 24.
View the announcement here, proposed list of goods in the Annex >>
China retaliates after U.S. announcement, will raise tariffs on U.S. goods on June 1
China's Ministry of Finance announced that starting June 1, it will raise tariffs on $60 billion in U.S. goods in response to the U.S. decision to increase tariffs to 25% on $200 billion of Chinese goods. China's new retaliatory tariffs will be imposed at four different levels: 25% tariffs on 2,493 HTS items, 20% on 1,078 items, 10% on 974 items and 5% on 595 items.
Industries react to the U.S.-China tariffs
Brian Dodge, COO of Retail Industry Leaders Association (RILA) weighs in on how the U.S.-China trade tariffs are affecting retailers (VIDEO):
"An athletic shirt, for example, coming in from China faces a 31% duty already, 25% added to that... that means half the cost of that item will be a tax to the government. ... Imagine a $40 shirt, $20 of which is money that goes to the government to pay for other things rather than save customers' money - That's a concern to us and we need to see it resolved."
Nike, Adidas, and other footwear giants penned a letter to President Trump urging him to reconsider potential tariffs on shoes made in China:
"On behalf of our hundreds of millions of footwear consumers and hundreds of thousands of employees, we ask that you immediately stop this action to increase their tax burden," the group said. "Your proposal to add tariffs on all imports from China is asking the American consumer to foot the bill. It is time to bring this trade war to an end."

U.S. importers search for relief from Section 301 tariffs
Some tariff relief options for U.S. importers include filing exclusion requests, "tariff engineering" - staging a product's assembly with HTS classification in mind, or even taking a look at incoterms being used and importing Chinese goods under the incoterm DDP (delivered duty paid) so that the exporter covers the duty. This article from JOC.com takes a look at how some importers are dealing with the tariff increase.
More U.S.-China trade coverage
USMCA
The U.S. has agreed to lift tariffs on steel and aluminum from Mexico and Canada, in favor of stronger monitoring and enforcement mechanisms to prevent Chinese companies from circumventing U.S. penalties by shipping the metals through their territories.
In exchange, Canada and Mexico agreed to remove their retaliatory tariffs imposed on American goods. This is great news for the American aluminum and steel industries, and welcome relief for American farmers who faced the retaliatory tariffs.
Industry groups praised the U.S. decision to lift the tariffs.
"This action delivers a welcome burst of momentum for the USMCA in Congress, and we urge the administration and Congress to continue their efforts to chart a path toward its approval as soon as possible," said U.S. Chamber of Commerce President and CEO Thomas Donohue.
The announcement is one more step in the right direction towards ratifying the USMCA agreement, which faces an uphill battle in Congress.
Brexit
Theresa May announced that she will resign as prime minister of Britain on June 7, after being unable to gain the support from members of parliament needed to implement her brexit deal with the EU. MPs rejected the deal 3 times and in the face of growing opposition, May determined it was in the best interest of the UK to step down and let a new prime minister lead the effort.
Turkey
Tariffs on Turkish steel have been reduced from 50% to 25%. However, Turkey's designation as a beneficial developing country has been terminated, which means exports from the country are no longer eligible for the Generalized System of Preferences (GSP).
U.S. Domestic Transportation
On June 7, the U.S. Department of Transportation will unveil its highly anticipated changes to truck driver Hours of Service regulations. The goal of the revisions is to provide drivers greater flexibility without adversely affecting their safety. 🚛
Around the World: Current Events & Shipping News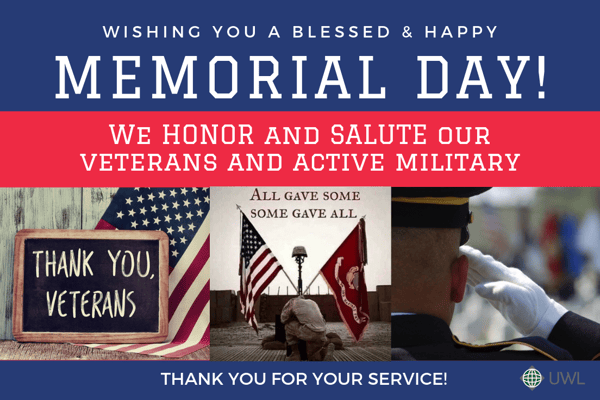 Memorial Day is a day to give thanks and celebrate the bravery and sacrifice of our nation's heroes. Let us pause for a moment of Remembrance, Respect, and Reflection to honor those whom we have lost in our nation's service.
To our veterans and active military, a heartfelt thank you for your service! We salute you.
Recent rainfall in the Panama Canal watershed has led the Panama Canal Authority (ACP) to postpone its sixth maximum draft restriction to June 12.
When the restriction goes into effect, shipments to the Gulf and East Coast, especially heavy shipments, that pass through the Panama Canal could be impacted, as carriers may restrict or roll bookings to meet the draft requirements.
Vessels arriving after June 12 with drafts exceeding the restrictions will be required to trim or off-load cargo prior to transiting the canal if water levels are insufficient at the time of crossing.
Blank sailings may be more likely in coming months
Blank sailings are on the rise on the trans-Pacific trade lanes as carriers prepare for the impact of new U.S. tariffs which have slowed growth of U.S. imports from Asia.
The Ocean Alliance will blank a June 2 sailing from Fuzhou that was set to call Nansha, Hong Kong, Yantian, Xiamen, Los Angeles, and Oakland, and a June 18 sailing from Qingdao that was set to call Ningbo, Shanghai, Busan, Colon, Savannah, Charleston, Boston, and New York, according to Alpahliner, a maritime analyst.

The blank sailings will take 23,218 TEU of capacity out of the trade lane, JOC.com reported. In addition, the looming IMO 2020 regulations will see more sailings blanked as carriers transition their vessels to new low-sulfur fuel.
"The vast majority of vessels will not be equipped with scrubbers and will therefore transition to low-sulfur fuel," explained Bill Mongelluzzo of JOC.com. "To prevent mechanical breakdowns, those vessels will be dry-docked so the heavy fuel can be flushed out, a process that takes about a week, meaning that most vessels will miss at least one scheduled weekly departure."
Because of the increased frequency of blank sailings, we recommend shippers make their bookings well in advance to secure space. Make sure to provide a cushion in your transit window in case your cargo is rolled due to a blank sailing. If your cargo has been rolled, your UWL representative will work with you to get your shipment onto the next available vessel, even if it means changing carriers. We will do everything we can to proactively communicate any blank sailings and make necessary adjustments to get your cargo delivered on time.
More Current Events & Logistics News
Port News
Port of LA's Seroka urges action on port fluidity
With summer peak-shipping season edging near, Port of Los Angeles executive director Gene Seroka is urging adoption of a port-wide trucker appointment system and the relocation of chassis storage to near-dock sites to reduce truck turn times at the port, which he told JOC.com were "still at an unacceptable level despite volumes having subsided in early 2019."
The average turn time in April was 83 minutes, same as in March and 11 minutes longer than the previous year.
Port of Virginia Posts Best April Ever for Container Volumes
The Port of Virginia is out here setting records! Last month was the port's busiest April in its history, handling a container volume of 246,000 TEUs.
"As we move toward peak season, this and higher volume levels will become normal, but we are more prepared for these increases than ever before," said John F. Reinhart, the CEO and executive director of the Port of Virginia. "We are just weeks from completion at Virginia International Gateway (VIG) and debuting this world-class facility in its entirety. The productivity and efficiency we are seeing there is going to be instrumental in managing and effectively processing peak season volumes."
Port of Baltimore welcomes its largest containership
Evergreen Line's containership Triton, the largest cargo ship to ever call on the port, arrived at the Port of Baltimore's Seagirt Marine Terminal on May 24 carrying 14,424 containers.
Triton arrived carrying 14,424 containers, making it the largest container vessel to dock in Maryland.
(Photo Credit: Dan Ronan/Transport Topics)
"It makes sense to put the freight where the consumer is. This is just the beginning for us," Maryland Port Administration Executive Director James White said. "This is actually nine years in the making. We entered into a private-public partnership with Ports America, and we knew with the Panama Canal — the new set of locks coming online — that the bigger ships calling the U.S. West Coast would now have the ability to get to the East Coast."
Seaboard Marine launches new Savannah-Central America Route
Awesome news for shippers who move their freight through Savannah! Seaboard Marine is now calling at the Port of Savannah with new services to Central America, Latin America, and the Caribbean.
The port that never sleeps
Georgia Ports Authority is truly a port that never sleeps, operating 24 hours a day, 7 days a week. In FY2018, GPA achieved a record for total cargo – 36 million tons — growing by 8 percent, or 2.6 million tons. UWL is proud to offer 3PL services in Savannah to support shippers using this key gateway to the U.S.!
McKnight new chairman at Georgia Ports
Congrats to William McKnight, who was just elected as the new chairman of Georgia Ports Authority! 👏
"I'm excited to help lead the GPA at a time when Gov. Kemp has made the success of small business a major priority," McKnight said. "Our ports' role in helping Georgia companies connect with buyers across the globe can mean a world of difference to small operations hoping to expand."
Company News
Vote for UWL - Inbound Logistics Top 10 3PL!
We are working hard to be the best partner possible to everyone who does business with us. We hope we've earned your support for UWL to be one of Inbound Logistics' Top 10 3PLs!
To show your support, click the image below to cast your vote for UWL:
Instructions: Clicking the image above will take you to the voting page on Inbound Logistics' website. It will take 3-5 minutes to complete the survey and cast your vote. Your information won't be sold or used by anyone other than Inbound Logistics (and you may opt out of communications upon submitting your vote). You will also be entered into a drawing for one of 10 free 18-carat gold Parker pens, courtesy of Inbound Logistics!
On Question 9, make sure to enter "UWL" as the 3PL who excels in meeting your needs!
Thank you so much for taking the time to show your support!
We appreciate it and we're proud to be your trusted logistics provider.
Is there something we can do better? Let us know >>
Happy 8th Anniversary, UWL do Brazil!
Today, UWL do Brasil proudly celebrates 8 years of service! Thank you to our great team & all of our wonderful clients who have made this possible. Cheers to another 8 years! Learn more about our awesome team and services here: https://lnkd.in/gTiU26d
Shipping to Brazil? Got questions? We've got answers!
In this Q&A, UWL's Barbara Echelmeier provides insights on Brazilian Customs, trade relations between the U.S. and Brazil, chemical logistics and more.
New WDS warehouse expansion in Norfolk featured in logistics publications!
Shout out to Global Trade Magazine and Transport Topics for covering our sister company World Distribution Services' Virginia Beach warehouse renovation plans! We are excited to bring 320,000 sq. ft. of high-quality warehouse space closer to the Port of Virginia.
Coverage from Global Trade Mag >>
Coverage from Transport Topics >>
We are seeking an Import Customs Coordinator at our headquarters in Cleveland, OH! We have a beautiful new office located in Rocky River, a great culture, and offer competitive benefits and pay.
If you have experience in Imports/Customs and are interested in joining our fast-growing company, apply today!
View all of our career opportunities here >>