UWL Logistics Roundup | June 2019
By:

Kellie Lynch

Date:

Jun 28, 2019 4:56:17 PM

Categories:
🌞 Summer is officially here and Independence Day is just around the corner! We hope you'll all get a chance to get out, enjoy the sunshine, and spend some quality time with your families and friends.
Friendly reminder that holiday hours will be in effect for many carriers and terminals during July 4, and those closures could cause some freight delays over then next week or so.
As we head into the holiday, let's reflect on some of the major events that happened last month in global trade and logistics.
Jump to Section:
International Trade, Regulatory & Compliance News
Top Trade Headlines
The U.S. and China declared a truce in their trade war, as Donald Trump said he would hold off imposing an additional $300 billion in tariffs and the world's two largest economies agreed to resume negotiations, Bloomberg reported. Trump told reporters he wouldn't put additional tariffs on China for the "time being," and that he'll allow U.S. companies to supply gear to Huawei.
I had a great meeting with President Xi of China yesterday, far better than expected. I agreed not to increase the already existing Tariffs that we charge China while we continue to negotiate. China has agreed that, during the negotiation, they will begin purchasing large.....

— Donald J. Trump (@realDonaldTrump) June 29, 2019

....amounts of agricultural product from our great Farmers. At the request of our High Tech companies, and President Xi, I agreed to allow Chinese company Huawei to buy product from them which will not impact our National Security. Importantly, we have opened up negotiations...

— Donald J. Trump (@realDonaldTrump) June 29, 2019

....again with China as our relationship with them continues to be a very good one. The quality of the transaction is far more important to me than speed. I am in no hurry, but things look very good! There will be no reduction in the Tariffs currently being charged to China.

— Donald J. Trump (@realDonaldTrump) June 29, 2019

Mexico's Senate has ratified a North American trade deal with the U.S. and Canada (USMCA), becoming the first to do so amid a truce reached with President Donald Trump over an unrelated tariff threat, AJOT reported.
Avoiding proposed tariffs, the deal struck between the U.S. and Mexico will see Mexico ratcheting up military enforcement at its borders, taking more action to dismantle human trafficking rings, and increasing bilateral communication and information sharing. Migrants crossing the border into the U.S. to seek asylum will be returned to Mexico while they await the adjucation of their claims, and Mexico will offer them jobs, healthcare, and education.
🗓️ Importers, mark your calendars for June 30 if you're affected by the tariffs on List 3. This time around, the exclusion process for List 3 will be done through an online portal (https://exclusions.ustr.gov/) which will open at noon EDT on June 30, 2019. The deadline to submit requests is September 30, 2019.
View the official Federal Register Notice >>
Visit the Exclusion Requests Portal >>
USTR has released a 5th list of Product Exclusions from Section 301 tariffs on goods from China. 8537.10.8000 has been exempted in its entirety, and 88 additional "specially prepared product descriptions" were also added, with products ranging from various pumps and compressors to conveyor belt parts, push-button switches, and other electrical components.
View the list here (begins on pg 6) >>
Members of Congress have reintroduced legislation to intensify U.S. export controls for American goods destined for Hong Kong after an unpopular extradition bill was proposed in Hong Hong. Critics fear if the extradition bill is passed, it will erode Hong Kong's legal system and allow China to seize "fugitives" in the country on trumped up charges for political or commercial reasons.
India has announced retaliatory tariffs on 30 U.S. products, worth nearly $241 million, after the White House terminated India's preferential trade status through the Generalised System of Preferences (GSP) earlier this month. Affected products include agricultural goods, finished metal products, and some chemicals.
The following Indian HS codes will be revised:
07134000 increased to 50.00%

38220090 increased to 30.00%

28100020 increased to 27.50%
View the list of products and announcement from India's Ministry of Finance >>
More trade stories
Industry News: Automotive, Manufacturing, Retail & More
"A great customer experience has never been about being everywhere and being all things for all people.
What matters is showing up for the right customers, where it really matters, in remarkable ways."


Top Industry Stories
Plastics News Economics Editor Bill Wood forecasts that the demand for motor vehicles and parts will decline only a modest 2% in 2019. Rising U.S. employment and wage levels, combined with declining interest rates and gasoline prices have lead to more favorable business conditions in the automotive industry.
"The challenges in selecting global manufacturing locations where China is not point of consumption surface when manufacturers realize alternative countries in South East Asia and other regions are currently unable to handle significant volume shifts away from current major transportation lanes."
This year, Amazon's Prime Day will run for two days, taking place on July 15 and 16. Rivals eBay and Target are joining in on the fun, offering their own special deals during the same time period. Target is having "deal days", and eBay, throwing shade at Amazon, will be holding a "Crash Sale", offering deeper discounts if Amazon's website crashes like it did last year.
The U.S. trade war with China has finally begun taking a toll on consumers, with the Conference Board's consumer confidence index declining from May's 131.1 to 121.5 in June.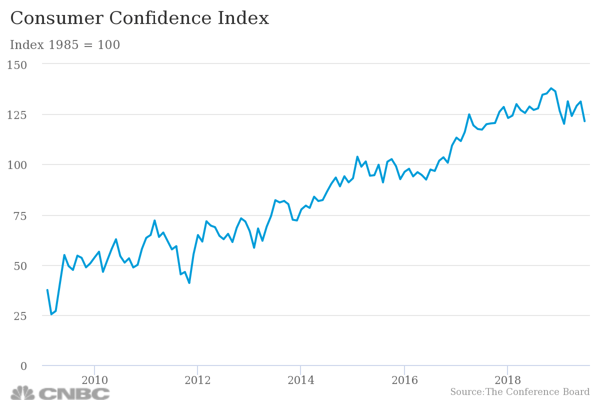 "The escalation in trade and tariff tensions earlier this month appears to have shaken consumers' confidence," Conference Board senior director Lynn Franco said.
More Industry News
Around the World: Current Events
A power outage on June 16 left 48 million people across Argentina, Uruguay, and parts of Paraguay and Chile without power after a massive electrical grid failure. Energy officials have confirmed that power has now been restored to around 80% of the affected area.
Cyclonic storm Vayu skirted the coast of India near Gujarat on June 16. Operations at ports Mundra and Pipavav closed to heavy winds, with gusts of up to 110 km/h (69 mph) expected.
Tankers Kokura Courageous and Front Altair were attacked in international waters near the Strait of Hormuz on Thursday, prompting the evacuation of both vessels and raising fears of further confrontation in one of the world's most strategic shipping lanes at a time of high tensions between the US and Iran.
Logistics News
Top Logistics Stories
Beginning 6/25 through 7/11, there will be a series of closures and work stoppages at several California ports and container terminals due to the Independence Day holiday and ILWU meetings. These closures and the resulting congestion may affect our ability to retrieve containers from the ports. We will do our best to secure available appointment slots to protect your Last Free Day Demurrage windows, and will communicate any delays or issues pulling containers, should we encounter them.
Recent rainfall in the Panama Canal watershed has once again led the Panama Canal Authority (ACP) to postpone its sixth maximum draft restriction.

As of its most recent update (6/21), the maximum authorized draft will remain at 44 ft (13.41m) TFW for the Neopanamax locks and 39.5 ft (12.04 m) TFW for the Panamax locks until July 2. After July 3, the maximum authorized draft will be lowered to 43 ft (13.11m) TFW for the Neopanamax locks and 38.5 ft (11.73 m) TFW for the Panamax locks.

Shipments to the Gulf and East Coast, especially heavy shipments, that pass through the Panama Canal could be affected as carriers may restrict or roll bookings to meet the draft requirements.
Blank sailings are on the rise on the trans-Pacific trade lanes as carriers react to the impact of new U.S. tariffs which have slowed growth of U.S. imports from Asia. The increased likelihood of missed sailings will continue into Q4 as carriers ready their vessels to comply with new IMO 2020 low sulfur fuel regulations that go into affect on Jan 1, 2020.

In this article, we'll take a look at what blank sailings are, why they happen, why blank sailings will be more likely in coming months, and what you can do to prepare.
More Logistics Stories
Port News
The Port of Virginia's long-term goal is to become the East Coast port leader for railed containers to the Midwest. Learn more about their rail strategy and latest developments in this article from American Shipper.
Busy, busy, busy! The Port of Virginia experienced the busiest May in it's history, processing nearly 261,000 TEUs. Total truck containers was 91,802, up 10.7%. The port also debuted its new on-dock rail yard at VIG, and the NIT expansion is humming right along.
Frontloading of shipments in 2018 and uncertainty in the current global trade outlook led the Port of Los Angeles to post a modest budget forecast for 2020. Despite the conservative forecast, Executive Director Gene Seroka said that the port's volumes are growing at or above market growth for the 1st time in 17 years, and praised 2 new incentive programs aimed to capture more market share from Asia.
South Carolina Ports Authority announced its strongest May on record, handling a total of 204,457 TEUs last month.
Fiscal year-to-date TEU volume is up 9.7 percent, with 2,192,689 TEUs handled since the Port's fiscal year began in July.
Read more >>
Company News
Delivering Transportation Solutions for a Complex Industry: UWL Chemical Logistics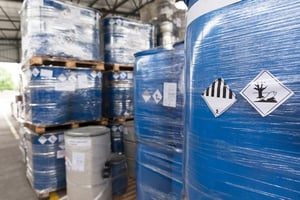 With over 20 years of experience specializing in logistics for the chemical, petrochemical, polymer, and biofuel sectors, we are the experts in chemical transportation, with a proven track record delivering chemical products safely and swiftly.
When you work with UWL to move your chemicals, you can count on us to provide proactive communication, visibility, safety and security. And with our strategic global network, whether you're looking to export to a big port like Shanghai or somewhere remote like the Port of Turbo, you can count on us to get it there.
Learn more about our Chemical transportation services >>
3 reasons why you should choose us to help transport your chemicals >>
Shipping to Brazil? Got questions? We've got answers!
In this Q&A, UWL's Barbara Echelmeier provides insights on Brazilian Customs, trade relations between the U.S. and Brazil, chemical logistics and more.
We are seeking an Pricing Coordinator at our headquarters in Cleveland, OH! We have a beautiful new office located in Rocky River, a great culture, and offer competitive benefits and pay.
If you love numbers, data, and wowing customers with your speed and accuracy, apply today!
View all of our career opportunities here >>