UWL Logistics Roundup | December 2018
By:

UWL

Date:

Dec 28, 2018 9:04:00 AM

Categories:
Wishing you a joyful holiday season and a prosperous New Year from all of us at UWL!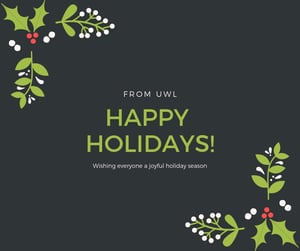 We hope you and your loved ones have been enjoying this holiday season!

December was certainly a busy month in the world of logistics. Congestion from the usual holiday shipping boom was exacerbated by tariff battles between the US and China, as shippers rushed to get their product delivered before increased tariffs took effect, and higher than expected volume moved through the ports ahead of the Lunar New Year.

Luckily, relief is on the horizon... at least for now!

President Trump and China's President, Xi Jinping, struck a temporary truce and appear to have made some progress in negotiating a lasting trade deal, as China announced it will lower auto tariffs. We also saw a bunch of regultory updates and the USTR released their first round of Section 301 product exclusions. Keep on reading to get the details!
International Trade News
The West Coast terminals are currently experiencing extreme congestion due to higher than expected volumes of cargo coming into the U.S. ahead of the Chinese Lunar New Year.
To help allieviate port congestion and potential chassis shortages, make sure to pick up containers as soon as possible upon arrival, and return the containers/chassis as quickly as possible. This will also help you avoid demurrage and detention fees.
Learn more about demurrage and detention fees here >>
Low water in Germany causes challenges for Europeon Holiday shipments
Photographer: AP Photo/Michael Probst
The water level of some stretches of the Rhine River in Europe has fallen so low that is it is nearly impossible for even small, empty barges to travel.
"The shallow draft means barges in the middle and upper reaches of the river are only able to carry 10-15 percent of their capacity, placing enormous pressure on road and rail transport," JOC reported.
With many containers grounded due to the inability to transport them by water, shippers are seeking alternative modes to clear their inventories this December. However, capacity near Rotterdam, Stuttgart, and Antwerp is critically tight as many rail connections have already been overbooked, and there is a shortage of truck drivers.
Shippers may be able to transload their cargo at the ports of Bremerhaven and Hamburg. If you need to move freight before the holidays, make sure to do it as soon as possible.
According to the report, European Road Freight Transport 2018, there is a European driver shortage of over 150,000 unfilled truck driving jobs. In just six countries, the UK, Germany, France, Denmark Sweden and Norway – the shortage of drivers adds up to 127,500.
"In Germany, the DSLV transport union reports that in the next 15 years, two-thirds of drivers will retire. Germany is facing a shortage of 45,000 truck drivers, with around 30,000 leaving the profession every year. This compares with only 2,000 people receiving truck-driving qualifications each year," the report says.
Regulatory & Compliance Updates
US President Donald Trump and Chinese President Xi Jinping met recently and agreed to keep their trade war from escalating further for the next 90 days while they negotiate a lasting agreement. The 90-day extension is counted from December 1st, 2018 and will expire on March 2, 2019.
The US will leave the $200 billion of Chinese goods on List 3 of Section 301 at 10 percent and will not raise that rate to 25% as planned on Jan 1st 2019.
After 90 days, if there is not any progress negotiating an agreement, the Chinese goods on list 3 of Section 301 will increase to 25% as initially planned.
China has pledged to lower tariffs on U.S. autos to 15% from 40%, Chinese Vice Premier Liu He said in a teleconference with Treasury Secretary Steven Mnuchin and U.S. Trade Representative Robert Lighthizer.
Starting from January 1, 2019, tariffs on 211 HTS line items concerning cars and parts originating in the United States are suspended for 3 months, China's State Council Customs Tariff Commission said in a statement.
Earlier this year, China raised its auto tariff from 15% to 40% as part of a tit-for-tat dispute with the US over trade practices.
After reviewing thousands of exclusion requests, the USTR released a list of the first batch of products that will be exempt from Section 301 tariffs.
Fully exempt from Section 301 tariffs
HTS Headings: 8412.21.0075, 8418.69.0120, 8480.71.8045, 8482.10.5044, 8482.10.5048, 8482.10.5052, 8525.60.1010
Product Types: hydraulic power engines, drinking water coolers, injection molds, radial bearings and CB radio transceivers
Partial Exemptions
HTS Headings: 8407.21.0080, 8421.19.0000, 8421.21.0000, 8425.39.0100, 8428.32.000, 8428.33.0000, 8419.90.2000, 8420.10.9080, 8439.99.1000, 8439.99.1000, 8466.92.5010, 8481.90.9040, 9022.14.0000, 9032.10.0030, 9903.88.05
Product Types: outboard marine engines, salad spinners, water filtration apparatusous, winches, elevators, belt conveyors, papermaking machineray, work stands for miter saws, radiation therapy systems, and thermostats for HVAC systems
Note: As of 12/21/18, these new provisions have not yet been added to the ITC's tariff schedule and additional information on the partial exemptions has yet to be published.
In fiscal year 2019, the Food and Drug Administration (FDA) will begin conducting inspections to ensure that shippers importing foodstuffs are compliant with the Foreign Supplier Verification Program (FSVP). Importers who are not in compliance with the regulation may receive warning letters or import alerts.
The FSVP requires importers to verify that their foreign food suppliers are using processes and procedures that meet applicable FDA safety standards, that the food is not adulterated or mislabeled, and that practices of foreign suppliers provide the same level of public health protection as US rules under the Food Safety Modernization Act (FSMA).
Read more >>
Are you subject to FSVP? (FDA Flowchart) >>
Photographer: Sarah Pabst/Bloomberg
At the G-20 Summit in Buenos Aires, President Trump, Canadian Prime Minister Justin Trudeau and Mexican President Enrique Peña Nieto signed the new U.S. Mexico Canada Agreement (USMCA). The new deal will replace the 1994 North American Free Trade Agreement, which created a free trade zone between the US, Mexico, and Canada. Before it will take effect, the USMCA must be ratified by the legislatures from each country. The US Congress won't consider the USMCA until 2019.
The biggest changes in the "new NAFTA" involve automotive manufacturing, Canadian dairy, and copyright laws. Automobiles must have 75% of their components made by Mexico, US, or Canada to qualify for zero tariffs and 40-45% of auto parts must be made by workers who earn at least $16/hr by 2023. US farmers will have access to 3.6% of the Canadian dairy market. The USMCA also extended copyright laws, stating the term of copyright protection shall be "not less than the life of the author and 70 years from the author's death".
The Federal Maritime Commission (FMC) recommended "transparent, consistent, and reasonable" practices for billing and dispute resolution, as well as setting up a shipper advisory board to look further at the issue. However, relief has yet to be seen for drayage carriers and BCOs on fees, and congestion at ports continues.
"If the carriers or terminals put into practice any type of form dispute resolution or something like that, it's not one that I am aware of," said CPG's Bob Leef. Each phone call to an ocean carrier to dispute a fee can result in different outcomes, with little clarity as to when fees should be waived.
"If three ships get backed up because of bad weather and they all hit in two days instead of three to five days apart, the terminal is now congested. It's unclear when something like that should be taken into account for waiving fees."
Read more >>
Read the FMC Final Report >>
Learn more about demurrage and detention fees here >>
Around the World: Current Events
Photographer: Marcelo Benitez/Getty Images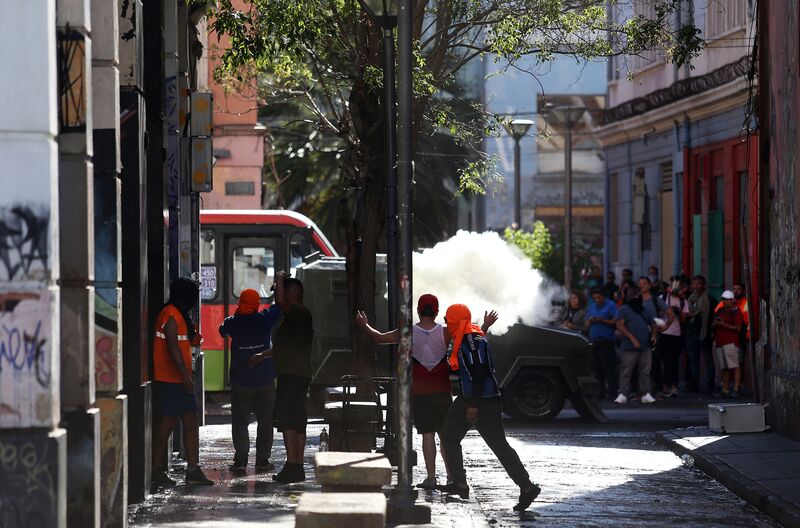 A series of strikes and demonstrations in Chile, which began mid-November, has caused a backlog of containers and delays for shippers moving freight into and out of Valparaiso. Casual workers at Terminal Cerros de Valparaíso (TCVAL) reached an agreement and went back to work on November 30th, but close to 500 stevedores at Terminal Pacífico Sur (TPS) are refusing to return to work.
"The strike will continue," Pablo Klimpel, a union leader, told reporters from Bloomberg by telephone from Valparaiso. "We are tired, obviously, but if we surrender now we'll be fired -- our only option is to continue."
Over the course of the strike, 13 vessels had switched to other ports, like neighboring Port of San Antonio. Striking workers blockaded most of the terminals, causing over 20,000 containers to be diverted and a $3.5 loss in revenue, Port Strategy reported.
Since November 17th, violent protests have been occuring in Port-au-Prince and across Haiti. Several deaths, injuries, and sporadic bursts of gunfire have been reported. Unrest continues, and although tensions have somewhat eased, the situation remains unpredictable and more strikes and demonstrations could pop up in the forseeable future. As a result, movement of goods may be disrupted.
According to GardaWorld, "Numerous demonstrations have been staged in recent months to call for greater government transparency after several public officials, including President Jovenel Moïse, were implicated in a scandal related to the alleged misuse of PetroCaribe funds."
Domestic Shipping & Logistics News
The 41st President of the United States, George H. W. Bush, passed away on November 30th. The Federal Government declared December 5th, 2018 a National Day of Mourning. The day honored the 94-year-old former president. A state funeral was held at the Washington National Cathedral that day.
The closure may effect entry scheduling with the CBP.
Sign up for CBP CSMS Email Alerts here >>
Read more about National Day of Mourning and the former president here >>
(Photographer: @AARONRIGSBYOSC/Twitter)
Winter storm Diego left more than 200,000 people without power. Drivers were stranded for 12 hours on a stretch of I-81 near Bristol, VA. The bulk of the snow fell in North Carolina, with Diego dropping more than 34 inches of snow on Mount Mitchell. 2 ft of snow fell on White Top, VA, and more than 10 inches of snow fell across Oklahoma and Texas.
Georgia Ports Authority announced the addition of a new, 104-acre inland terminal in Gainesville. The location in Northeast Georgia will feature a direct rail route, operated by Norfolk Southern Corporation, to and from the Port of Savannah's Garden City Terminal.
"The business world is getting closer to Northeast Georgia. The new inland port terminal will shorten the supply chain for many manufacturers, processors and distributors in the region," said Tim Evans, vice president of economic development for the Greater Hall Chamber of Commerce. "Accessing the container port by rail can save time and money, because rail deliveries to and from the Port of Savannah can shorten truck delivery times from approximately seven hours to less than 30 minutes. Direct access to the Port of Savannah, the fastest growing container port in the U.S., is an innovation in logistics infrastructure that provides many of our existing businesses a competitive advantage."
The goal of the new terminal, slated to open in 2021, is to increase logistics options and overall efficiency, while reducing congestion on Georgia highways.
The Port of Virginia published the latest VIG and NIT Project Updates.
VIG - Plans for January 2019: All 13 new container stacks in service. Delivery of 4 new STS cranes
NIT - December 2018 Project Status: PHASE II construction begins. Six RMGs delivered (24 of 60). Three additional container stacks with new RMG cranes placed in service (9 of 30)
Casual clothing but serious and genuine core values, come and visit with UWL. We have opportunities across the US
View our career opportunities here >>
Come and meet us, talk to us and feel the vibe. We hire for attitude and cultural fit.
View our career opportunities here >>