UWL Logistics Roundup | August 2019
By:

Kellie Lynch

Date:

Aug 30, 2019 5:07:13 PM

Categories:
The trade war between the U.S. and China further escalated in August, with both countries announcing additional tariff increases. Retail leaders, including Brian Dodge from RILA, spoke out against the tariffs and explained how they will raise costs for consumers. Despite all the trade chaos, several East Coast ports posted record volumes.
Friendly reminder that holiday hours will be in effect for many carriers and terminals on Labor Day (Monday, Sept 2), and those closures could cause some delays next week.
Now, let's dive into some of the major events that happened last month in global trade and shipping.
Jump to Section:
International Trade, Regulatory & Compliance News
U.S.-China Trade War Updates
Truce Over: Trump fires off new 10% tariff on $300 Billion worth of imports from China
U.S. President Donald Trump took to Twitter on Aug 1 announcing a new 10% tariff on the fourth list of $300 billion dollars worth of imports from China, effective Sept. 1. This will add a tariff to just about all of the remaining imports from China that haven't already fallen victim to Section 301 duties. The 10% tariff will be in addition to any other applicable tariffs already in place on products on the list.
USTR delays implementation of some tariffs until Dec 15, easing holiday shopping season concerns
On Aug 13, USTR announced it would be implementing the 10% tariffs on $300 billion of Chinese imports in two phases, splitting the products into two lists. It also removed some products from the list based on health, safety, and national security concerns.
The USTR delayed to December 15 tariffs on products including cell phones, laptop computers, video game consoles, certain toys, computer monitors, and certain items of footwear and clothing.
View the lists here:
China announces new tariffs in response to U.S. Aug 1 tariff hike announcement
China responded to Trump's levying of a new 10% tariff on Chinese imports, saying the move "violated the consensus reached by the two presidents in Osaka." In response to the tariffs, China announced that it will suspend purchases of US farm products in retaliation.
Then on 8/23, China's Ministry of Finance announced on its website that it will apply new tariffs between 5% and 10% on $75 billion worth of imported goods from the United States.
The tariffs of 10% and 5% take effect on two batches of goods on September 1 and December 15, the official Xinhua News Agency said.
U.S. increases tariffs on Chinese goods by 5%
"Twelve hours after China said it would retaliate against Mr. Trump's next round of tariffs by raising taxes on American goods, Mr. Trump said he would bolster existing tariffs on Chinese goods," reported the New York Times.
President Trump instructed the United States Trade Representative (USTR) to increase by 5% the tariffs on approximately $550 billion worth of Chinese imports.
For the 25% tariffs on approximately $250 billion worth of Chinese imports, USTR will begin the process of increasing the tariff rate to 30%, effective October 1 following a notice and comment period.

For the 10% tariffs on approximately $300 billion worth of Chinese imports that the President announced earlier this month, the tariffs will now be 15%, effective on the already scheduled dates for tariff increases on these imports.
More Trade Stories
Regulatory Updates
Industry News: Automotive, Retail, eComm & More
When levees break: How retailers are preparing for a riskier natural world
Did you know? Over 26,000 retail stores lie in the path of hurricanes, flood zones, or coastal areas where sea levels are expected to rise. This story from Retail Dive explores how retailers handle when natural disaster strikes.
Study: This is who consumers trust most for shopping recommendations
According to a study done by Oracle, influencers and bloggers are actually among the least trusted sources for shopping recommendations. Consumers are twice as likely to trust family members (77%) and friends (75%) than any other source. The most trusted source of tech-driven recommendations was social media ads, which are trusted by just 23% of consumers.
Retailers look to outsource more e-commerce fulfillment
In the next three to five years, 18% of retailers surveyed said they expect to entirely outsource their online order fulfillment. Are you also considering outsourcing? Let's talk!
Around the World: Current Events
Current Events Causing Shipping Disruptions (Congestion, Strikes, & Protests)

PAKISTAN: The Government of Pakistan imposed a ban on all importing and exporting to/from India.
HONG KONG: Major disruptions across Hong Kong due to protests and demonstrations over an extraditon bill. More than 350,000 people participated, blocking roads and grinding the transport network to a halt. HK's main airline, Cathay Pacific cancelled most of its flights in and out of mainland China. The situation is beginning to return to normal, but expect delays.
GUATEMALA: Thousands across Guatemala carried out a general strike Aug 6, protesting electoral fraud that was committed in June. Several important roads and highways throughout the country were blocked by the protesters, which caused delays
CHINA/TAIWAN: Super Typhoon Lekima, a Category 3 major hurricane, struck eastern China on Aug 11. The Port of Shanghai closed and vessels scheduled to call on the port were unable to berth. Sailing out of WaiGaoQiao and Yangshan was also delayed.
UNITED STATES/FLORIDA: Hurricane Dorian, the second hurricane of the 2019 Atlantic season, could reach Category 4 hurricane strength as it makes its way to the southeastern United States coast. Dorian is expected to make landfall on the eastern Florida coast between Monday 9/2 and Tuesday 9/3.
Logistics News
IMO 2020: A Brief Overview
A new regulation limiting the sulfur content allowed in marine fuels is coming at the end of the year that will raise the cost of fuel for ocean carriers and impact sea freight rates on a global scale. Our brief whitepaper explores the current situation leading up to IMO 2020, the three main solutions carriers will employ to comply, and how it will affect shippers.
Click "Download Now" below to receive our brief IMO 2020 overview.
Decoding IMO 2020: Key Terms & Definitions
IMO, MGO, VLSFO... Oh my! As if there weren't enough acronyms to remember in logistics already, IMO 2020 is chock-full of them. We put together this quick guide of key terms to make understanding the new maritime fuel regulations easier.
Ocean carriers cracking down on misdeclared hazardous cargo
Nearly 25% of all serious incidents aboard containerships are the result of misdeclared cargo, and ocean carriers are cracking down! Fees for omission, concealment or misdeclaration of hazardous cargoes could top $35,000 depending on the carrier used.
More Logistics Stories
Port News
East Coast notches first-half growth for box imports
While container volumes to the U.S. West Coast slowed due to the uncertain trade outlook, on the East Coast, total imports were 4.72 million TEUs during the first six months of 2019, a 6.8 percent increase from the same period last year.
Here are the 20 busiest ports on the planet
Of the top 20 ports in the world, only 5 are located outside of East Asia. The Port of Los Angeles is the only U.S. entrant in the top 20, and only three European ports made the cut.
Virginia port service shuffle promises faster rail flow
Great news for BCOs who ship into Norfolk: Now that the VIG project is complete, The Port of Virginia is reshuffling vessel strings to optimize terminal flow. The switch should help reduce time-consuming drays between terminals and make for more seamless on-dock rail service.
More Port News
Company News
Join us at Specialty & Agro Chemicals America!
We'll be attending Specialty & Agro Chemicals America from Sept 4-5 at Belmond Charleston Place in beautiful Charleston, SC. We'd love to see you next week at the show!
To schedule a meeting, please email Lisa.Bilbao@shipUWL.com or call 281-845-6522.
Learn more here: https://charleston.chemicalsamerica.com/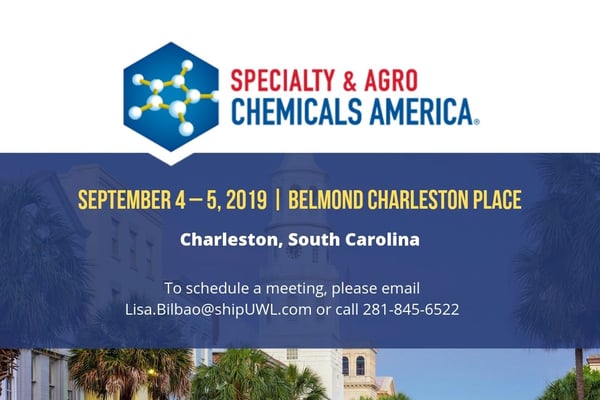 Learn more about our Chemical Logistics services
UWL is a leading NVO and freight forwarder that provides chemical exporters with specialized logistics services. Over 80% of our export business serves the chemical industry. We have the expertise and resources to turn complex industry requirements into streamlined solutions.
To learn more about our chemical logistics services, download our new chemical brochure here.
⛳ We had an awesome time at the Cleveland Freight Association's Annual Golf Outing! Congratulations to Export Coordinator Jake Fosnaught (center), who won the longest drive contest! 🏌️ Also pictured are Strategic Accounts Manager Johnny Maiden (left) and Air Freight Supervisor Tino Nieves (right).