UWL Invests in Pacific Northwest with New Forwarding Office in Seattle
By:

Kevin McClelland

Date:

Mar 29, 2023 11:44:51 AM

Categories:
New UWL Seattle office will help to support the company's Sun Chief Express service


Seattle, WA, March 27, 2023 – In response to the rapid growth in the Pacific Northwest, UWL, a top 10 American-owned NVOCC and leading provider of global 3PL services, is expanding its presence in the region with a new 4,200-square-foot office to meet customer demand and support its popular Sun Chief Express service.

Duncan Wright, President, UWL, said: "UWL and our parent company, World Group, feel the Pacific Northwest is the gateway of the future as shippers look for alternatives to the southern California ports. This new office demonstrates our commitment to growth in the region, and complements our recent investments, including Sun Chief Express, the acquisition of Pacific Cascade, and the introduction of a new Tacoma-based distribution center by our sister company, WDS."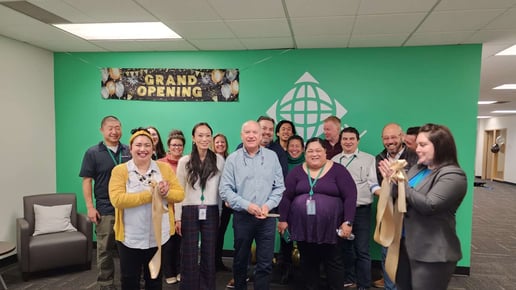 The new UWL Seattle office provides a state-of-the-art workplace for employees, who are trained to provide top-notch support to customers in the region, many of which are using the Sun Chief Express Service. Launched in 2022, Sun Chief Express is the fastest and most reliable ocean shipping service from Vietnam to the US West Coast, completing the journey is as few as 18 days. Operated in contract with Swire Shipping, the service provides importers and exporters with a reliable, timely, and predictable shipping solution, which continues to be critical as other carriers announce blank sailings and roll cargo.

Further cementing UWL and World Group's position in the Pacific Northwest is the recently announced acquisition of Pacific Cascade, which will help to expand the depth and breadth of trucking and distribution services offered in the region. In addition, UWL's sister company, World Distribution Services (WDS) recently introduced a new 300-000-square-foot warehouse in Tacoma.

The new UWL Seattle office is strategically located near the Seattle-Tacoma International Airport and is 18 miles from the Port of Tacoma and 20 miles from the Port of Seattle. It represents UWL's sixth new office in less than 18 months. UWL established offices in Haiphong, Vietnam, Phnom Penh, Cambodia, Shanghai, China, and Long Beach, CA in 2022, and Chicago, IL in 2021.

"This new office in Seattle not only solidifies our position in the Pacific Northwest market, but also sends a clear message that we are in growth mode. Opening multiple new offices throughout the world in less than two years is a clear indicator that we are prepared to invest in markets that provide us with a strategic advantage and enable us to continue to support and grow our customer base," said Evan Hartman, Senior VP, International Operations.
About UWL
UWL is a top 10 American-owned NVOCC and leading provider of global 3PL services. They take pride in delivering seamless supply chain solutions backed by a team of creative problem-solvers. UWL specializes in ocean transportation, air freight, project cargo, warehousing and distribution, chartering, bulk liquid logistics, and customs house brokerage. Proof is in their owned assets: a national network of distribution centers, dependable trucking capacity, and a proprietary user-friendly data management platform that delivers transparency and data to customers' supply chains. To learn more, visit www.shipuwl.com
Dive Deeper