UWL Freight Market Update | Week 51
By:

Kellie Lynch

Date:

Dec 21, 2020 11:45:00 AM

Categories:
This week's latest ocean freight, trade and compliance updates.
We're starting our market update a little different this week. Before we get into some of the challenges the market is facing, we wanted to share 3 tips to help you have a successful new year.
Forecast, Forecast, Forecast - The more you proactively share your forecasts, the better carriers will be able to support your weekly demands. Try your best to be accurate, and remember that it's better to overestimate than underestimate in the current conditions.


Diversify Your Carrier Base and Routing Options - As the old saying goes, putting all your eggs in one basket can be risky. Diversifying your carrier base and having alternatives in place can help you more easily pivot and adapt when issues crop up. Unlike many of our competitors, UWL has the unique advantage of a multi-agent network and multiple co-load model. Each of our agents have unique relationships in Asia with the carriers. These strategic relationships can make all the difference times like these when humans are making the final decisions on who gets on the ship and at what price.

Another thing to consider is looking for alternative ports and routings - could some freight route via East Coast instead of the West Coast? What about using the Port of Savannah instead of NY/NJ? Our team can help you look at the different options available to determine which works best for your business.


Buffer Your Transportation Budget to Accommodate Market Volatility - From dramatic lows at the beginning of the year to tremendous highs during peak season, if there's anything that 2020 has taught us, it's that the transportation market can be volatile. Make sure you have a buffer in your transportation budget because there will be periods of the year, like Peak Season, where you may be forced to look at a higher spot rate market.
As we head into 2021, we hope you have a wonderful holiday season and wish you all a prosperous New Year. Now, onto the Freight Market Updates.
Ocean Freight 🛳️
Asia to North America / Transpacific Trade
UPDATE 12/23: Capacity is FULL in December AND January - The ocean carriers have announced blank sailings through the end of December, and we expect more to come in January. Our agents in China report that space in January is already fully booked, making it the strongest month in this contract year. At many origins like Shanghai, Ningbo, Nanjing, and Taiwan, the space to USEC in January has been overbooked already and the earliest available space/equipment is February. Indeed, we are seeing many bookings already arranged to February. Unless you pay the premium surcharge to the carrier, it will be very difficult to load shipments in January.
We're continuing the fight to secure space and equipment to keep your products moving. The earlier you book, the better your chances are to get capacity. These trends are expected to continue though the Chinese New Year holiday (Feb. 11 – 17), with hopes of being back to normal sometime in March/April 2021.
Rates are Level - While the market rates are level through Dec. 31, booking and equipment guarantee programs continue to push total ocean rates higher. Keep an eye out for a potential January GRI from carriers.
Equipment Shortage Continues - The equipment shortage is a global problem. Currently, there is an extreme shortage of all size of containers. All carriers are short of 40GP and 40HQ containers at all Origin ports. Even 20' standard containers are becoming harder and harder to find. Container shortages at Origin, especially in smaller ports like Fuzhou and Lianyungang, Vietnam, and across Southeast Asia, are making it difficult to secure bookings. "We heard before CMA will have a batch of new containers ready in Shanghai at the end of Dec , but so far these containers are still not available in SHA and should be delay," our agents shared.
Rolling is Still an Issue - It's important to note that even when using guarantee programs, sometimes shipments can still be rolled due to blank sailings and other issues. "When you pay a premium, it guarantees a booking and equipment. It does not necessarily guarantee the container will not be rolled," explained Jon Monroe, our agent with WWL. "Each carrier has taken a different approach to their acceptance of bookings and container priorities."
Blank Sailings and Record Low Schedule Reliability - Global vessel schedule reliability hit new lows in November as congestion ensnared ports due to a deluge of cargo volumes.
"Schedule reliability in the eastbound trans-Pacific led the decline, deteriorating to the lowest levels ever recorded — 28.5 percent on the West Coast of North America and 26.3 percent to the East Coast — as mounting congestion issues further delayed the handling of vessels that were already behind schedule in arriving at the ports," Bill Mongelluzzo of JOC reported, sharing the latest data from Sea-Intelligence Maritime Analysis.
Delays in the USA (destination), lead to more delays on calls back to Asia (origin) as these strings are just giant circles. Carriers are choosing to omit some calls at origin to try to return back to being "on-time". For example, a ship might call on Ningbo (NGB), but then skip Shanghai (SHA) and head straight to Busan.
Worst case, they choose to blank sail the entire string to return back to "on-time". As you might recall, a blank sailing is when a sailing that was scheduled does not occur. The carrier pulls the vessel and the cargo booked for that vessel must then be rolled to the next week's sailing. In our current market, that might shift the original booking much further back than just one sailing, as many cargoes were already booked in advance for the following sailings.
Typically in the past, this action was done by the carriers to manage their capacity to ensure they fully utilize their vessels. When COVID first hit in February, carriers continued to blank sail significantly through June which was one of the biggest factors of why we have such a broken market today, as they were quite literally not moving cargo when they could have been. To get the latest blank sailings and equipment data, download our report below.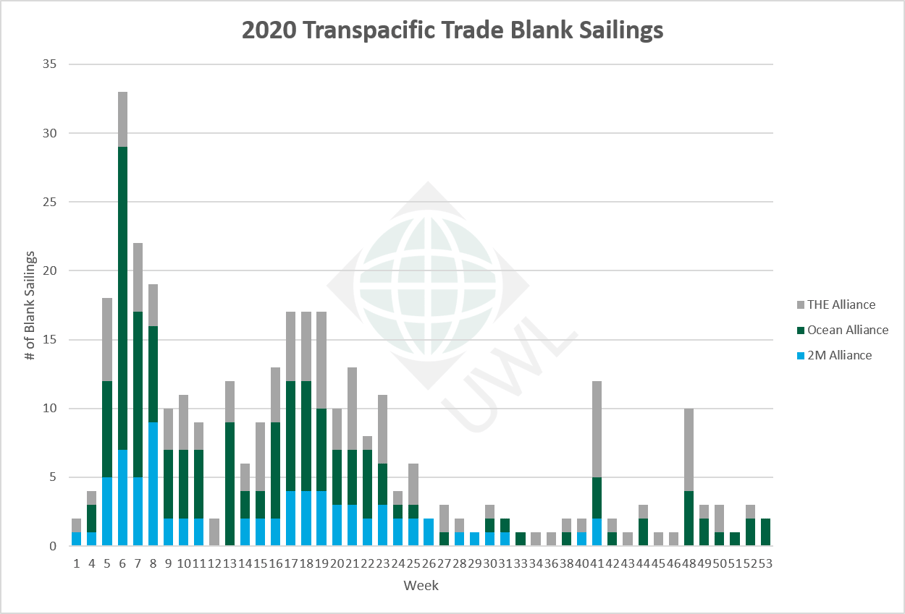 | | | | | |
| --- | --- | --- | --- | --- |
| | 2M Alliance | Ocean Alliance | THE Alliance | Grand Total |
| Q1 | 36 | 76 | 36 | 148 |
| Q2 | 33 | 50 | 47 | 130 |
| Q3 | 4 | 4 | 5 | 13 |
| Q4 | 3 | 18 | 23 | 44 |
| Total | 76 | 148 | 111 | 335 |

Note: Report only covers cancelled transpacific sailings from East Asia to USA and Canada destinations. Updated Dec. 18, 2020.
U.S. Port Congestion Leads to Delays - Vessels are often waiting to berth for 4-6 days, leading to vessel bunching. COVID-related terminal labor shortages also mean it is taking longer to offload vessels. This causes downstream terminal congestion which lowers trucking productivity. Chassis shortages, single transactions, and lack of appointment times are causing boxes to sit in ports longer and causing delayed empty returns. NY/NJ and LA/LB continue to experience IPI delays due to capacity constraints with equipment and driver shortages. These shortages are impacting IPI schedules and cause delays on pickups and transit times. Winter weather will add to the delays and challenges our ports face.
Winter Storm Slams Northeastern U.S. - On Wednesday, 12/16, a winter storm dumped 10-12" inches of snow and sleet on the Northeast region, affecting many heavily trafficked areas and leading to delays. Roads and ports temporarily closed for snow removal. Several of the affected terminals have announced Saturday hours to catch up. As you can imagine, trucking companies prioritize the safety and welfare of their drivers and colleagues during storms like this, so temporary closures will affect the timeliness of deliveries scheduled during the storm.
Port of Baltimore has been opening on Saturdays due to the extreme volume and a lack of terminal space. Chassis shortage is still a problem there.
At the Port of New York and New Jersey, most area terminals have opened on Saturday and will continue to do so through the end of the year as the piers close for Christmas and New Year's. Import volume is extremely high and late vessels have made space, both on dock and off dock, extremely tight. Pier changes for empty containers, loaded containers, chassis shortages, export cut offs, and vessel bunching are all contributing to delays.
Southern California Ports are struggling with a chassis shortage and inbound volumes remain strong.
ONE Apus Update: Ship Safely in Kobe, Slow Removal of Containers has Begun - Containership ONE Apus lost 1,800+ containers overboard after it was caught in a storm on its way to Long Beach at the start of the month. It has since berthed at Japan's Port of Kobe. According to the latest update from ONE, "The careful removal of the dislodged units under a schedule formulated by stowage planners is expected to take over a month with safety the number one priority. Once unloaded, each will be assessed." This will be a slow moving process in which General Average will be applied. Please let us know if you have any questions related to this incident. And remember to ask your UWL rep about Cargo Insurance to protect your next shipment.
North American Exports
U.S. Domestic Trucking - Book at least 2 weeks in advance to secure drayage capacity, demand is high and carriers are booked up. Drivers are in short supply due to the holidays and COVID-related issues.
Equipment Shortages Remain an Issue - Some importers are using containers as additional warehouse space, at times keeping equipment out for 10-14 days while they work through volume, labor, and COVID-19 related issues. This is resulting in equipment shortages for exporters.
South China Feeder Services Suspended - Due to the upcoming Chinese New Year in 2021 (February 11 to February 26th) and COVID restrictions, all feeder services connecting South China base ports to other arbitrary ports will be suspended. This affects services with ETA 1/5/2021 thru 2/26/2021. It will not affect direct services or routings that transship via other Asia countries or North China base ports.
Global Port Congestion - There are on-going congestion issues in Philippines, Pakistan, India, Bangladesh, Egypt, and Georgia. Some carriers will be suspending or limiting the amount of bookings going to these countries.
Trade & Compliance🌐

New FMC Investigation on Demurrage and Detention Practices - The FMC will be keeping a closer eye on ocean carrier practices relating to detention and demurrage. Recently, they asked the carriers to begin reporting changes monthly rather than quarterly. They also announced a formal investigation into the extreme challenges that exist in our major port gateways of Ports of Los Angeles, Long Beach, and New York/New Jersey. This investigation will look into certain actions of ocean carriers operating in alliances calling on these ports and marine terminals to see if certain operational issues related to detention and demurrage, container return, and container availability for US export cargoes are contrary to provisions in the Shipping Act of 1984. The FMC is seeking comments concerning these issues and now is the time to let them know if they have impacted your business. Comments can be left confidentially and should be sent, with detailed information, to the FMC through the special mailbox that Commissioner Dye established at ff29@fmc.gov.

Food Importers: Deadline to Complete FDA Biennial Registration Renewal for Food Facilities is Dec. 31 - Food facilities that are required to register with the U.S. Food and Drug Administration (FDA) must renew their registration by December 31, 2020. Both the foreign exporter and U.S. importer must have valid registrations, and each food facility must have a DUNS number. There is no fee associated with the registration or renewal process. Food facility owners must submit renewal information electronically through their FDA Industry System account, unless they have received a waiver to provide a paper submission. Food facilities with questions about the registration process should contact the FURLS Helpdesk by telephone (800-216-7331 or 240-247-8804) or by email at FURLS@fda.gov. This FDA Fact Sheet provides more information about the biennial food facility registration renewal period.
CBP Issues Harmonized System Update With GSP Changes for Thailand - CBP created Harmonized System Update (HSU) 2008 Dec. 7, containing 37,804 Automated Broker Interface records and 6,935 Harmonized Tariff Schedule records, it said in a CSMS message. The update, according to International Trade Today, covers recent restrictions to Thailand's benefits under the Generalized System of Preferences benefits program and cotton fee changes. The CBP's point of contact for questions regarding this update is Jennifer Keeling, Jennifer.L.Keeling@cbp.dhs.gov.