UWL Freight Market Update | Week 48
By:

Kellie Lynch

Date:

Nov 25, 2020 8:12:45 AM

Categories:
This week's latest ocean freight, air freight, trade and compliance updates.
Ocean Freight 🛳️
Asia-Transpacific Trade
As if getting through 2020 wasn't hard enough, navigating this year's peak season can at times feel like scaling a blustery Mt. Everest. Lack of vessel capacity, cargo rolling, congestion at the ports, and equipment shortages in Asia and the U.S. are causing logistical headaches for everyone in the supply chain.
U.S. import volumes are spiking with no sign of slowing down, and bookings remain strong at least through Chinese New Year (Feb. 12). Capacity from Asia is filling up fast, with just about all of the space full through mid-December.
Extreme vessel delays in USA/Canada are also leading carriers to implement blank sailings at origin in order to get back on schedule, thus leading to more chaos in Asia on top of the already existing equipment and space issues.
There hasn't yet been an official GRI announced for Dec. 1, but space guarantee and premium rates are still increasing.
Equipment Shortages at Origin Persist
At origin equipment is king right now – nearly every steamship line (SSL) in every origin is short on equipment - especially 40'High Cube and even 40' Standard containers.
Carriers are offering shippers premiums of $500-2000 to secure equipment/space. However, for some carriers, even paying the premium is not a fool-proof guarantee that the equipment will be available. The problem is so bad, some vessels are sailing with empty slots due to lack of equipment.
Due to the shortage, we recommend switching to 20' or 45' containers where possible to keep your shipments moving.
Learn more about the equipment shortages and equipment availability at Asian origins here.
U.S. West Coast and East Coast Congestion Cause Delays
While congestion is terrible right now on both coasts, the West Coast seems to be hit the hardest. Nearly a dozen vessels have been stuck floating in the waters outside of the twin ports of Los Angeles-Long Beach waiting to berth. Containers at the ports are stacked five and six high, the LA Times reported, the most the fire department will allow.
Delays are mounting due to the recent import surge, labor shortages, and chassis shortages. Many West Coast terminals are now requiring dual transactions, which is leading to additional shortage of chassis because empties are often sitting on chassis longer than normal, as well as additional detention/demurrage.
Congestion is also causing problems on the East Coast. At the Port of New York and New Jersey, where there are six marine terminals, multiple depots, and multiple equipment providers, inefficiencies between the different supply chain stakeholders are causing equipment shortages and drayage delays.
Truckers are having difficulties returning empty containers and one-way moves are eating into their available hours of service. Data the JOC shared shows how truckers have been less and less able to facilitate double moves this year: In 2020, drivers have been able to drop off containers, primarily empties, and also pick up a full import load for just 25-30% of truck trips at the Port of NY/NJ, compared to 70% of truck trips in late 2014.
A group of supply chain stakeholders recently wrote the FMC about these issues, urging them to suspend detention and demurrage fees in the San Pedro Bay port complex and at the Port of New York and New Jersey. Read the letter here (1.3 MB PDF). The FMC responded last week, announcing a formal investigation into the congestion and carrier practices.
Inland Issues Mounting
Cargo moving inland has been impacted significantly by equipment shortages and congestion – some shippers have been waiting 20+ days just for cargo to move on the rail.
Several carriers have announced Emergency Intermodal Charges (EIC) for inland cargo that has to move off dock which will go into effect in Dec. 2020. Please contact your UWL representative if you have any questions.
COVID-Era Consumer Shifts Collide with Inventory Restocking and Holiday Shipping
So what is driving this surge in demand? Three major factors are contributing to the current influx in U.S. import volumes:
Record Inventory Restocking
Changes in Consumer Spending Habits
Holiday eCommerce Bonanza
Importers Rush to Replenish Depleted Inventories
When the pandemic hit, consumers ran to the stores to stock up on essential supplies, leaving shelves bare. Then, when economies reopened in July and August, importers in rushed to restock their inventories. They've been playing catch-up ever since. According to a survey by investment bank Evercore ISI published on Oct. 14, 90% of consumer-business respondents said their inventory levels were either "too low" or "a little too low."
And more than just re-stocking, we're seeing a trend in the industry moving from "just-in-time" to "just-in-case" inventory strategies. Importers are building up their inventories beyond normal levels to accommodate elevated consumption trends and provide some padding in case there's another lockdown this winter.
Spending Habits Change as Consumers Stay Home
COVID drastically changed consumer spending habits in 2020, which is changing how freight flows through the supply chain. The U.S. economy appears to be rebounding. Consumer spending and confidence is on the rise after dropping earlier this year. We're also seeing a large shift to a "stay-at-home" economy.
Just how big of a shift are we talking? According to a recent article from the Stanford Institute of Economic Policy Research, "42 percent of the U.S. labor force are now working from home full time, while another 33 percent are not working — a testament to the savage impact of the lockdown recession. The remaining 26 percent are working on their business's premises, primarily as essential service workers."
With more than half of the U.S. labor force staying at home and social distancing, money that was once spent on services like restaurants, bars, theaters and music events has shifted to household goods. Clothing and footwear purchases have declined — because who needs to buy fancy new outfits when you can work from home in your favorite jammies? Gas prices are also down, partly because people who rarely leave the house are fueling up less and less.
So where are we seeing the increases? You can probably already guess there's been a huge influx of spending on Personal Protective Equipment (PPE), medical and cleaning supplies to keep the COVID bug at bay.
Spending on home improvement and construction materials is also way up — when you're stuck at home all day instead of commuting to the office, you suddenly have time for those projects around the house. And speaking of housing, the real estate market is experiencing record low rates. Many renters are becoming homeowners and need to furnish and upgrade their new homes.
"Demand for key household items such as dishwashers, refrigerators, washers and dryers has been so strong since the pandemic hit that there are key shortages in many models and those shortages are expected to last into 2021," said Matson CEO Matt Cox in a recent article on FreightWaves.
The "stay-at-home" economy also has more and more consumers avoiding stores and switching to eCommerce. We're seeing that switch play out in record numbers this holiday season.
Holiday eCommerce Bonanza
A dramatic shift to online shopping is also panning out this year. "For the first 10 days of the holiday shopping season, U.S. consumers spent $21.7 billion online—a 21% year-over-year jump, according to Adobe Analytics. This likely stems from the fact that 63% of consumers are avoiding stores and buying more online, with health concerns due to the pandemic driving that decision for 81%," Digital Commerce 360 reported.
How do these shifting consumer habits change the movement of freight? U.S. import volumes from China and Southeast Asia are going through the roof, causing a major trade and equipment imbalance, and congestion in many of the world's ports.
An Un-Traditional Peak Season Overwhelms Ocean Carriers and Asian Ports
Traditionally, peak season tends to run from mid-August to mid-October, with much of the holiday freight having arrived in the States by now. We're not seeing that in 2020.
"To give you a sense of the demand right now, we are turning away — each week — more cargo than we are carrying," said Cox. The demand is so great, boxes are piling up in Asia, waiting to get on ships. And rolled bookings are more and more common.
"We're seeing significant congestion in Asia," Cox explained. "Although I'm not talking about Matson, we're seeing cargo that wants to get on a ship that's being rolled [pushed back to a subsequent sailing]. And we're seeing the other international ocean carriers put in additional extra loaders [ships not in the normal service rotation]."
"This is not a typical season," Cox said. "There's such demand for cargo. Many of our customers can't keep up with the demand and cargo is back-ordered."
How long will the extended peak season last? The answer remains uncertain, but we could see these trends continue through Lunar New Year (Feb. 12).
Transpacific Blank Sailings By the Numbers
From Weeks 48 through 52, there are 10 blank sailings. 14 extra loaders have also been announced. Download the report below for all of the details. We recently added tabs to include information on extra loaders, reinstated sailings, and equipment availability — download the report below for more details.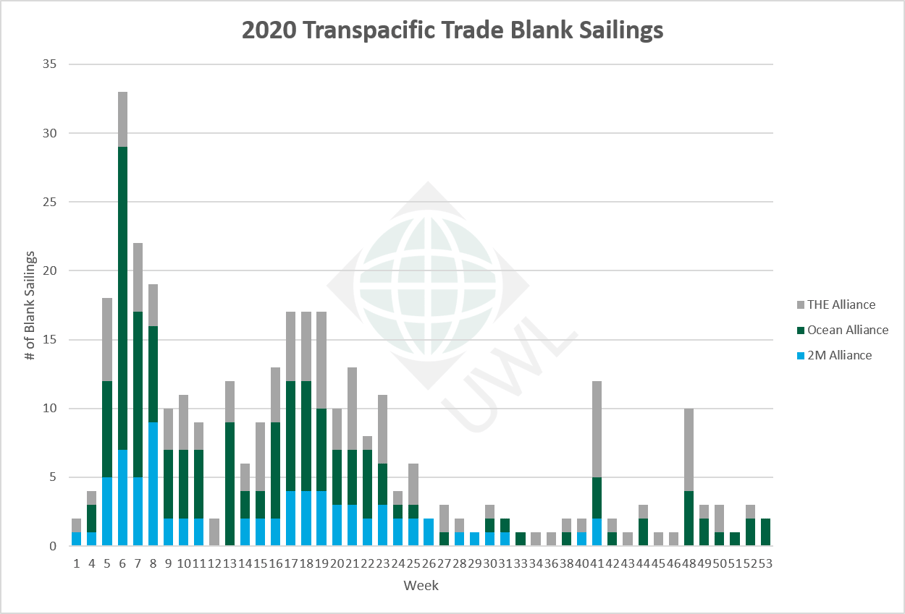 | | | | | |
| --- | --- | --- | --- | --- |
| | 2M Alliance | Ocean Alliance | THE Alliance | Grand Total |
| Q1 | 36 | 76 | 36 | 148 |
| Q2 | 33 | 50 | 47 | 130 |
| Q3 | 4 | 4 | 5 | 13 |
| Q4 | 3 | 18 | 23 | 44 |
| Total | 76 | 148 | 111 | 335 |

Note: Report only covers cancelled transpacific sailings from East Asia to USA and Canada destinations. Updated Dec. 18 2020.


North American Exports
Peak Season Challenges: COVID-related labor shortages, congestion, chassis/equipment shortages, vessel delays and trucker capacity at ocean and rail terminals continues to pose challenges for shipments routing through Los Angeles/Long Beach, CA; Oakland, CA; Seattle/Tacoma, WA; New York/New Jersey; Savannah, GA; and Norfolk, VA.
Some carriers have announced Emergency Intermodal Surcharge (EIS/EIC), which is a rail congestion fee of $350/container starting in December 2020 for shipments routing via LA/LB port from these origins (for off dock ramps): Chicago, IL; Columbus, OH; Memphis, TN; Nashville, TN; Cincinnati, OH; St Paul/Minneapolis, MN; Omaha, NE; Council Bluffs, IA; Charlotte, NC; Detroit, MI; St Louis MO; and LAX/LGB.

Oceania: Congestion persists in Melbourne, Sydney and now Auckland NZ. Some ports may be omitted from a specific vessel rotation if congestion is severe. Omission of calling specific ports helps alleviate some of the backlog these terminals may be experiencing but it also reduces the number of sailing options to each location.

Central America: Due to severe flooding from Hurricane Eta and Iota, trucking operations in El Salvador, Guatemala, Honduras and Nicaragua were suspended until conditions improved, which caused delays.

Russia - A Winter Surcharge will go into effect from December 2020 through April 2021.
Latin American Exports
Space is a little bit better compared to previous months. Sometimes we can get bookings three to four weeks in advance. There are some challenges with 40'HC being available, but most of the time we are able to secure the equipment without a problem. For some types of commodities, we're seeing a reduction in the freight costs, and we're working to get this for all routes and cargos.
Air Freight ✈️
Rates Expected to Remain High Until Passenger Flights Resume
Airfreight rates during November are 107% higher than last year's levels (down 2% M/M), according to a recent Cleveland Research Company (CRC) transportation report. Capacity has shrunk faster than demand contraction. We expect rates to remain 50%+ higher Y/Y into 2021 or until passenger flights (capacity) meaningfully resume.
Learn more about our air charter and air freight services here or contact our air team at airquotes@shipuwl.com to get a quote.
Trade & Compliance🌐
Will Trump Tariffs Continue Under New Biden Administration?
Biden is expected to review Trump's trade remedies under both Section 301 and Section 232, but it remains unclear whether or not the new administration will rollback Trump's tariffs.
Experts speaking at the virtual Coalition of New England Companies for Trade (CONECT) conference on Nov. 9 shared that they believe a reversal of the tariffs does not seem imminent, and that they expect the tariffs to remain in place until at least the fall of 2021.
"At least with respect to the Chinese Section 301 tariffs under a Biden administration, his advisers and trade policy experts are not predicting any immediate changes in the short term," Richard Mojica, lawyer from Miller and Chevalier said in an article by International Trade Today. "There are a lot of different things at play and the experts think that Biden wants to keep options open until he has a chance to talk to allies and make a unified approach to China."
FMC Expands Authority of Demurrage Investigation Fact Finding 29
The FMC recently announced a formal investigation into the U.S. port congestion and carrier practices.
"The time has come to resolve the most serious impediments to port performance. I'd like to thank my fellow Commissioners for their support of the Supplemental Order for Fact Finding 29, as I focus the investigation on the extreme conditions in the Ports of Los Angeles, Long Beach, and New York/New Jersey. The Order emphasizes I, as Fact Finding Officer, have all enforcement options at my disposal to address the crisis that exists in our major port gateways," Commissioner Rebecca Dye said in the announcement.
Speaking at the CONECT event on Nov. 9, Dye said of the congestion issues, "Here's my proposal: Instead of charging truckers and shippers for port inefficiency, fix the problems. Addressing port performance will remove the staggeringly large charges for demurrage and detention and allow charges that incentivize good behavior."
We welcome this investigation. Improving port performance and reducing demurrage and detention charges will help every member of the supply chain.
US Groups Urge for Extension of Section 301 Exclusions
Americans for Free Trade, a coalition of importers, exporters, retailers, and other trade groups wrote a letter to USTR rep. Robert Lighthizer urging the USTR to extend Section 301 tariff exclusions that are scheduled to expire Dec. 31, as well as extend all current product exclusions for at least six months.
"As American businesses continue to recover from the COVID-19 pandemic, they should not have to face the uncertainty of tax increases on January 1 because of a re-imposition of tariffs on previously excluded products. It remains unclear whether USTR intends to offer additional product exclusion extension opportunities for the remaining exclusions. We believe it is crucial for USTR to do so," said the letter.
WCO Shares Upcoming 2022 HS Tariff Change Correlation Tables
On Nov 13, World Customs Organization (WCO) released correlation tables, which help importers compare 2022's upcoming version of the Harmonized System tariff schedule with the 2017 version.
"While not legal instruments, the Correlation Tables have become essential tools for Members and the wider trade community in preparing for the introduction of a new edition of the HS. These tables provide guidance on the correlations between the Seventh Edition of the Harmonized System (HS), which comes into force on 1 January 2022 and the current HS 2017 (Sixth Edition) of the HS," the WCO said in the announcement.
And that's a wrap on our latest Freight Market Update. Thank you for reading, and we hope you have a wonderful holiday season! If you have any questions, please contact your UWL Representative, or send us a message using the button below.