UWL Freight Market Update | Week 45
By:

Kellie Lynch

Date:

Nov 4, 2020 7:45:00 AM

Categories:
This week's latest ocean freight, air freight, trade and compliance updates.


Ocean Freight 🛳️



Asia-Transpacific Trade
2020 is the "unprecedented" gift that keeps on giving, so it should come as no surprise that this year's peak season would be wrought with unprecedented events of its own. Historically high demand coupled with a perilous equipment imbalance have the holiday shipping market in a scramble.
High Demand Sparks Record Rates
Capacity on the transpacific trade is extremely tight. With the inactive containership fleet at record lows (down to just 1.8% of total global capacity as of Oct 12., lower than any of the previous five years according to Alphaliner), there is little capacity left for carriers to add to alleviate the situation.
Expect high rates and challenges securing capacity to continue through Q4. Luckily though, carriers did not impose a GRI on Nov. 1, so rates will be maintained at October's levels at least through Nov. 14.
Just how high is demand for ocean freight this season? Despite carriers injecting an additional +20% more capacity year-over-year into the market in the form of extra-loaders, spot rates have increased over 130% in the past few months, and space on vessels is almost completely booked up.
Equipment Shortage in Asia Sparks Delays
But will all those bookings actually sail on time? To quote Greg Miller from FreightWaves:
"'Twas the night before Christmas and all though Shenzhen, not a container was stirring; they'd been "rolled" yet again."
All Asian ports are slammed right now and equipment shortages have resulted in a rise of rolled bookings, causing some carriers to stop taking bookings altogether.
Securing 40' equipment - both High Cubes (40'HC) and Standard (40'GP) - continues to be challenging across many ports throughout Southeast Asia. Premium services are also affected, and at times, there is no equipment available even for premium bookings.
The shortage has become such a problem, our agents in China suggested the use of "40'NOR" containers in place of the other 40' container sizes — an abbreviation I hadn't yet come across in over 3 years of writing on the freight industry. 40'NOR, in case you were wondering, stands for "40' Non-Operating Reefer container" — meaning you can sometimes opt to transport your non-reefer cargo in an empty 40' refrigerated container if standard 40' equipment is unavailable.
UWL Agent Jon Monroe, from Worldwide Logistics, explained just how dire the equipment situation in Asia has become:
"I have heard of vessels not sailing full. Think about it, if they are leaving bookings behind because of no equipment, the backlog will only serve to create more congestion and extend the backlog of orders further down the line.

Currently, there is a 2 to 3 week backlog of containers in the terminals in Asia. How long will this last? It is hard to tell, but conceivably it will last until demand slows. Reversing the container balance will not happen until the demand falls off. It is too far behind.
According to the market environment, the equipment situation will not get better until the end of Nov. and that is optimistic. There is a possibility that shipments may be delayed for several weeks due to the lack of equipment."
Learn more about the current equipment shortage in Asia here and check out the chart at the end that shows conditions by origin port.
Uncertainty Ahead for 2021
So what will the future hold for the ocean freight market? Some experts predict the demand trend will continue, sustained by e-commerce fulfillment and a need for medical supplies, while others fear a recession is looming.
One trend that we know isn't going away, is how the carriers managed capacity through times of low and high demand with blank sailings and extra loaders. And because of that agility, industry analysts predict we won't see any significant decrease in freight rates, at least through the Lunar New Year.
Transpacific Blank Sailings By the Numbers
We're seeing 7 blank sailings announced from Weeks 44 to 48 - two from Ocean Alliance and five from THE Alliance.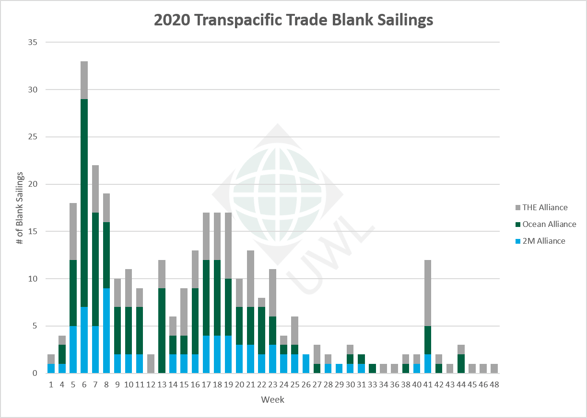 | | | | | |
| --- | --- | --- | --- | --- |
| | 2M Alliance | Ocean Alliance | THE Alliance | Grand Total |
| Q1 | 36 | 76 | 36 | 148 |
| Q2 | 33 | 50 | 47 | 130 |
| Q3 | 4 | 4 | 5 | 13 |
| Q4 | 3 | 6 | 14 | 23 |
| Total | 76 | 136 | 102 | 314 |

Note: Report only covers cancelled transpacific sailings from East Asia to USA and Canada destinations. Updated Oct. 30, 2020.
For a complete list of announced blank sailings, download this report:
North American Exports
CMA's online systems are back up and running after a Sept. 28th ransomware cyberattack shut them down for two weeks. There are still some challenges being reported and their Group email delivery is lagging behind. We are seeing some delays with contracts and rate-related inquiries. If you are having difficulties with any CMA-CGM related bookings, please reach out to your UWL representative directly or contact us. We can assist by offering alternative carrier options.
The equipment shortage problem in Asia is now impacting exporters of agricultural goods in the United States. Hapag-Lloyd recently announced it is suspending overseas ag container shipments from North America for the foreseeable future, a painful blow for U.S. ag shippers during their key export season. The move comes as carriers rush to reposition empty containers to Asia after a lack of equipment began causing delays.
Category 2 Hurricane Zeta made landfall in Southeastern Louisiana last Wednesday, Oct. 28, as the strongest hurricane since 1899 to hit the continental U.S. this late in the season. The storm is expected to cause service disruptions across the Gulf Coast at ports, Class 1 railroads, and for trucking over the next couple of weeks. Many residents across the region are still without power after being battered by eight named storms so far this season, six of which had Louisiana directly in their cross-hairs. The Atlantic hurricane season will thankfully end come Nov. 30.
Latin American Exports
In Latin America, space remains very tight for all of the major carriers. To secure capacity in this market, book at least two weeks in advance.
Equipment shortages are still a problem, but are easing up this month and carriers are optimistic that service in the region will return to normal sometime between December and January.
Contact our Brazil team at brazilsales@shipUWL.com with any questions.
Air Freight ✈️
Air Charter Flights Come in Clutch When Ocean Capacity Is Scarce
With the ocean freight market being so volatile lately, we'd like to highlight an alternative transport mode: Air Charters.
For those unfamiliar with air freight shipping, air charter services are when an IATA-certified indirect air carrier (IAC), like UWL, charters an entire aircraft (essentially... we rent a plane) for transporting a client's freight.
Air charters, and air freight services in general, are a great choice for time-sensitive shipments because air services are much faster than ocean freight. With transit times of 1-2 days via air freight versus weeks to arrive via ocean, if your shipment needs to be somewhere ASAP, choose air.
Another consideration when deciding between air or ocean is the weight and size of your shipment. Weight matters with air freight (which is billed by chargeable weight), so those larger, heavier shipments are probably best left on the boat.
Up-Close Look at an Air Charter Project
Over the past three weeks, we've been working on a large project moving over 1 million kilograms of freight by air.
To put into perspective just how much cargo that is, Union Pacific's Big Boy, one of the largest steam locomotives ever built, weighs in at 1.2 million pounds... meaning we transported roughly two Big Boy locomotives-worth of freight by air. That's a lot of air freight!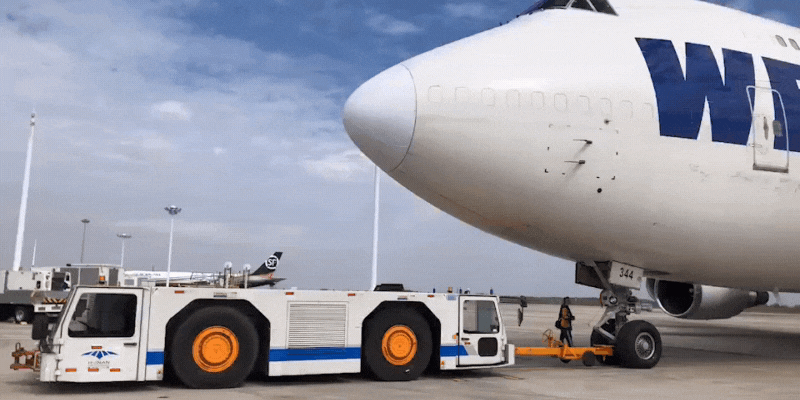 This project consisted of over 1250 pallets. The aircraft in the clip above is fully loaded with only this project's cargo. There were 135 pallets on that flight, all going from Changsha (CSX) airport to Chicago-O'Hare (ORD). We actually moved three of these exclusive charter flights during the course of this project.
Thanks to our Air Freight Manager, Tino Nieves for sharing this story! If you need quote for your next air freight shipment, contact our air team: airquotes@shipuwl.com

Air Freight Demand Remains High in Q4
Air freight rates are still on the rise, the Loadstar reported, driven by demand from distressed sea freight, e-commerce, tech launches and general retail. It is expected that rates will continue to rise in coming months due to the increased demand and the lack of capacity as passenger flights show no sign of recovery.
Trade & Compliance 🌐
USTR Initiates Vietnam Section 301 Investigation
The USTR announced in October that it will "investigate Vietnam's acts, policies, and practices related to the import and use of timber that is illegally harvested or traded, and will investigate Vietnam's acts, policies, and practices that may contribute to the undervaluation of its currency and the resultant harm caused to U.S. commerce."
Read the USTR Press Release | Read the Federal Register Notice
President Trump Signs Caribbean Basin Trade Partnership Act (CBTPA) into Law
On Oct. 10, President Trump signed the CBTPA into law, allowing tariff-free imports of garments made with U.S. fabric and yarn inputs from CBTPA partner countries. The law will be in effect for 10 years.
Concerning the Act, Ambassador Lighthizer said, "President Trump's October 10 action to reauthorize certain provisions of the Caribbean Basin Economic Recovery Act (CBERA) will help to preserve well-paying jobs in the U.S. textile industry while also strengthening our trade ties with Caribbean beneficiary countries, especially Haiti. Importantly, CBERA's eligibility criteria also provide a means to promote more open markets, protection of intellectual property rights, and stronger worker rights in beneficiary countries."
FMC Seeking Comments on Ocean Carrier Billing Processes
On Oct 7. 2020, the FMC announced it will be investigating the billing practices of ocean carriers after its investigation into demurrage and detention practices raised concerns about vessel operating common carriers' (VOCCs) use of the term "Merchant". According to the release, the FMC is seeking public comment on the following:
How VOCCs apply the term ""Merchant"" in their bills of lading.

Whether the definition, as applied, subjects third parties who are not in contractual privity with the carrier to joint or several liability.

Whether carriers have enforced the definition of merchant against third parties such as customs brokers and freight forwarders that have not consented to be bound by, or otherwise accept the terms and conditions of the bill of lading.
Comments are due by November 6, 2020, and can be submitted by email to secretary@fmc.gov and should include the subject line: "Response to FMC NOI-Merchant Clause." Comments can also be filed confidentially.
Learn more on the FMC's website here: Docket No. 20-16, Notice of Inquiry - Vessel Operating Common Carrier Definition and Application of the Term Merchant in Bills of Lading
BIS Offers Clarification on Confusing Filing Requirements Rule
On October 8, the U.S. Census Bureau (Census) issued a clarification to an April 28 Final Rule that expanded the Electronic Export Information (EEI) filing requirement in the Automated Export System (AES) for exports to China, Russia and Venezuela.
The rule generated a flurry of questions. According to Census, "This rule added § 758.1(b)(10) of the EAR to require EEI filing for items on the Commerce Control List (CCL) (Part 774 of the EAR) destined to China, Russia, or Venezuela regardless of the value of the shipment, unless the shipment is eligible for License Exception GOV. Most of the questions that Census has received have been related to whether or not ALL exports to China, Russia, and Venezuela require filing."
Census reached out to BIS, and received the following guidance:
"Items on the Commerce Control List" includes any item having an Export Control Classification Number (ECCN), but does not include items that are designated as EAR99.

Starting Sunday, September 27, 2020, EEI filing for exports to China, Russia, or Venezuela of items controlled by ECCNs is required regardless of value, unless the shipment is eligible for License Exception GOV.
EAR99 items are not subject to BIS's mandatory filing requirements under § 758.1(b)(10) and an AES exemption from the Foreign Trade Regulations (FTR) may apply.
If EEI filing for exports to China, Russia, or Venezuela is required, then the ECCN must be reported in AES.
For more information, view the Census' Bulletin on the subject here or contact Shannon Dillinger at 440-895-8212 if you have questions
Thanks for reading our Market Update! We will continue to keep you in-the-know on the latest logistics news.
Should you have any questions or need assistance, please contact your local UWL customer service rep or reach out here.