UWL Freight Market Update | Week 41
By:

Kellie Lynch

Date:

Oct 8, 2020 4:28:05 PM

Categories:
This week's latest ocean freight, air freight, trade and compliance updates.


Ocean Freight 🛳️

Asia-Transpacific Trade
Golden Week is here! The annual holiday, which runs from Oct. 1 through Oct. 7, is normally considered "the world's largest human migration" with millions of Chinese tourists travelling internationally. However in 2020, a year that has been anything but normal, most of China's tourists are travelling domestically instead. According to the BBC, China's tourism ministry said around 425 million people travelled within the country during the first four days of the holiday.
For ocean freight, Golden Week provides the first "breather" in the market since volumes exploded in June and July.
The majority of ocean carriers extended the Peak Season Surcharge (PSS) from Sept. 15 through Oct. 15. So far, there has been no real indication as to the direction of rates from Oct. 15, but volumes are expected to remain strong.
Capacity remains extremely tight across the majority of Asia, so be sure to book at least two weeks in advance to get space.
Securing 40' High Cube (40HC) equipment continues to be challenging in Asia. Many shippers choose 40HC containers because the added height allows them to stuff an extra 10-15% of cargo inside versus the standard 40' container.
Reminder: Pay Attention to Free Time
Equipment shortages are still a problem, which means carriers and terminal operators will be very strict on free time. Don't forget to pay close attention to how much free time is available for your shipments and make note of any changes. Keep an eye on your shipments where the Last Free Day (LFD) is approaching and be sure to prioritize unloading those containers and returning the equipment to avoid per diem fees.
You can use our WorldScope tool to track your LFD and other important shipping information. Contact our team to book a demo here.
Transpacific Blank Sailings By the Numbers
We're seeing 16 blank sailings announced from Weeks 41 to 44, most happening during Golden Week.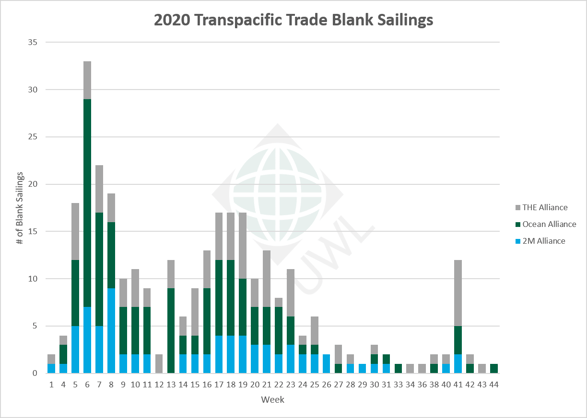 | | | | | |
| --- | --- | --- | --- | --- |
| | 2M Alliance | Ocean Alliance | THE Alliance | Grand Total |
| Q1 | 36 | 76 | 36 | 148 |
| Q2 | 33 | 50 | 47 | 130 |
| Q3 | 4 | 4 | 5 | 13 |
| Q4 | 3 | 5 | 10 | 18 |
| Total | 76 | 135 | 98 | 309 |

Note: Report only covers cancelled transpacific sailings from East Asia to USA and Canada destinations. Updated Oct. 6, 2020.
For a complete list of announced blank sailings, download this report:
What is a blank sailing? Learn more here >>
2020 Retail Holiday Forecast Positive Despite Pandemic Impact
Deloitte and Forrester research are predicting a huge boom in online holiday retail sales in 2020 — with expectations of growth upwards of 25% to 35% from November through January 2021.
"While high unemployment and economic anxiety will weigh on overall retail sales this holiday season, reduced spending on pandemic-sensitive services such as restaurants and travel may help bolster retail holiday sales somewhat. E-commerce is likely to be a big winner because consumers have shown a clear movement towards buying online rather than at brick-and-mortar stores," said Daniel Bachman, Deloitte's U.S. economic forecaster.
Back to School season saw a 2% increase in retail sales. Total holiday retail sales are projected to increase 1-1.5% from last year, Deloitte predicts. Most of that growth will come from eCommerce according to Forrester, which expects online retail sales to account for 20% of all retail sales this year.
Looking for Overflow Space, Cross-Docking, or Distribution Services in Savannah? We've Got You Covered
As importers prepare for a record inventory restocking cycle, UWL is here to help with the opening of our brand new, 280,000 square foot distribution center (DC) in Savannah.
Operated by our sister company World Distribution Services, the secure facility is well-equipped to handle a wide range of logistics services including cross-docking, transloading, and import deconsolidation. And, as online shopping booms, we've got your eCommerce order fulfillment needs covered, too.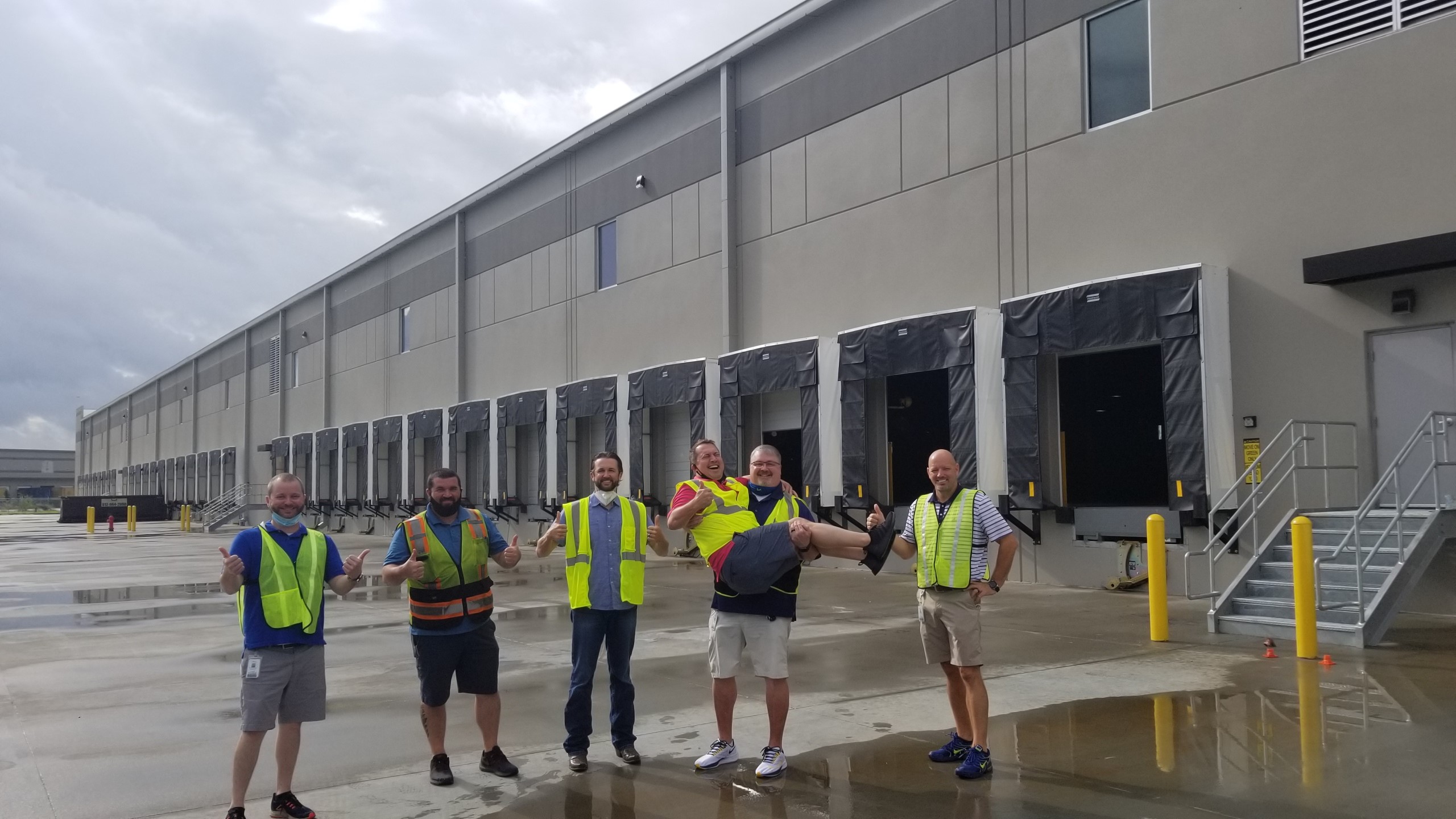 UWL VP of National Sales, Chris Krawczyk (3rd from left), celebrates with the WDS Team at the new Savannah DC
FreightWaves recently featured our very own Chris Krawczyk, who discussed the new DC and growth at the Port of Savannah.
We're now offering immersive virtual reality tours of the facility so you can take a look behind the scenes without having to worry about travel in the pandemic. Join us from your computer or take our VR Goggles for a spin. Book a tour now.
CMA-CGM & IMO Hit with Cyberattacks
On Sept. 28, ocean carrier CMA-CGM was hit with a ransomware cyberattack, shutting down its online services and external access to its systems. The carrier also warned that the cyber attack may have caused a data breach and is investigating the scope of the impact. While CMA-CGM advised customers to use the online booking platform INTTRA to secure cargo bookings, some shippers have reported that option is not working, forcing them to rely on manual bookings.
According to our agent Jon Monroe, "In China, [manual] bookings can be taken. But how are they managed? I can only imagine a large excel spreadsheet. How else will they document bookings if their system is down? There are delays in issuing S/Os (booking confirmations). Think about what a carrier's systems need to manage; bookings (receipt, approval and vessel utilization), S/O release, vessel stowage, AMS/ISF, final load and manifest transfer to the discharge port."
*Update* As of Monday, Oct. 12, 2020, all CMA-CGM systems have been restored.
We'll continue to monitor this developing situation. If you have questions about any of your CMA-CGM bookings, please reach out to your UWL representative directly or contact us.
The International Maritime Organization (IMO) also fell victim to a cyber attack on its IT systems on Sept. 30, however, all of its systems are now back online and operating as normal.
North American Exports
Australia - Heavy congestion at Sydney terminals and container depots continues to impact supply chains. We are currently experiencing significant vessel delays with waiting times of up to 19 days due to a combination of factors including adverse weather and industrial actions. Port Congestion Surcharges have been announced by a few ocean carriers already, averaging $350 per TEU.
U.S. Gulf Coast - Hurricane season in the Gulf continues and we're keeping an eye on Hurricane Delta as it makes its way through the Caribbean and heads toward the U.S. Gulf Coast. The rapidly intensifying storm could hit Louisiana as a Category 2 Hurricane and will lash the area with heavy rains, flooding, and severe winds. The ports and rails in New Orleans have announced closures on Friday. See the storm's projected path via the National Hurricane Center.
Latin American Exports
In Latin America, space remains very tight for all of the major carriers. We recommend requesting bookings at least two weeks in advance to secure capacity.
Similar to what we've seen in Asia, there are equipment shortages of 40'HC containers in South America for some carriers, as well as 20' Open Top (20'OT) containers.
Carrier MSC announced an increased wharfage fee for shipments moving to New Orleans, Mobile, and Philadelphia. Contact our Brazil team at brazilsales@shipUWL.com with any questions.
Air Freight ✈️
Air Cargo Down in August, Constrained by Lack of Passenger Flights
In August, air cargo demand "improved nearly two points from July, but was still 12.6% below 2019 levels, with international volumes shrinking 14% year-over-year, FreightWaves reported.

The pandemic's negative impact on travel still has many passenger jets parked, causing a shortage of available air transport. This is causing delays for some shipments and causing others to convert to other modes, such as ocean or Eurasian rail. Read more.
Trade & Compliance 🌐
FMC Discusses Ocean Carrier Issues, Global Alliances, and Market Developments
The FMC said they have received "detailed reports that addressed trends in spot rates, longer-term service contracts, utilization of equipment, blanked sailings, revenue trends, the policies of individual carriers and global alliances for service changes, and what notice must be provided to the FMC when there are blanked, canceled, or amended voyages."
The Commission will be monitoring the situation with ocean carriers and is ready to take action should they find carrier behavior that appears to violate competition standards in section 6(g) of the Shipping Act.
Learn More: Read the FMC's release.
USTR Ends Section 232 10% Tariffs on Canadian Aluminum
After consultations with Canadian officials, USTR has rescinded 10% tariffs on Canadian non-alloyed, unwrought aluminum retroactively to Sept. 1. The tariffs could return if imports of the metal "exceed 105 percent of the expected volume in any month."
Learn more: View USTR Release.
Section 301 Tariff Updates: Some Exclusions Extended Through Dec. 31, 2020
The USTR published quite a few exclusion updates in September and October. Many exclusions across the different tranches have now expired. Some products did receive exclusion extensions, however they will only be extended through December 31, 2020.
See the below resources from the USTR and CBP for the product lists and more information or contact Shannon Dillinger at 440-895-8212 if you have questions about specific product exclusions.
$34 B Trade Action (List 1)
$16B Trade Action (List 2)
$200B Trade Action (List 3)
$300B Trade Action (List 4)
Caribbean Trade Act Passes the Senate
On Sept. 30, the United States Senate unanimously voted to extend the Caribbean Basin Trade Partnership Act (CBTPA) until September 30, 2030. It will come into force once signed by the President. The CBTPA is a preferential trade agreement that provides duty- and quota-free access to products manufactured in countries in the Caribbean Basin including St Lucia, Barbados, Belize, Curacao, Guyana, Haiti, Jamaica, and T&T. Learn more.
DOJ Proposes Test Case in Section 301 Lawsuit, HMTX Agrees
In a Sept. 23 filing, the Department of Justice (DOJ) said the Court of International Trade (CIT) should use a case management approach for the numerous Section 301 tariff lawsuits similar to the one used for litigation over the harbor maintenance tax (HMT), International Trade Today & Flooring Daily reported. Continue reading on Flooring Daily.
Thanks for reading our Market Update! We will continue to keep you in-the-know on the latest logistics news.
Should you have any questions or need assistance, please contact your local UWL customer service rep or reach out here.