UWL Freight Market Update | Week 34
By:

Kellie Lynch

Date:

Aug 20, 2020 5:56:25 PM

Categories:
This week's latest ocean freight, trade and compliance updates.


Ocean Freight 🛳️

Asia-Transpacific Trade
Transpacific peak season is underway and U.S. imports are on the rise. Peak season, which typically runs from August through October, is a time where U.S. import activity picks up as retailers push to get their products into the country before the holidays.
"Most of the holiday season merchandise arrives at U.S. ports by early November in order to hit the store shelves for the Black Friday sales after Thanksgiving," reported JOC's Bill Mongelluzzo, "This year, however, imports began to build in July due to a combination of retailers replenishing inventories that drew down once stores began to reopen in the late spring, while consumers stepped up purchases of home-office equipment and personal protective equipment (PPE)."
Ocean carrier bookings continue to be strong throughout August, with larger volumes being booked by "big box" retailers.
Rates are historically high and carriers have successfully passed an 8/15 GRI, with the possibility of a 9/1 GRI being out there as well.
Expect space to continue to be extremely tight through September leading into Golden Week, a Chinese holiday which occurs during the first week of October.
Equipment availability is becoming an issue across the Asia-Pacific, particularly in Qingdao, Ningbo, and Xiamen. Previous blank sailings coupled with a rise in exports out of China have led to imbalances where some equipment types, especially 40HC containers, are not always available at origin. We're here to help — contact your UWL rep if you have any questions or concerns about your equipment needs.
Space Guarantee Programs & Premium Service Offerings
Many carriers have rolled out space guarantee programs for a premium surcharge on top of the market rate. Take advantage of these programs to ensure your cargo is serviced and remains unaffected by the current tight space conditions.
COSCO has rolled out a new premium fast boat service, effective 8/9, from SHA/NGB to LGB with express rail service to KC/DAL/CHI. We recommend this service for urgent orders. Please communicate to your UWL representative the urgent PO's to protect.


ZIM created a new PSW premium fast boat service, effective 6/22, from YNT to LA with express rail service to KC/DAL/CHI/MEM/NY. We recommend this service for cargo effected by a tariff exemption expiring to ensure the cargo arrives on time.
Let us know if you have any questions about these premium services.
Transpacific Blank Sailings By the Numbers
Blank sailings are on the decline, with only four blank sailings announced from Week 33 to Week 38.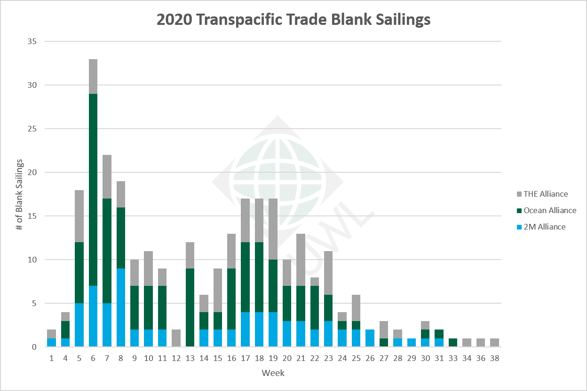 | | | | | |
| --- | --- | --- | --- | --- |
| | 2M Alliance | Ocean Alliance | THE Alliance | Grand Total |
| Q1 | 36 | 76 | 36 | 148 |
| Q2 | 33 | 50 | 47 | 130 |
| Q3 | 4 | 3 | 5 | 12 |
| Total | 73 | 129 | 88 | 290 |

Note: Report only covers cancelled transpacific sailings from East Asia to USA and Canada destinations. Updated August 19, 2020.
For a complete list of announced blank sailings, download this report:
What is a blank sailing? Learn more here >>
North American Exports
CHINA - New legislation in China surrounding the Prevention and Control of Solid Waste Pollution has prohibited the importation of all solid waste (including waste paper, plastics, metals, chemicals, and others) into China to achieve a goal of zero solid waste imports by the end of 2020. A penalty of CNY 500,000 (approx. USD $71,940) to CNY 5,000,000 (approx. USD $719,420) shall be imposed for violations and there is a strict requirement for import solid waste to be returned to its place of origin at the expense of cargo, including disposal cost (if any).
SAVANNAH, GA - The Port of Savannah is currently experiencing berthing congestion due to delayed vessels, deep draft and wide-beam vessels. Negative tides are expected from Aug. 17 - 24th which could cause additional delays.

NEW ORLEANS, LA - The Port of New Orleans is experiencing crane issues, with only two of its five cranes currently operational. This is causing delays on vessel line up. One more crane is expected to be up by the end of the week.

HOUSTON, TX - Berth 5 at Bayport Terminal is currently out of service due to construction, congestion is expected for the next 3-4 months.
MONTREAL, CANADA - Industrial action in Canada is causing a surge in volumes at the Terminals in Halifax and Saint John, leading to terminal congestion, railcar availability issues, and delays. We are seeing longer than anticipated Import dwell times, which are now in the 14-day range. This situation is also impacting Exports, with congestion occurring at inland ramps and may result in delayed notification of Vessel cut-off dates at these ramps.
Latin American Exports
Hamburg Sud is having equipment problems in Santa Catarina. In some cases, we are able to release empty equipment in Paranaguá, PR instead, however this is on a case-by-case basis.
MSC announced a 9/1 General Rate Increase from South America East Coast (SAEC) to Americas.
Hamburg Sud announced a 9/1 General Rate Increase from Region South East (RSE) to Central America, U.S. and Canada.
Space remains an issue, so we recommend booking well in advance to secure capacity for your shipments. Hamburg Sud is confirming bookings only six weeks in advance.
Our team is here to help you find the best carrier option for your freight. Contact our UWL Brazil team at brazilsales@shipUWL.com or call +55 47 3046 0957 if you have any questions.
Trade & Compliance 🌐
New Tranche 2 Section 301 Exclusion Extensions Granted
The USTR has granted 14 exclusions from the second list of Section 301 tariffs on goods from China due to expire on July 31. Instead, they will now expire on Dec. 31.
New Tranche 4 Section 301 Product Exclusions Issued by USTR
A new set of product exclusions from Tranche 4 of the Section 301 tariffs on products from China has been issued. "The product exclusions will retroactively apply as of the September 1, 2019 effective date of the $300 billion action (Tranche 4A), and will extend through September 1, 2020," the CSMS message said.
Canadian Aluminum Faces Renewed 10% Section 232 Tariffs
On Aug. 6, President Trump signed a proclamation reimposing 10% tariffs on Canadian aluminum. According to the proclamation, imports of non-alloyed unwrought aluminum from Canada increased substantially after the tariffs were removed. Because the increase "threatens to harm domestic aluminum production and capacity utilization," the president determined it necessary to re-impose the 10% tariff.
Updates On Goods from Hong Kong
Beginning Sept. 25, all goods produced in Hong Kong must be marked as a product of China according to a notice from the CBP. Failure to do so can result in a duty of ten percent ad valorem.
However, it is important to note that this change in marking requirements does not mean the goods are subject to Section 301 Tariffs on goods from China.
"At this time, the additional duties imposed by the Section 301 remedy only apply to articles that are products of the People's Republic of China (ISO Country Code CN). Imported goods that are legitimately the product of Hong Kong (HK) or Macau (MO) are not subject to the additional Section 301 duties," the CBP clarified in a recently released FAQ sheet.
"The change in marking requirements does not affect country of origin determinations for purposes of assessing ordinary duties under Chapters 1-97 of the HTSUS or temporary or additional duties under Chapter 99 of the HTSUS. Therefore, goods that are products of Hong Kong should continue to report International Organization for Standardization (ISO) country code "HK" as the country of origin when required.
Changes to List of EU Goods Subject to Section 301 Tariffs
Certain products from Greece and the United Kingdom have been removed from the Section 301 tariff list, part of the WTO dispute settlement over Airbus subsidies. An equivalent amount of trade from France and Germany will take their place. "The changes are modest; the amount of products subject to countermeasures will remain unchanged at $7.5 billion and the tariff rates will remain unchanged at 15% for aircraft and 25% for all other products," the agency said.
Request for Comments: USTR Considering Extensions for List 1 Exclusions
The USTR is requesting comments regarding extending Section 301 List 1 exclusions set to expire on October 2, 2020. Exclusions will be evaluated on a case-by-case basis, and focus on whether the particular product remains available only from China. Companies will be required to post a public rationale.
Comments will be accepted through August 30, 2020.
COBRA Fees will be Adjusted in FY 2021
Certain customs user fees established by the Consolidated Omnibus Budget Reconciliation Act (COBRA) for Fiscal Year 2021 in accordance with the Fixing America's Surface Transportation Act (FAST Act), will be adjusted for inflation, effective Monday, October 1, 2020, for the following categories:
Commercial Vessel Arrival Fee
Barges and Other Bulk Carriers Arrival Fee
Commercial Truck Arrival Fee
Railroad Car Arrival Fee
Private Vessel or Private Aircraft First Arrival / Calendar Year Prepayment Fee
Dutiable Mail Fee
Commercial Vessel or Commercial Aircraft Passenger Arrival Fee
Commercial Vessel Passenger Arrival Fee (from one of the territories and possessions of the United States)
Customs Broker Permit User Fee
Express Consignment Carrier/Centralized Hub Facility Fee, Per Individual Waybill / Bill of Lading Fee
Minimum/Maximum Express Consignment Carrier / Centralized Hub Facility Fee
Minimum/Maximum Merchandise Processing Fee
Surcharge for Manual Entry or Release
Informal Entry or Release; Automated and Not Prepared by CBP Personnel
Informal Entry or Release; Manual and Not Prepared by CBP Personnel
Informal Entry or Release; Automated or Manual; Prepared by CBP Personnel
Express Consignment Carrier/Centralized Hub Facility Fee, Per Individual Waybill / Bill of Lading Fee
For more information regarding the updated fees, see this Federal Register notice.
We will continue to keep you informed of the latest market developments.
Should you have any questions or if you need assistance, please contact your local UWL customer service representative or reach out here.