UWL Freight Market Update | Week 31
By:

Kellie Lynch

Date:

Jul 31, 2020 3:45:19 PM

Categories:
This week's latest ocean freight, trade and compliance updates.


Ocean Freight 🛳️

Asia Transpacific Trade
Carriers have been reinstating blank sailings, adding additional sailings and bringing in extra loaders to meet increased demand as peak season draws near.
Expect space to continue to be tight at least through August 15th. Following this date, carrier forecasts begin to slow.
PPE shippers continue to drive West Coast rates higher, with carriers achieving an 8/1 GRI, pushing rates up. PPE shippers are also the main drivers behind the tight space from Southeast Asia.
Some shippers are converting their ocean freight to air freight due to the spike in rates, rollover risk, and long lead times.
The FMC is taking a closer look at blank sailings and how they are administered. This will not be a full scale investigation, but two of the FMC's commissioners said a review of how the agency tracks blank sailings and their impact on the market is warranted.
The concerns come after a slew of blank sailings, spurred by declining container volumes due to COVID-19, caused a rash of rolled cargo, increased spot rates (upwards of 70% greater year-over-year in July), and premiums to secure scheduled space on ships. However, container lines argue that flimsy volume forecasts from forwarders and shippers make it difficult to predict demand and they are adjusting capacity as best as they can.
Learn more about how the FMC monitors blank sailings here.
Transpacific Blank Sailings By the Numbers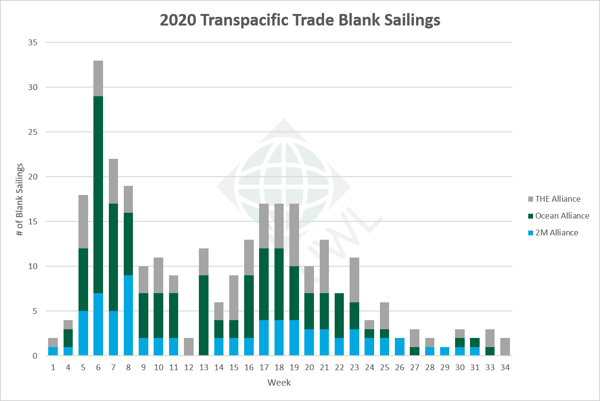 | | | | | |
| --- | --- | --- | --- | --- |
| | 2M Alliance | Ocean Alliance | THE Alliance | Grand Total |
| Q1 | 36 | 76 | 36 | 148 |
| Q2 | 33 | 50 | 46 | 129 |
| Q3 | 4 | 3 | 6 | 13 |
| Total | 73 | 129 | 88 | 290 |

Note: Report only covers cancelled transpacific sailings from East Asia to USA and Canada destinations. Updated July 31, 2020.
For a complete list of announced blank sailings, download this report:
What is a blank sailing? Learn more here >>
North American Exports
U.S. EAST COAST: Hurricane season is upon us and Tropical Storm Isaias is making its way along the East Coast of the United States. Several ocean vessels operating in or around the hurricane's path are delayed as they try to keep a safe distance, as the safety of the crew is of the highest importance. Track Tropical Storm Isaias at NOAA's National Hurricane Center here.
LOS ANGELES / LONG BEACH: A surge of e-Commerce cargo in June coupled with labor shortages due to COVID-19 has caused some intermodal rail delays and trouble securing space on trains out of Los Angeles & Long Beach (LA/LB). This has affected the frequency of inbound/outbound services, and the delays are expected to impact IPI transit times through early August. JOC.com has more on the story here.
CANADA: Longshoremen at the Port of Montreal are striking this week. Work ceased beginning on Monday, July 27, 2020 at 7:00 AM according to the Local 375 of the Canadian Union of Public Employees (CUPE).
PortAndTerminal.com reports the strike will impact all terminals at the Port of Montreal except Empire Terminal servicing shipments to Newfoundland and the loading of grain.
MGT and Termont Terminals both announced that there will be no operations on Friday July 31, 2020. Operations will resume Saturday, August 1st at 7:00 AM and trucking will be open from 7:00 AM – 3:00 PM on Saturday, August 1st and Sunday, August 2nd.
Additionally, the Port of Montreal Checkers Union's Executive committee announced a separate 24 hour strike that will begin at 5:59 AM on Friday, July 31, 2020 and end at 5:59 AM on Saturday, August 1, 2020.
Terminals at the Port of Montreal will remain closed for all activity during this time. Normal operations are expected to resume from 6:00 AM on Saturday, August 1, 2020.



Latin American Exports
Space is looking tight in August and many carriers are booked out until September. Some carriers have announced August GRIs and in general, rates have increased slightly.
There are currently no issues securing standard equipment, however, if you need any specialized equipment for your cargo, please let us know and we will check on a case-by-case basis.
We recommend booking in advance whenever possible to secure space in this climate, and carriers are accepting bookings up to six weeks in advance.
Our team is here to help you find the best carrier option for your freight. Contact our UWL Brazil team at UWLBra@shipUWL.com or call +55 47 3046 0957 if you have any questions.
Air Freight ✈️
Airfreight rates during early July were up 145% Y/Y (up 11% M/M) according to the latest monthly transportation report from the Cleveland Research Company (CRC). The duration remains unclear for factory production schedules and reduced passenger flights, they said. We could see rates come down slightly in August from these higher rates in July, but the stability may be short-lived.
FreightWaves expects airfreight rates to shoot up even further by September, as competition for all-cargo planes will be fierce once Sony, Apple, and Samsung ramp up their shipping activities ahead of the holiday season.
"There are several reasons for the upturn in shipping rates. Capacity has tightened in Hong Kong, with North American carriers suspending most activity there because of differences over COVID screenings for aircraft crews," FreightWaves reported. "China capacity is also down because some airlines have pulled down freighters for scheduled maintenance as well as some passenger freighters that aren't affordable to operate anymore."
Airfreight capacity has been reduced over the past two months as airlines reduce passenger flights due to decreased passenger demand from COVID-19. CRC research indicates capacity over the next 2-3 months will continue to remain scarce due to COVID-19 impact on fewer flights (both passenger and cargo).
This could make it challenging for shippers to secure space, so be sure to submit booking requests as soon as you can. Space will be allocated on a first-come, first-served basis, based on available capacity.
Despite the reduction, demand for airfreight capacity remains stable as global economic activity improves, the ocean market remains tight, and demand for PPE continues.
"Holiday orders are contributing to higher-than-expected ocean demand the past month, which combined with supply discipline exhibited by ocean carriers has led to a mini-peak season with red-hot spot rates that is blending into the peak shipping season that typically starts now," FreightWaves reported. This is causing some shippers to convert their ocean freight shipments to airfreight, adding to the demand for airfreight capacity.

In Europe, rates are more stable, however limited passenger fights and landing bans on aircraft from countries with high COVID-19 cases have caused some restrictions on air cargo movement.
Trade & Compliance 🌐
Travel Restrictions Extended for U.S. Northern and Southern Borders
Land travel restrictions across the U.S.-Mexico and U.S.-Canada borders have been extended through August 20, 2020 by the CBP. The restrictions will not affect air travel and do not apply to cargo. They also exempt border crossings by U.S. citizens, lawful permanent residents, and foreign nationals traveling to work in the United States, which are deemed "essential travel".
China Plans to Uphold Phase One Deal Despite US Sanctions
China is still planning to fulfill commitments in the Phase One trade deal despite new U.S. export restrictions and sanctions on Hong Kong, International Trade Today reported.
The agreement will "benefit both countries and the world," a Chinese Foreign Ministry spokesperson said, "We will implement the signed agreements."
No New Tariffs for Hong Kong Imports in Recent Executive Order
According to a July 23 email from a senior Trump administration official, "The July 14, 2020, Executive Order on Hong Kong Normalization does not provide for new U.S. tariffs on goods from Hong Kong. The Administration will continue to evaluate and adjust our policies as conditions warrant."
More Section 301 Product Exclusions Announced
Another set of product exclusions from the fourth group of Section 301 tariffs on goods from China has been released by the USTR, including "11 existing ten-digit HTSUS subheadings and 53 specially prepared product descriptions, which together respond to 242 separate exclusion requests," according to the notice. The product exclusions apply retroactively to Sept. 1, 2019, the date the tariffs took effect and will be in effect until Sept. 1, 2020.
USTR is accepting comments regarding some Section 301 product exclusion extensions
The USTR requesting comments regarding extending Section 301 List 4A Round 6 exclusions set to expire on September 1, 2020. Exclusions will be evaluated on a case-by-case basis.
Comments will be accepted through August 14, 2020.
Latest Freight Market News - Don't miss these stories
Take a deeper dive into the current freight market conditions by checking out these news stories.
We will continue to keep you informed of the latest market developments.
Should you have any questions or if you need assistance, please contact your local UWL customer service representative or reach out here.