UWL Freight Market Update | Week 19
By:

Kellie Lynch

Date:

May 13, 2021 8:20:04 AM

Categories:
This week's latest ocean freight news and updates.
Container Shipping Gone Crazy
All aboard! Is it just me, or does it feel like the ocean freight market is going off the rails on a Crazy Train? We've had skyrocketing demand and skyrocketing rates. A ship getting stuck in the Suez Canal. An empty container crisis. A backlog of vessels waiting outside of U.S. ports to berth and unload their cargo... and so much more. It certainly seems like the greater supply chain ecosystem is going haywire.
With all of the chaos in the market, shippers are understandably stressed. If you've found yourself struggling to manage your supply chain lately, this Market Update is for you.
In this article, we'll share Six Tips for Navigating the 2021 Ocean Freight Market. Remember, if you have any questions that we don't cover here, don't hesitate to reach out to your UWL Rep or contact us.
6 Tips for Navigating the 2021 Ocean Freight Market
1. Give yourself plenty of lead time
One of the biggest questions we're hearing right now is, "When can I get a booking? I'm being told we can't get a booking until June, is that true?" Unfortunately, in most cases, the answer is Yes. Carriers are already booked up for May and taking bookings into June.
CNBC's Eunice Yoon recently reported on how the impact of the pandemic and recent bottleneck in the Suez Canal have contributed to a shortage of empty containers and subsequent delays for shippers. Eunice met with Nick Cui, from our partner WorldWide Logistics (WWL), to discuss the situation. Nick shares that delays for securing a container in China are up to three (3) weeks now.
However, it is important to note that is only one piece of the story. Once a container is secured and loaded on the vessel, shippers also need to keep in mind the transit time to the U.S. (2-3 weeks), any delays at port (1-2 weeks), unloading the vessel (2 days due to lack of manpower from COVID as well as lack of space), and then moving the container to it's final destination (days to weeks depending on if it is moving by truck or rail).

This puts us at around a 2-month delay for supply chains, and shippers are certainly feeling the effects. The chart below compares the current expected lead time with that in 2019.
Expected Lead Time (Cargo Ready through delivered in DC)
Add 4 to 5 weeks to your current order cycle for West Coast delivery and another 1 to 2 weeks for IPI.
| | | |
| --- | --- | --- |
| Activity | Time Needed (2019 Activity) | Time Needed (2021 Activity) |
| Booking | 2 weeks | 4 weeks |
| Safety Time (allow for rolling) | 0 week | 1 week |
| Transit | 2 weeks | 2 weeks |
| Waiting to Berth (S. Cal) | 0 weeks | 1 week |
| On Terminal | 2 to 4 days | 4 days |
| Delivery | 1 day | 1 day |
| Total Time | 4 to 5 weeks | 8 to 9 Weeks |

Note: Add 4+ weeks for LA/LB Ports. If a rail move, add 10 days.
Source: Worldwide Logistics, Jon Monroe, COVID Supply Chain Update 2021: 5-5-2021.
All of this to say — be sure to build plenty of lead time into your schedules and don't wait until the last minute to get a booking because space is already tight and high import volumes are contributing to delays throughout the supply chain.
2. Expect higher rates through the summer and quite possibly into 2022
Rates are not going down. This could be this strong through CNY 2022, or this could be the new normal. UWL President Duncan Wright (follow Duncan on LinkedIn) recently shared his perspective on the current market conditions:
"If you thought 2020 was bad, just wait and see what's coming because 2020 really was just the eye of the storm. 2021 is… we're in the storm. Look, I know it's going to snow in April in Cleveland, Ohio - That's not unusual. We're ready for that.

What we're not ready for is the fact that there is not enough new capacity coming into the market until probably 2023. We're seeing GDP raised up 6.4%. Retail sales were up 9.8% in March. All this means more cargo, more freight…

You know it's extremely problematic right now in terms of the export and import market impacted by the Suez Canal situation, which took around 400,000 empty containers out of circulation.
And these ocean rates are getting crazy. Absolutely crazy. You can't even book 4 weeks out on premium right now, and that's $10,000 a box to many markets. This is a rate that was $1,200 a year ago, so just think about the huge ramifications from a cash flow standpoint — there's a huge exposure. Crazy, absolutely insane," Wright said.
Why are ocean freight rates so high right now?
The latest round of stimulus checks provided a big boost in demand for imports, straining supply chains which are still catching up from the impacts of COVID.
To put into perspective the volume of freight we're talking about: Los Angeles handled 957,599 twenty-foot equivalent units (TEUs) in March alone, up 113% year on year — the highest March number in the port's history. "If those containers were placed end to end, they'd stretch from Los Angeles to New York and halfway back across the country," Gene Seroka, the port's executive director, told American Shipper.
The pandemic also impacted labor at many of the nation's ports, which are suffering from a lack of dockworkers and truckers to move the freight. Ocean carriers have deployed all of their ships, many of which are stuck at anchor outside of the nation's beleaguered ports waiting to berth and unload their cargo.
Delays cause schedules to back up and all of these factors compound. We have a market now where the demand for ocean freight capacity is higher than the supply, resulting in higher prices.



3. Be prepared to pay Premium
We'll be frank — If you want to move your freight this year, open your wallet. Don't nickel and dime. Space and equipment are already tight, and demand is expected to remain healthy through the 2nd quarter. Carriers have already prioritized their Freight All Kinds (FAK)-only bookings to long term existing customers, so the best way to ensure your freight actually moves in this market is to pay FAK plus Premium.
Ocean freight demand is outweighing current capacity
As Wright alluded to above, carriers have deployed all of their available capacity and we don't expect any new ships to enter the market until 2023. Recent data on shipbuilding paints the picture:
"A recent spate of mega-ship orders have revived the excess capacity discussion, even though data shows growth in demand will likely exceed available capacity for the next few years.

Volume in 2021 will increase 7.5 percent, while deployed capacity will rise 3.5 percent, the first time since mid-2017 that demand growth has outpaced that of supply, according to data from IHS Markit, parent company of JOC.com.

There are not enough ships in existence to handle today's containerized cargo demand. Thus, every new vessel order is a plus for importers and exporters. 'Cargo owners would hope that there are even more orders and there will be overcapacity and prices will go back down again,' said Stefan Verberckmoes, shipping analyst and Europe editor at Alphaliner."
Carriers are also blanking sailings again in an attempt to get back on schedule and clear the backlog of vessels in Southern California. There have been 8 blank sailings announced so far from Week 18 to Week 21.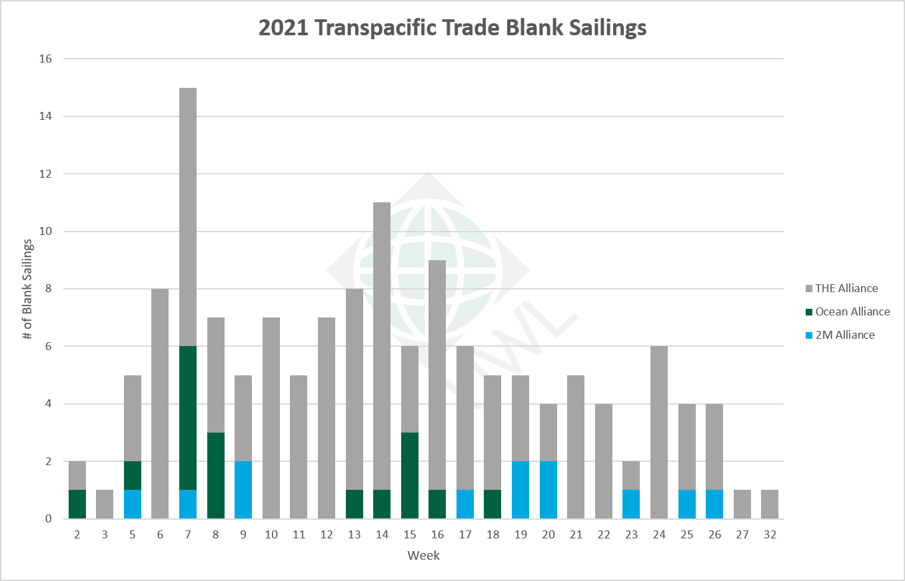 | | | | | |
| --- | --- | --- | --- | --- |
| | 2M Alliance | Ocean Alliance | THE Alliance | Grand Total |
| Q1 | 4 | 11 | 55 | 70 |
| Q2 | 8 | 6 | 57 | 71 |
| Q3 | 0 | 0 | 2 | 2 |
| Total | 12 | 17 | 114 | 143 |
Get the latest blank sailings list, extra loaders list, and equipment availability by Asia origin in this handy report.
Updated 6/23/2021. 1.5 MB .XLXS
Equipment is also an issue
In addition to high demand for ocean freight capacity, there is still a shortage of empty containers which began in 2020 during the initial COVID lockdowns and has been further exacerbated by the Suez Canal logjam.
According to Tim Page, interim CEO of CAI International, a container leasing company, ships are in such a hurry to turn around that they're "being forced to leave empty containers behind when they return to China."
"Several of our major customers report that virtually every ship leaving China and other export areas is fully loaded but because of the tight sailing schedules and the need to turn ships quickly, they are unable to wait for all the empty containers and they leave with 5%-8% fewer containers on the [backhaul] leg than they were on the [fronthaul] leg," he said.
You can learn more about the container shortage and when it could ease in this article from American Shipper.
4. Be open to alternative routings and transloading near the ports
Ocean freight isn't the only mode experiencing delays right now. Rail also has had its fair share of congestion and issues. Carriers have been pulling back on Inland Point Intermodal (IPI) points as a result. This means shippers who usually move their freight into Los Angeles - Long Beach (LA-LB) and then inland should consider alternative routings and transloading on the coast to keep their products moving.
"LA-LB ports are facing severe congestion in part due to the offload of IPI containers with no place to go. Typically, inland destined containers are block stowed and the first containers off of a vessel. Unfortunately, rail carriers are not equipped to handle the volume and rail cars are not returning fast enough," shared WWL's Jon Monroe. "Though you might hear of rail waits of 10 to 15 days, we know of delays to get on a train well in excess of 30 days. This might seem like the extreme, until it is your container that is delayed for 35 or even 40 days."
Vessels Waiting & Rail Dwell by U.S. Port
| | | | | |
| --- | --- | --- | --- | --- |
| # | Port | Vessels Waiting | Rail Dwell | Comments |
| 1 | Los Angeles-Long Beach | 20-24 | 20+ days | Rail dwell as high as 36 days |
| 2 | Oakland | 20-24 | N/A | |
| 3 | Seattle-Tacoma | 0-1 | 10-12 days | Experiencing vessel diversions of IPI cargo |
| 3 | Vancouver | 6-8 | 7-10 days | Expect it to get worse |
| 4 | Savannah | 6-10 | 3 to 4 days | |
| 5 | NY-NJ | 3-4 | 2 to 3 days | |

Source: Worldwide Logistics, Jon Monroe, COVID Supply Chain Update 2021: 5-5-2021.
Transloading and cross-docking can help you bypass lengthy waits for rail capacity and get your products to inland customers faster. At UWL, we are uniquely positioned to assist our clients with cross-dock and transload services. We've got distribution centers at many of the major ports like Norfolk, NY/NJ, and Savannah that are ready to serve you.
Contact your UWL rep if you have any questions about our transloading services.
5. Do your best to provide an 8 week rolling forecast with all pertinent info (POs, Cargo Ready Dates, Container Sizes, Volume, etc.)
The best way to get ahead of this situation is to proactively forecast the shipments you expect to move in coming weeks. Being able to accurately forecast your freight volumes is essential because the more predictable your volumes are, the easier it is to consistently get space on vessels.
If you're a UWL Customer, share your forecast with us (the more detailed, the better) so that we can work with our carrier partners to support your bookings and secure capacity for you. Our supply chain data management tool, WorldScope, can help you do this. Learn more here.
In addition to your order forecast, providing an equipment needs forecast can help our efforts to secure empty containers for your shipments. When you create your forecast, be sure to include:
Equipment Needs by Week
Origins / Destinations
Vessel / Voyage #
Booking #
Equipment Size/Type
Use this Equipment Forecast Worksheet to help you plan ahead. Fill it out, send it to your LC – or directly to uwlquotes@shipuwl.com – and we will do everything we can to keep your shipments moving.




6. If you absolutely need to get it there fast, consider Air Freight
For a shipper who is ready to move their cargo now, consider the alternative of air freight. This could help you avoid ocean delays.
"For the most part, there are few delays on departure at origin, but depending on the destination in the U.S., there are some delays once the cargo arrives due to the significant increase in volumes air is experiencing," said UWL Director of Air Freight James Constantinidis (follow James on LinkedIn).
Why is air freight also experiencing a surge in volume? As you might expect, there has been an increase in ocean shipments that are now moving air due to delays. COVID restrictions are also causing a shortage of staffing at the major air hubs.
"We have had some success in avoiding delays by getting creative with the routings we choose. It's not always possible, but it's definitely an option worth exploring," said Constantinidis.
You can reach our air freight team with any questions at airquotes@shipuwl.com.
Final thoughts
Shipping ocean freight this year may feel like it is wrought with challenges, but proactive planning and a bit of patience will help you make it through. Make sure to give yourself plenty of lead time to account for delays throughout the supply chain. Expect higher rates through the summer and quite possibly into 2022, and be prepared to pay premium to keep your cargo moving — this is not the year to cut costs. Be open to alternative routings. Transloading at the ports may help you avoid delays occurring at the rails. The better you can forecast your shipments, the better support we'll be able to provide, so do your best to provide an 8 week rolling forecast with all pertinent info (POs, Cargo Ready Dates, Container Sizes, Volume, etc.). And if you absolutely need to get it there fast, Air Freight is a viable alternative that we can assist you with.
Dig Deeper
Cox, J. (2021, April 29).

Consumer-fueled economy pushes GDP to 6.4% first-quarter gain

. CNBC.
Knowler, G. (2021, March 23). Demand growth to outstrip container ship capacity despite new orders. JOC.com.
La Rocco, L. A. (2021, March 26). Suez Canal blockage is delaying an estimated $400 million an hour in goods. CNBC.
Miller, G. (2021, May 4). Brace for impact: Data shows US import demand still rising. FreightWaves.

Miller, G. (2021, May 2). No relief: Global container shortage likely to last until 2022. FreightWaves.

Miller, G. (2021, March 22). Inside the now-booming business of building container ships. FreightWaves.

Pisani, J. (2021, April 15). $1,400 stimulus checks helped March retail sales soar 9.8%. AP NEWS.

Ren, H. (2021, April 12). Higher Shipping Costs Are Here to Stay, Sparking Price Increases. Bloomberg.com.

Yoon, E. (2021, April 23). Shipping delays are causing a scramble for containers. CNBC.