UWL Freight Market Update | May 2023
By:

Kellie Lynch

Date:

May 18, 2023 10:53:41 AM

Categories:
Your Monthly Logistics Round Up - Hot news for navigating today's freight markets.
In this issue:
May State of the Market
Gain insights on the current market from UWL's Dylan Royal as he discusses updates on the ILWU negotiations, GRIs and capacity expectations, the Panama Canal Draft Restrictions, and offers expert advice on contracts vs the spot market.
US imports bounce back in April, up 9% M/M
Starting off with some good news! According to data from Descartes Datamyne, US imports rose in April. "U.S. ports imported 2,020,197 twenty-foot equivalent units of containerized cargo in April, down 18% from a year ago, when American importers were frantically shipping in cargo," FreightWaves reported, "But it's up 9% from March and 5% from April 2019, pre-COVID."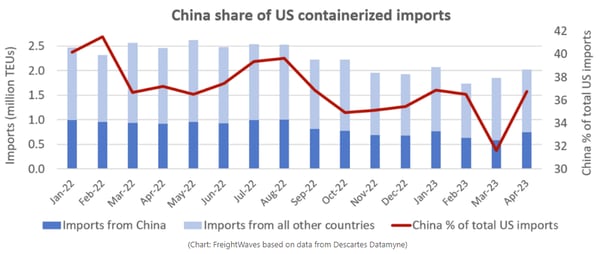 The chart above shows how the overall import volume increase was largely driven by a post-CNY increase from China. In April, US imports from China increased by a whopping 27% compared to the previous month, reaching 156,563 TEUs, according to data from Descartes Datamyne. Vietnam followed in a distant second place, with an increase of 18,249 TEUs. These gains from China were significantly higher than those from any other country.
Labor: Progress made in ILWU negotiations
After months of negotiations, the International Longshore Worker's Union (ILWU) and Pacific Maritime Association (PMA) have made progress towards a deal. JOC.com reports that an agreement has been reached between ILWU Local 13 and the PMA involving manning requirements for cargo-handling equipment at conventional container terminals in Los Angeles-Long Beach. While the agreement hasn't brought an end to the labor negotiations, it is a step in the right direction, with some industry experts predicting a multiyear contract could be reached in coming weeks.
One of the most contentious issues, the use of automation on the docks, has been resolved with a tentative agreement as of April 20. However, the parties still need to come to an agreement on wages and pensions. The ILWU is expected to request a pay increase in the first year of the new contract, matching the 10% deal recently reached with an ILWU local chapter in Hawaii. Additionally, the length of the contract is still up for discussion.
Drought prompts Panama Canal to issue draft restrictions
Did you know? The Panama Canal doesn't use ocean water to fill its locks, they are actually filled from Gatun Lake. When water levels in the lake are low due to drought, the Panama Canal Authority issues draft restrictions so that vessels transiting the canal don't get stuck.
Panama is currently experiencing drought conditions and has announced a draft restriction for vessels transiting the Panama Canal. The 44 ft. draft restriction, which begins on May 30, will impact large container ships carrying 6,000 TEUs or more.
Carriers may trim loadings on their vessels and/or restrict heavy containers from loading to comply with the draft restrictions and ensure they can safely transit the canal.
The restrictions will primarily affect cargo travelling from Korea/Japan to US East Coast as well as North and East China to US East Coast. In regards to container weight, laden containers above 7 tons are most at risk for getting rejected. Overweight shippers should consider re-routing via the Suez Canal to minimize risk to their shipments.
For more information on the Panama Canal, as well as future advisories related to the draft restrictions, check out the official PanCanal website.
Sihanoukville Autonomous Port Expansion
Exciting developments in Cambodia - Sihanoukville Autonomous Port has announced an expansion plan through 2029 to allow larger ships call at the country. The move in Sihanoukville is expected to triple Cambodia's box handling capacity once complete. As Cambodia's economy grows, our Sun Chief Express service with Swire Shipping is well-positioned to assist clients looking to ship from Sihanhoukville to the US and Canada.
OSRA: NCBFAA urges congress on rail demurrage and detention charges
National Customs Brokers and Forwarders Association of America (NCBFAA) recently penned a letter to congress to request that the Ocean Shipping Reform Act (OSRA) be updated to require rails to bill their detention and demurrage charges back to the carriers instead of how it is today, where it typically gets billed to the importer or NVO.
"Current state, there is confusion over which federal agency has the power to resolve disputes regarding rail demurrage. If this were to move forward, it would throw rail demurrage into the jurisdiction of the FMC, as it would become subject to the demurrage and detention invoice requirements of OSRA," said Shannon Dillinger, UWL Director of International Services.
UWL is in favor of this update and, should it pass, it would then give the FMC jurisdiction over the fees and hold rail carriers accountable to the same "fair and reasonable" OSRA requirements that exist today for marine terminal operators.
"So in circumstances where an importer was unable to pick up a container from the rail because maybe the rail is not open, it's a weekend and they're closed, or it's a holiday, or there's so much congestion that the drivers can't even get in to get the container... or could even be a lack of equipment. So it could be that there's no chassis available, things like that. They would not be able to charge storage charges in those circumstances. They would have to waive the fee for that day. This would be a huge benefit to our importing community," explained Dillinger.
"This is still very premature. There's not even Notice of Proposed Rulemaking for this yet. But, if it were to go forward, it would completely change a lot for our clients in the way that they pay the rail storage today," Dillinger explained, "This is the industry trying to drive change and we are lucky to be part of that through the NCBFAA. Our organization is working with the NCBFAA to help make that happen," she said.
Latest OSRA News
📰 UWL Company News


Brand New DC Near NY/NJ Ports

We now have racked and floor distribution space available at our WDS Linden facility in NJ. Learn more here.

Spotlight: Reefer Service

Did you know? We provide refrigerated export services to Busan, KR with a transit of just 12 days.

Air Cargo Capacity

In need of reliable air freight service? We have capacity available. Contact us for rates and more information.