UWL Freight Market Update | July 2023
By:

Kellie Lynch

Date:

Jul 31, 2023 11:27:52 AM

Categories:


July Market Update
Your Monthly Logistics Round Up - Hot news for navigating today's freight markets.
In this issue:
July State of the Market
UWL's Martin Karczewski, VP, 3PL Services, provides updates on this year's "mini peak season", the Panama Canal draft restrictions, and shares some exciting news about UWL's recent expansion into China and warehouse capacity in NY/NJ.
Transpacific Capacity & Blank Sailings in August
The TPEB landscape has changed quite a bit in the last year. Mergers, service cancellations, and niche carriers pulling out of the market have reduced the available ocean freight options for shippers importing from Asia. Container-News reported our service with Swire Shipping is now the lone transpac micro-player. While other carriers have exited the Transpacific, we're committed to this service and in it for the long haul.
We're also seeing several blank sailings on the TP trade announced for August. Carriers are playing catch up after the longshore labor dispute in Canada brought B.C. ports to a halt for almost two weeks. Congestion due to the strike has caused gaps in regular service from Southeast Asia for weeks 32-34. Some carriers are blank sailing and others are skipping calls in Haiphong to attempt schedule recovery.
If you're in need of service from Vietnam, or have been impacted by these blanks and skips, our Sun Chief Express service has guaranteed capacity available on upcoming sailings Honiara Chief 2306E (ETD Haiphong 8/9 and ETD Ho Chi Minh 8/12) and Changsha 2306E (ETD Haiphong 8/23 and ETD Ho Chi Minh 8/26). Contact sales@shipuwl.com or call 440-356-5353 for rates and more information.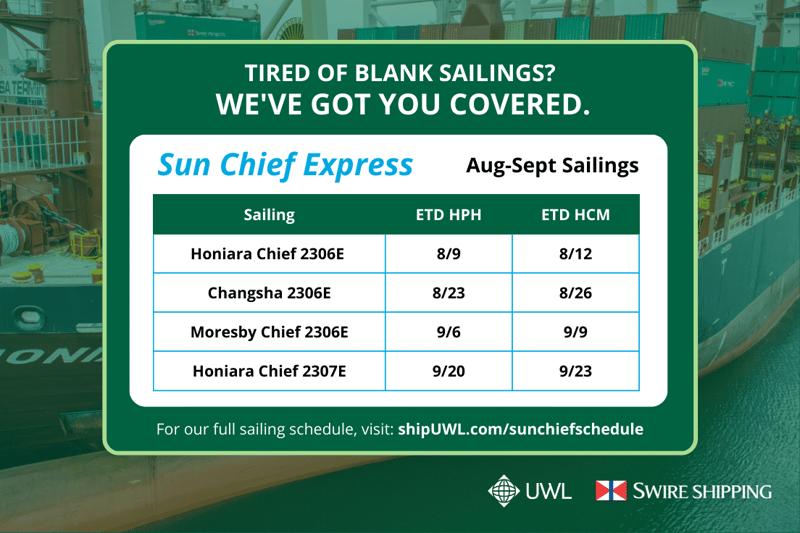 Labor: Updates on US & Canada Negotiations
Here are the latest updates on longshore labor negotiations across the US and Canada:
Panama Canal draft restriction update
For shippers who move their freight to the East Coast, we're still keeping an eye on the drought situation in Panama. Vessel capacity through the Panama Canal is estimated to be around 30% less than normal as operators have to keep ships light to comply with the draft.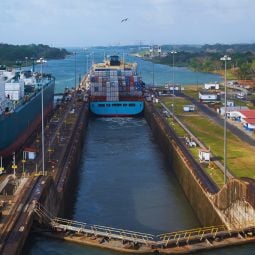 To avoid further draft restrictions, per a July 25 advisory, the Panama Canal Authority will reduce the number of vessel transits per day to 32 — 10 vessels in the Neopanamax locks and 22 vessels in the Panamax locks. Currently, "the maximum authorized draft of 13.41 m (44.0 feet) TFW will remain in effect in the Neopanamax locks, and the maximum authorized draft of 12.04 m (39.5 feet) TFW will remain in effect in the panamax locks until further notice," a June 22 notice said.
The restrictions will primarily affect cargo travelling from Korea/Japan to US East Coast as well as North and East China to US East Coast. In regards to container weight, laden containers above 7 tons are most at risk for getting rejected. Overweight shippers should consider re-routing via the Suez Canal to minimize risk to their shipments.
Visit the official PanCanal website for additional updates.
Compliance: FMC Issues SNPRM on Unreasonable Refusal to Deal
The FMC announced a Supplemental Notice of Proposed Rulemaking (SNPRM) to address a requirement from the Ocean Shipping Reform Act of 2022 that prohibits ocean carriers from unreasonably refusing cargo space to shippers. The SNPRM comes in response to comments to the original proposal and revises some of the language for clarity. Key changes include:
Defining "unreasonable" by stating a general principle and a non-exhaustive list of examples of unreasonable conduct
Establishing the elements for a refusal of cargo space accommodations
Revising the definition of transportation factors to focus on vessel operation considerations
Clarifying that vessel space services were already included in the definition of vessel space accommodations and add a definition for cargo space accommodations
Defining documented export policy and add mandatory document export policy requirements
Removing the voluntary certification provision
Public comments can be submitted until 11:59 p.m. EDT on July 31, 2023.
Customs User Fee Changes Effective October 1, 2023
Some customs user fees are changing in accordance with the Fixing America's Surface Transportation Act of 2015 (FAST Act), and the new fees will be effective October 1, 2023. Here's a round up of what's changing according to CBP:
The Merchandise Processing Fee (MPF) ad valorem rate of 0.3464% will NOT change. The MPF minimum and maximum for formal entries (class code 499) will change. The minimum will change from $29.66 to $31.67; and the maximum will change from $575.35 to $614.35.

The Surcharge for Manual, Formal Entry/Release (class code 500) will change to $3.80.

The fee for Informal Entry/Release, automated and not prepared by CBP personnel (class code 311a), will change to $2.53.

The Express Consignment Carrier/Centralized Hub Facility fee will change to $1.27 per individual waybill/bill of lading. An individual air waybill is the bill at the lowest level, and is not a master bill or other consolidated document. See

82 FR 50523

(Nov. 1, 2017).

The Commercial Vessel (class code 485) or Commercial Aircraft (class code 495) Passenger Arrival customs fee will change to $6.97 per passenger.

The Commercial Vessel Passenger Arrival from Exempt Areas (class code 484) customs fee will change to $2.44 per passenger.

The Commercial Truck Arrival fee (class code 492) will change to $6.95. The Commercial Truck Arrival Fee is the CBP fee only; it does not include the United States Department of Agriculture (USDA) Animal and Plant Health Inspection Service (APHIS) Agricultural and Quarantine Inspection (AQI) Services Fee (currently $7.29) that is collected by CBP on behalf of USDA to make a total single crossing fee of $14.24. Once eighteen Single Crossing Fees have been paid and used for a vehicle identification number (VIN)/vehicle in a Decal and Transponder Online Procurement System (DTOPS) account within a calendar year, the payment required for the nineteenth (and subsequent) single crossing is only the AQI fee (currently $7.29) and no longer includes CBP's $6.95 Commercial Truck Arrival fee (for the remainder of that calendar year).

The Dutiable Mail fee (class code 496) will change to $6.97.
For more information, view the General Notice here.
UWL Expands: New China Offices, Sun Chief Express Updates
We've been hard at work expanding our network and capabilities to better serve you. The month of July saw some exciting updates, new office openings, and enhanced service connectivity that we're proud to share:
Four New UWL Offices Now Open in China, Alfie Teh joins from Singapore

— Now, find us in Qingdao, Ningbo, Dalian, and Shenzhen! Get in touch with Alfie (Alfie.Teh@shipUWL.com) for your Southeast Asia freight needs.


Now serving Southeast Alaska, welcome Peter Vigil, Director of Refrigerated Services

—

UWL is positioning reefer equipment in Juneau, Ketchikan, Petersburg, and Sitka to connect to the Sun Chief Express call in Seattle.
In need of refrigerated services or service from Alaska? Reach out to Peter (Peter.Vigil@shipUWL.com).


In addition to reefer enhancements, we've expanded the Sun Chief Express IPI program, adding connections to

Cleveland and Columbus

.
Around World Group


World Distribution Services named to Top 100 3PLs list

We're proud of our sister company, WDS, for being named to the Inbound Logistics Top 100 3PLs list! This is a testament to their commitment to delivering exceptional warehousing & distribution solutions.

Space Available: Brand New Distribution Center by NY/NJ Ports

Our Class A facility is over 480K sqft and only 8 miles from the port. From cross-docking to inventory management, we're ready to assist with all your distribution needs in the Big Apple.

Sun Chief Express Wins Top Supply Chain Projects Award

UWL's innovative new ocean service, Sun Chief Express, has earned a spot among the winners of this year's Top Supply Chain Projects Award by Supply & Demand Chain Executive.