Transpacific Ocean Freight & Blank Sailings Update | Week 19
By:

Kellie Lynch

Date:

May 6, 2020 5:34:38 PM

Categories:
Cargo lull, blank sailings continue in Q2
Shutdowns across key markets worldwide due to the COVID-19 pandemic have created a demand shock, causing seaborne trade growth, in tonnage, to drop over 10% so far in 2020, the sharpest decline since global financial crisis in 2009.

This decline in demand is unprecedented and carriers have continued to blank sailings as a result. In addition, warehouses are filled to the brim and some ocean carriers have announced unique programs to slow the flow of trade for shippers who are unable to take deliveries amid the crisis.

In this article, we'll go over the latest ocean freight market trends, transpacific blank sailings and supply chain impacts.

Ocean Freight Market Update
Inactive Containership Fleet Reaches Record Highs
In early March 2020, a record 2.46 million TEUs of vessel capacity was idle, according to Shipping Watch, topping what occurred during the Hanjin shipping crisis in 2016. "The large scale sailing cancellations could push the inactive containership fleet to over 3 million TEUs in the coming weeks in the worst capacity crisis that the container shipping industry has ever seen," shipping analyst Alphaliner reported.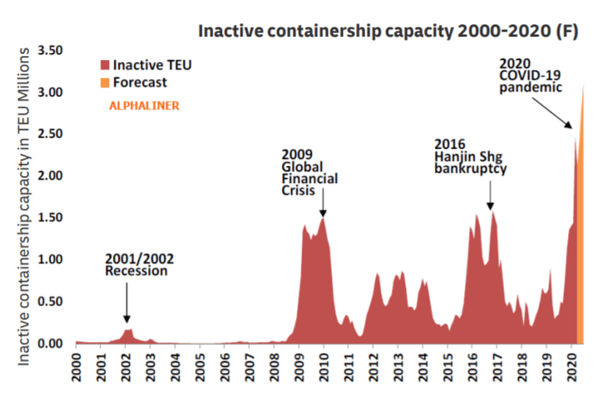 Capacity has been cut from nearly all major routes and some strings have been cancelled entirely. "No market segment will be spared, with capacity cuts announced across almost all key routes. Apart from the Asia - Europe, Asia - North America and Transatlantic routes, carriers have also implemented capacity reductions in South America, the Middle East, the Indian Subcontinent, Africa, and Oceania," Alphaliner said.
One silver lining: Carriers have been installing scrubbers on their vessels that have been idled — nearly 1/3 of the inactive fleet, around 1.02 million TEU of capacity — is currently in shipyards awaiting scrubber retrofits. The push to install these emissions-cleaning devices was spurred by the IMO 2020 regulation which went into effect on Jan 1. Scrubbers help reduce pollution from ship emissions and improve air quality.
Q2 Transpacific Trade Blank Sailings: By the Numbers
Note: In this article, we are focused on cancelled transpacific sailings from East Asia to all USA and Canada destinations.
COVID-19 Supply Chain Impacts
COVID-19 continues to impact supply chain operations across the globe. "Initially, we had that supply shock in China where the factories were unable to operate and therefore we saw very weak sailings coming out after Chinese New Year. Now, that whole picture is turned around to where the supply side has really built back up nicely in Asia," Jeremy Nixon, CEO of ocean carrier ONE, explained in an interview with Splash247.
After coming out of the supply shock, there is now a demand shock due to the lockdown situation.
"March was not too bad because there was this catch up going on trying to replenish inventories and get the product moving again. ... But as we've come into April, we've seen generally, in terms of exports, somewhere around a 15-20% drop down in exports out of Asia going to North America and to Europe," Nixon said. "Imports into Asia, particularly exports out of North America and Europe, are holding up pretty good. The consumer in Asia is still alive and kicking, and still needing a lot of product, and the whole supply chain is generally working pretty well."
The future forecast, however, remains uncertain. "We have Golden Week the first week of May, so we could see that May will be weaker certainly than April. At this stage, its too early to call how June or July goes or the rest of the calendar year. ... We're still getting our head around how deep is this and for how long is this," he said.
Capacity tightens on major lanes
On the Asia Pacific to North America trade, demand continues to be weak due to major U.S. retailers closing stores, leading to more blank sailings. According to data from eeSea shared by FreightWaves, headhaul capacity to North America from Asia (measured in TEUs) is down 21% in May, 19% in June and 7% in July when compared to the original (pro forma) schedules. We could see more capacity removed in June and July if demand continues to be weak as carriers firm up their sailing schedules.
Moving from North America to Asia Pacific, capacity is moderately tightening due to the cancelled sailings. Some bookings could get rolled as a result. As we mentioned in a previous update, USA Exports: Equipment availability impacts from COVID-19, we continue to see equipment shortages for exports occurring at most major inland points.
Latin American exports are also being impacted by COVID-19. Blank sailings, equipment shortages, and administrative delays on the carrier side due to the virus are occurring. Capacity is tight, especially in the WCSA area. There are also reports in some areas of slower port operations and trucking delays due to COVID-19 restrictions.
For ocean drayage, border control measures and restrictions from COVID-19 will lead to longer wait times for trucks.
Operations at marine terminals have slowed as import cargo dries up. Some terminals are working reduced hours or are implementing 1-2 day closures during the week. Port congestion will become a growing problem as import containers pile up and equipment becomes tied up as shippers look for places to store their inventory.
Demand for storage grows
"Inventories of goods like apparel, textiles, white goods, are full," International Chamber of Shipping Chairman Esben Poulsson told Bloomberg. "We are hearing of receivers of these goods asking shipping lines whether they can store these goods for a period of time or slow their ships down or basically delay taking delivery."

In fact some steamship lines have created programs with names like "suspension of transit" "detention in transit" or "storage in transit" to assist shippers in slowing their supply chains amid the crisis.
If you are in need of storage solutions, especially in key cities including Cincinnati, Cleveland, Columbus, Detroit, Indianapolis, Louisville, and St. Louis, we are well-equipped to support you. Many of our facilities are lighted, fenced, on cement and monitored with 24/7 video surveillance. Please reach out if you need assistance.
So what is a shipper to do?
Here's a quick reminder of some simple things you can do to successfully navigate these seas of change:
Plan ahead. Book your shipments well in advance (6-8 weeks if possible). This will help you secure equipment when it is scarce and allows ample time for planning.


Use online tools when possible. Ports and carriers in many cases are not accepting paper documents, including hazardous declarations. Submit your documents electronically, make payments electronically rather than by check, and to use online tools whenever possible.


Forecast, forecast, forecast. Proactively forecast the shipments you expect to move in coming weeks. and send it to your LC – or directly to uwlquotes@shipuwl.com – and we will work proactively with the ocean carriers to support your bookings.


Stay informed. We'll continue to share the latest news, helpful resources, and keep you informed of new market developments. Sign up for our email newsletter if you'd like to receive these updates directly in your inbox.
Email me the latest market updates >>
While the future remains uncertain, we will continue to do everything we can to keep you informed and to assist you with all of your supply chain needs. If you have any questions or if there is anything we can help you with, please reach out.
If you're in need of some good news, check out these stories featuring some of our clients who are bringing PPE to front line workers.
Additional Resources
For more information, check out some of our other resources below:
Global COVID-19 Cases Map
Credit: Johns Hopkins Center for Systems Science and Engineering