Transpacific Ocean Freight & Blank Sailings Update | Week 21
By:

Kellie Lynch

Date:

May 21, 2020 6:24:54 PM

Categories:
Capacity crunch brings reinstated sailings & rolled cargo
The theme of this week is rock and roll. The year certainly got off to a rocky start with the effects of COVID-19's global spread rippling through the markets. American Shipper said container shipping in 2020 was akin to a "roller coaster ride" with all of it's ups and downs.
Now, with capacity tighter than the leather pants of your favorite 80's hair metal band (I'm lookin' at you, Mötley Crüe), cargo is getting rolled and some liners are even reinstating blanked capacity.
Let's dive into the latest ocean freight market updates...

Ocean Freight Market Update
Transpacific capacity crunch: Has the demand drop bottomed out?
It remains uncertain. Ocean carriers are getting really good matching capacity with demand by blanking sailings, however, we've seen some blanked sailings recently get reinstated.
"THE Alliance is now re-inserting 2 sailings on the Transpacific which had previously been cancelled. This follows last week where THE Alliance also re-inserted four previously cancelled sailings on Asia-Mediterranean," said Lars Jensen of SeaIntelligence Consulting.
The reinstated sailings are the voyages of YM Mandate (6,572 TEUs), leaving China May 29 and arriving in Los Angeles on June 16, and the Seaspan Brightness (10,000 TEUs), departing China May 25 and arriving in Los Angeles on June 10, according to American Shipper/FreightWaves. Two extra loaders, or unscheduled extra sailings, have also been added onto Matson's premium transpacific service in May.
"This tells us, at least for now, that carriers – at least in THE Alliance – are now seeing sufficient demand for their remaining services to even up the capacity a bit," Jensen said.
Blank sailings continue, space remains tight, & cargo is getting rolled
Even with the reinstatement of some voyages, there is still a substantial amount of blank sailings, and we expect that trend to continue.
The inactive containership fleet reached a record high of 2.65 TEU as of May 11, accounting for 11.3% of the total containership fleet capacity according to data from Alphaliner.
For the carriers, it makes more sense to cancel too many sailings up front and add some back in later if the demand is there.
"They would rather pro-actively cancel too much capacity and then later re-insert in case there is more demand, instead of hoping for demand to materialize and then have to either cancel at the last minute or sail with underutilized vessels," said Jensen.
The current heavy blank sailings arrangement and additional volume of PPE containers have lead to a shortage of space.
"Even Matson and APL EXX services are very full on every week and some carriers who can accept DG cargo are also very full," a UWL agent in Asia said.
"In conversations with one carrier rep today, her opinion was that space could be even more tight in June than May because of blank sailings," said Carston Cash, UWL Import Pricing Supervisor.
At the moment, only a small number of sailings, (18 on the Transpacific so far) have been blanked in June compared with April and May, hinting that carriers have received good booking prospects for June.
"We are receiving a very good prospect for June and looks like the market is positive. For the current crazy USWC space, everywhere is suffering the rolling issues and the situation of some carriers seems out of control," our agent explained.
Q2 Transpacific Trade Blank Sailings: By the Numbers
Note: In this article, we are focused on cancelled transpacific sailings from East Asia to all USA and Canada destinations.
| | | | | |
| --- | --- | --- | --- | --- |
| | 2M Alliance | Ocean Alliance | THE Alliance | Total |
| Q1 | 36 | 76 | 36 | 148 |
| Q2 | 33 | 50 | 48 | 131 |
| Total | 66 | 126 | 84 | 279 |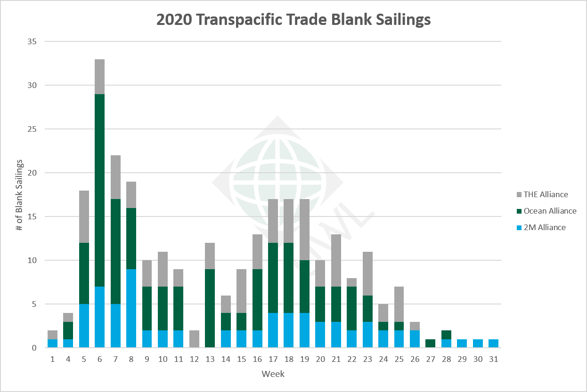 For a complete list of announced blank sailings, download the report below.
(Excel .XLSX 1,154 KB) | Updated on June 4, 2020
Capacity is pretty tight across all major trade lanes
Asia Pacific to North America
Current space from Asia to the US, especially to the USWC, is very tight and rates remain steady.
Some equipment shortages have been reported in Ningbo, Fujian, Hong Kong, and Taiwan.
In Central China, all carriers running service from Ningbo (NGB) to Pacific Southwest (PSW) are extremely full. For some carriers, PSW space is subject to "double roll", meaning two-week delays. From Ningbo to both Pacific Northwest (PNW) and the U.S. East Coast (USEC), space is also full due to blank sailings.


From Shanghai (SHA) to USWC, space is very full as well. Space from Shanghai to USEC/GULF is also tight and some carriers, like ZIM and COSCO, have weight limitations to the USEC.


In Northern China, space to PSW is extremely full and subject to double roll. Space to PNW is tight, however space to USEC/GULF is normal.


In Southern China, space from Hong Kong (HKG) to USWC is full and USEC is tight. Shenzen (SZ) space to both USWC & USEC is full. To the USWC, the space situation is much worse.


From Fujian, space to PNW is normal and PSW is full. Space to USEC is tight, but the empire service of MSC and AWE service of COSCO is full.


From Taiwan, space to PSW is full and PNW and USEC is tight.
North America to Asia Pacific
Space and equipment are extremely tight due to blank sailings. Shippers are advised to book at least 2 weeks in advance.


Latin American Exports
Blank sailings and equipment shortages continue. Capacity remains tight, especially in the WCSA area. In some areas, port operations are slow due to COVID-19 restrictions.
Spotlight on U.S. Ports
The economic effects from the coronavirus pandemic are impacting major ports across the U.S. which have seen their volumes decline due to lower demand and cancelled sailings. Some terminals are working reduced hours or are implementing 1-2 day closures during the week as a result of the low volumes.
"Our gateway experienced a total of 39 void sailings through April, driven by the lingering trade dispute with China and the global Coronavirus pandemic," the Northwest Seaport Alliance (NWSA) explained to Container-News. NWSA is a partnership between the ports of Seattle and Tacoma.
The Port of Los Angeles (POLA) was also hit especially hard with blank sailings. "There are at least 28 voided vessel sailings and retailer orders are soft as consumer purchasing and confidence has dropped precipitously," POLA executive director, Gene Seroka, warned. "As we move deeper into the remainder of the second quarter, we're forecasting significantly lower volumes, particularly on the import side."
In Houston, the port has also been impacted by a significant number of blank sailings. However, despite a 12% drop in April, for the first four months of 2020, the port saw a 5% increase compared to the first four months of 2019.
"We have had 26 announced blank sailings this year including seven for the month of June. It's yet to be seen what July will look like but hopefully, we will see some improvement into the summer," executive director at the Port of Houston, Roger Guenther, said.
As stay at home orders are relaxed and people go back to work, cargo shipments will rebound and consumer demand should rise, albeit slowly.
Consumer demand trends: NRF predicts gradual recovery
In an April 2020 Survey of Customer Expectations by the New York Fed, the perceived probability of losing one's job reached a new series' high of 20.9% for the second consecutive month. Expected earnings, income, and spending growth each reached series' lows, and the perceived and expected availability of credit worsened.
Consumers in the U.S. have shifted to buying essential items, like toilet paper and personal protective equipment, and sales of non-essential items have declined. For example, Splash247 reported that clothing sales in the U.S. dropped 89.3% in April alone. As a result, many retailers have pulled back or cancelled orders of non-essential items.
"We had about 60% of our orders of non-essential items canceled two months ago when the pandemic began," Brett Rose, CEO of United National Consumer Suppliers (UNCS), a supplier of products for retailers like Macy's, Ross, and 5 Below, told FreightWaves. "We have seen a massive increase in the number of orders for masks, thermometers and hand sanitizer. It's the new norm for PPE," Rose explained. "We are about 75% PPE and 25% 'regular' goods."
According to the National Retail Federation (NRF), economic recovery will be gradual. The NRF's Global Port Tracker (GPT) currently forecasts a 20.4% drop in retail imports for May, followed by declines of 18.6% in June, 19.3% in July and 12% in August.
"Shoppers will come back and there is still a need for essential items, but the economic recovery will be gradual and retailers will adjust the amount of merchandise they import to meet demand," said Jonathan Gold, vice-president for supply chain and customs policy, NRF.
A bright spot is the growth of eCommerce businesses who are filling in the gap left by closed brick and mortar stores as more shoppers turn to buy their goods online. We remain optimistic that demand will gradually improve as economies and businesses start to reopen.
So what is a shipper to do?
Here's a quick reminder of some simple things you can do to successfully navigate these seas of change:
Plan ahead. Book your shipments well in advance - at least two weeks. This will help you secure equipment when it is scarce and allows time for planning.


Use online tools when possible. Ports and carriers in many cases are not accepting paper documents, including hazardous declarations. Submit your documents electronically, make payments electronically rather than by check, and to use online tools whenever possible.


Forecast, forecast, forecast. Proactively forecast the shipments you expect to move in coming weeks. and send it to your LC – or directly to uwlquotes@shipuwl.com – and we will work proactively with the ocean carriers to support your bookings.


Stay informed. We'll continue to share the latest news, helpful resources, and keep you informed of new market developments. Sign up for our email newsletter if you'd like to receive these updates directly in your inbox. Email me the latest market updates >>
While the future remains uncertain, we will continue to do everything we can to keep you informed and to assist you with all of your supply chain needs. If you have any questions or if there is anything we can help you with, please reach out.
Additional Resources
For more information, check out some of our other resources below:
Global COVID-19 Cases Map
Credit: Johns Hopkins Center for Systems Science and Engineering