Tariffs and Trade Disputes: Examining the Impact on Global Logistics
By:

UWL

Date:

Oct 10, 2018 1:57:39 PM

Categories: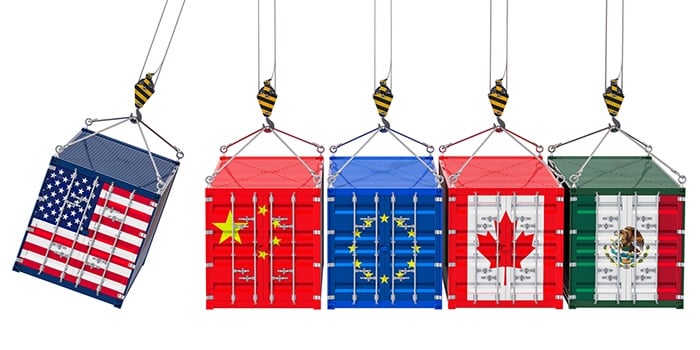 Trade disputes and tariffs always have an effect on the global shipping and logistics industry, no matter who is involved. In 2018, however, there have been some big changes that are having potentially huge impacts on the industry.
Although we've examined some of the changes thus far in past industry news articles, for this post we will take a more in-depth look at the tariffs and trade disputes, the impact they have/will have on global logistics, and what led to this moment.
How We Got Here
The beginnings of what many are calling an all-out trade war started in January 2018 when President Donald Trump announced that the United States would be implementing tariffs on Chinese imports of washing machines and solar panels.
Since then, there have been a number of tariffs and trade disputes announced for a variety of countries, including more tariffs for China, the European Union, Mexico and Canada, with many of these countries responding with tariffs of their own.
Supply Chain Dive provides a great overview of each step in the trade war, if you would like more information, but we are going to take a look at the main highlights:
January 22 – President Trump announces that the U.S. will be implementing a 30% tariff on solar imports and washing machines in response to many domestic solar manufacturers citing competition difficulties due to cheaper, Chinese imports.


March 1 – U.S. announces tariffs on imported steel and aluminum. This includes a 25% tariff on five classifications of steel and a 10% tariff on six types of aluminum products (this does not go fully into effect until June).


March 2 – The European Union retaliates with tariffs on Levi Jeans and bourbon, targeting nearly $3.5 billion in imports to the EU.


March 22 – U.S. announces tariffs on up to $60 billion for imported Chinese goods. This was the first tariff to specifically target Chinese imports.


April 2 – In response to the March tariffs, China implements tariffs on $3 billion worth of tariffs on more than 128 U.S. products.


May 29 – Despite Treasury Secretary Steven Mnuchin telling Fox News that the U.S. will be "putting the trade war on hold" earlier that month, the U.S. puts a 25% tariff on $50 billion of Chinese imports related to "industrially significant technology." This tariff was aimed at punishing China for intellectual property abuses.


May 31 – Canada and Mexico retaliate with tariffs of their own as the U.S. steel and aluminum tariffs go into full effect. Canada implements $12.8 billion in U.S. products, while Mexico places duties on steel, as well as $3 billion in other U.S. products.


June 15 – India and China initiate retaliatory tariffs in response to the U.S.'s action against 818 Chinese products. China's 25% tariffs affected nearly 545 U.S. products worth $34 billion.


July 6 – The U.S. and China impose 25% duties on $34 billion worth of imports on each other.


July 10 – In retaliation for the July 6 tariffs, the U.S. announces duties on $200 billion more goods from China.


July 25 – Meeting between President Trump and EU Commission Jean-Claude Juncker ends in vow for both the U.S. and the EU to work toward "zero tariffs."


August 3 – China warns it could retaliate with tariffs on $60 billion in U.S. goods if the U.S. follows through with the proposed July 10 tariffs. This includes taxes on more than 5,000 U.S. imports ranging from coffee to liquefied natural gas.
August 7 – The U.S. is scheduled to begin collecting 25% duties on $16 billion Chinese imports starting August 23.


September 24 – Duties on $200 billion worth of imports from China begin, starting at 10% then rising to 25% at the beginning of 2019.
As of the beginning of October, the U.S. is also in the midst of trade talks with Japan and South Korea, which many think would allow President Trump to focus on China even more.
The Impact of Current Trade Disputes
Now that we have a rough understanding of what led to the current trade environment, let's examine just how this is affecting businesses and logistics.
While some industries may be benefiting from the ongoing tariffs, others are struggling under the weight of the newly added costs.
The Good and the Bad for Businesses
Shortly after the implementation of the steel and aluminum tariffs, many U.S. companies turned to domestic metal manufacturers (an intended result of the taxes) to fulfill their material needs.
This helped metal manufacturers increase business, but with this higher demand, those looking to purchase steel or aluminum soon experienced increased pricing and lead time.
Similarly, before the July tariffs went into effect, the shipping industry saw a large uptick in business as companies raced to import goods before the new taxes began. Since then, it's been difficult to get an accurate outlook on the shipping industry as a whole to predict how 2018 will end.
We've also seen companies moving parts of production overseas, like in the case of Harley Davidson, while others have had to pause business extension plans.
What It Means for Global Relations
Although the U.S. is in trade talks with many countries, experts warn that these 2018 trade disputes could have lasting effects on global relations.
There has already been a decline in foreign direct investment worldwide, and many believe this trend will remain as trade disputes continue. This is not only due to the increased tariffs, but also the uncertainty of the market.
"Foreign investors are looking for both economic opportunities and political stability, and certainly the latter has suffered quite tremendously under this administration," said Thilo Hanemann, a director at Rhodium Group and the author of its China FDI report, in a CNBC article, "Uncertainty Is Turning off Foreign Investors."
Why You Should Care
Not only can these tariffs affect your business, but they also can affect how and where you ship your goods. Depending on where your goods are headed and what they specifically are, you could be looking at large penalties that cut into your overhead costs.
We could also see decreased demand for air cargo and shipping services as companies turn to domestic markets in order to reduce costs. Until trade talks are complete and agreements are made, the fate of global logistics is something we will be keeping a close eye on.
There are opportunities for businesses to be excluded from tariffs, however. Contact a UWL representative today to discuss your options.