Sun Chief Express Expands Intermodal Connectivity to Cleveland & Columbus
By:

UWL

Date:

Jun 22, 2023 4:07:16 PM

Categories:
New IPI program connects products from Southeast Asia with fashion hub of the Midwest
UWL, a top 10 US-owned freight forwarder and global logistics provider, announced the expansion of its inland point intermodal (IPI) program for the Sun Chief Express service, which operates between Southeast Asia and the US and Canada via Seattle. The service now includes access to two key IPI locations in Ohio - Cleveland and Columbus - further enhancing the reach and capabilities of this premier transportation solution.
"Diversifying our IPI program through the Sun Chief Express demonstrates the transformative power of this service," commented UWL President Duncan Wright. "Cleveland and Columbus each serve as powerful economic engines, integrating them into our network bolsters coverage and accessibility of our top-tier transportation solutions."
"For us, as a Cleveland-based company, being able to bring the fastest and most reliable service from Vietnam and Southeast Asia through to our hometown is a source of immense pride," added Wright. "Our goal is to provide all Midwest businesses with advanced, sustainable supply chain strategies to maintain their competitive edge in the marketplace."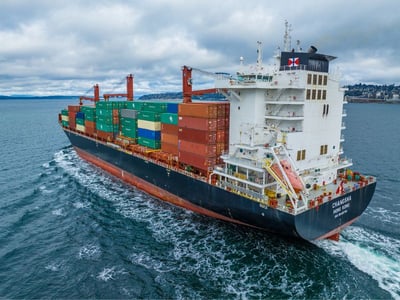 By expanding the existing IPI program to include Cleveland, a city with a per-capita GDP of $72.4k, and Columbus, a city within a day's drive of 150 million Americans, UWL aims to cater to the growing demand from clients for access to the Midwest, providing them with a true end-to-end logistics solution tailored to their needs.
The addition of Columbus is particularly advantageous for apparel and footwear shippers, given its status as a key fashion hub for the Midwest. With this expansion, UWL strengthens its commitment to facilitating seamless and reliable cargo movement, offering businesses unparalleled access to manufacturers and suppliers in Southeast Asia.
Since its launch, Sun Chief Express has been celebrated by clients for its speed and reliability. Retailers and manufacturers have come to rely on Sun Chief Express to ensure products made in Southeast Asia arrive on store shelves quickly. Additionally, Sun Chief Express customers receive improved supply chain visibility thanks to WorldScope, UWL's freight visibility and analytics tool, as well as the peace-of-mind knowing that UWL's experienced team will provide support at every step of the journey.
About UWL
UWL is a top 10 American-owned NVOCC and leading provider of global 3PL services. They take pride in delivering seamless supply chain solutions backed by a team of creative problem-solvers. UWL specializes in ocean transportation, air freight, project cargo, warehousing and distribution, chartering, bulk liquid logistics, and customs house brokerage. Proof is in their owned assets: a national network of distribution centers, dependable trucking capacity, and a proprietary user-friendly data management platform that delivers transparency and data to customers' supply chains. To learn more, visit www.shipuwl.com.
Dive Deeper