Shipping to Brazil: Q&A with Barbara Echelmeier
By:

Kellie Lynch

Date:

May 21, 2019 9:06:25 AM

Categories:
Barbara answers your burning questions about our Brazilian office, challenges of shipping to Brazil, and the benefits of choosing UWL as your Brazilian 3PL partner.

Our Brazilian offices just celebrated their eighth year of operation, so we caught up with Barbara Echelmeier, Sales and Operations Manager at UWL Brazil, to learn more about shipping freight to Brazil and some of the services we provide.
In this Q&A, Barbara provides insights on Brazilian Customs, trade relations between the U.S. and Brazil, chemical logistics and more.

1. First, I just wanted to congratulate you and your team both on your new office location and for celebrating 8 years of service! How is everything going down there with all of the recent changes?

Answer: Thank you, it's definitely an exciting time for us here! Our team has expanded so much that we outgrew our old space. We are happy to be settled in to our brand new home overlooking the port!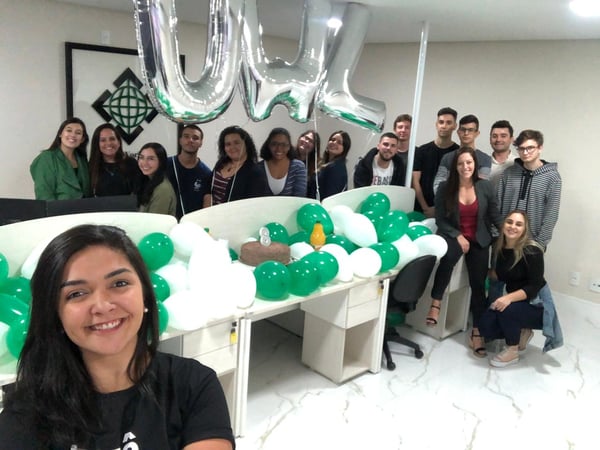 Barbara (front left) and the UWL Brazil team celebrate their 8 year anniversary (May 13, 2019)
2. That is so great! So tell me about your Brazilian offices… And for us non-Portuguese speakers, how do you pronounce… Itajaí?

Answer: (Laughing) It is pronounced it-a-jai-ee! Our main office is located in Itajaí. We also have a satellite office in São Paulo, and we have reps in all Brazilian ports and airports.

If our clients need help with anything, our contacts at the ports will work directly with them, handling all the documentation and ensuring smooth transport of their cargo into and out of Brazil.
3. Are there any specific challenges companies have when shipping to Brazil? What kind of solutions do you offer to help overcome these challenges?

Answer: Brazil is sometimes seen as a tough country to do business with because of its complex Customs procedures.

In Brazil, you have Customs clearance going both ways for imports and exports, which is very different from the U.S. This can add up to more costs, detention and storage for the exports in addition to the imports, which can come as a surprise to shippers who aren't familiar with logistics in the country. In the U.S., Customs is only so stringent with imports.

Shippers who are inexperienced with shipping freight to Brazil can have trouble getting Customs to clear and release their cargo, so it's important to work with a logistics company that has strong relationships with local officials.
If you're a shipper based in the U.S., having a logistics partner with people on the ground in Brazil who understand the rules and regulations can make all the difference, ensuring your shipments arrive at their destination without any undue delays.
We're proud to be an extension of UWL's USA offices, offering our local expertise for U.S. companies looking to expand into Brazil.
4. What about trade relations between the U.S. and Brazil? Has the election of a new President impacted relations at all?

Answer: Trade relations between the two countries are improving! Recently, President Bolsonaro met with Mr. Trump and the two committed to building a new "Prosperity Partnership" between the U.S. and Brazil. The partnership should reduce barriers to trade and investment, and create new jobs. The leaders also made several trade-related commitments and their teams are working on an agreement for the "Trusted Trader" program to reduce costs for both American and Brazilian businesses.
As new opportunities open up for companies due to improved trade relations, our team is ready to help them navigate their new supply chain needs.
5. Do you offer customs house brokerage services for shippers moving their freight into and out of Brazil?

Answer: For freight moving from the U.S. to Brazil, we have an in-house team of customs house brokers based in the U.S. that handle all brokerage needs. In Brazil, we have reputable local partners that we work with.
5. What makes UWL's locations in Brazil beneficial to clients?

Answer: We are strategically located in central places for sea and air services, so we can be quick and nimble when serving customers. We have a lot of modes and options available to us, so we can pivot depending on what our clients need.
6. How does UWL compare to other logistics companies in Brazil?

Answer: We handle freight as a small company. Each piece of freight is unique. For us, our customer isn't just a number, we handle their freight as if it were our own. We really care about their business and we want them to be successful. Our customers have our utmost attention and we are there to offer any guidance and support they need to successfully move their products around the globe.
7. What logistics services do you provide in Brazil?

Answer: We offer ocean, air, and road transportation services for both imports to and exports from Brazil.
8. What Brazilian ports does UWL ship out of?

Answer: All of them. Our main office is located right outside the Port of Itajaí, which is the second largest port in Brazil in terms of number of containers moved.


View of the Port of Itajaí from UWL's new office in Itajaí, Santa Catarina, Brazil
9. What are some common Brazilian imports? What does Brazil export a lot of?

Answer: As a whole, soy, oil, and iron ore are common exports from Brazil to other countries. The Chinese tariffs on U.S. agriculture really helped to boost demand for soybeans and cotton from Brazil.
Brazil imports a lot of medicines, autos, electronics and appliances. Lately, imports of fertilizer and chemicals have been on the rise.
Day to day, we handle a lot of chemicals and furniture. We are experts at handling and shipping chemicals into and out of Brazil. Chemical logistics is one of our specialties.
10. Are there any special certifications required to ship chemicals to or from Brazil?

Answer: There is an extensive list of rules and regulations for shipping dangerous goods, the International Maritime Dangerous Goods (IMDG) code. Our team is well versed in these regulations and can offer consulting to get hazardous or dangerous goods cargo moved wherever it needs to go.
11. Is there anything else you want potential clients to know about our services?

Answer: Our chemicals expertise – not all freight forwarders are specialized in this. We also have a lot of experience in transporting liquid freight. We ship a lot of flexitanks to Brazil from the U.S. and we ship a lot of ISO tanks out of Brazil into the U.S. If you need help moving liquid freight or chemicals, we're on it!
12. Finally, tell us 3 fun facts about Brazil!

Answer: For all the coffee lovers out there, Brazil is the #1 supplier of coffee in the world, they are the biggest coffee exporter.

Also, did you know that Brazil has the greatest concentration of Japanese citizens in the world, second only to Japan?

Oktoberfest is huge for us, too! Southern Brazil, especially around Santa Catarina, has a large European population and the 3rd biggest Oktoberfest celebration in the world happens in Brazil, falling just short of the original in Munich, and Ontario, Canada's Kitchener-Waterloo Oktoberfest.
Final Thoughts
As trade relations between the U.S. and Brazil continue to improve, new business opportunities will open up for companies in many industries.
If you're considering expanding your business into South America, make sure to carefully choose your logistics partner.
While the Customs clearance process can be a bit complicated, working with an experienced 3PL with a local presence in the country will help to ensure that your cargo completes its journey without a hitch!
To learn more about why UWL is a top 3PL in Brazil, check out our UWL South America page here.
Do you have a question about shipping freight to Brazil that wasn't covered here?
Let us know! Send us an email at marketing@shipuwl.com, we'd love to hear from you.