Port Houston Container Terminals Reopen After Systems Outage
By:

Kellie Lynch

Date:

Jul 29, 2021 4:42:28 PM

Categories:
Bayport and Barbours Cut terminals have reopened after closing for three days due to a storage device failure which shuttered trucking operations on July 27. Expect delays for the next couple weeks as a result.
Houston's container terminals reopen after systems restored
Port Houston's Bayport and Barbours Cut Container Terminals have announced that they will reopen today at 3:00 PM CDT to truck traffic. "Access to N4 and Lynx is open to all users. API and EDI are running. Gate Hours today will run 3pm – 11pm with the ingate closing at 10pm. Thank you for your patience and understanding," the port said in its most recent update.
Systems failure causes closure of Bayport and Barbours Cut terminals in Houston
The terminal systems (N4, Lynx, yard and gate systems) at Bayport and Barbours Cut went offline around 7:00 AM on July 27 after a "major failure" of the storage devices that are used to operate both terminals. Port security officials directed drivers to leave and the truck gates have been eerily quiet for the last three days.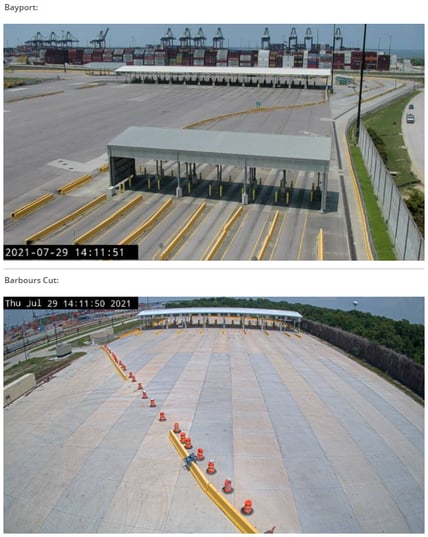 "The port of Houston's computer systems went down earlier this week. No containers could be ingated or outgated and no vessels could load or unload," said Nichole Collier, General Manager of UWL's Houston office.
"Since this is now day three, we are anticipating that there is now going to be a sizeable backlog of vessels, as well as loaded containers to be ingated, so delays to vessel departures and possibly rolled bookings should be expected over the next few weeks," Collier said.
Port officials worked diligently behind the scenes to restore the systems and reopen the gates as soon as possible.
"I want to be clear that this is not a cyber-attack on the Port Houston operating system," the port's executive director Roger Guenther said in a letter to port customers.
Vessels that were at berth when the systems went down continue to be worked, but according to the letter, new vessel starts were not possible and the truck gates were idled while systems were down.
Port Houston is North America's sixth-busiest port for containerized imports and fourth-busiest port for exports according to PIERS data from IHS Markit, and handles approximately 4,000-5,000 container moves each day.
We will continue to monitor this situation and will post live updates on LinkedIn as we receive them, so follow us there if you haven't yet. If you have any questions, please contact your UWL Representative.
Dig Deeper