Key Ports: 7 Advantages of Shipping through the Port of Virginia
By:

Kellie Lynch

Date:

Jul 7, 2022 11:05:12 AM

Categories:
Is Norfolk Port the best kept secret in 2022? These are seven reasons why shippers should choose Port of Virginia for their cargo's next port of call.
West Coast port congestion and record cargo backlogs in the last year sent many shippers searching for alternative ways to get their products to consumers. Some of those alternatives include switching coasts from West to East.
According to the McCown Report, "Shippers have elected to change routing decisions to East/Gulf ports due to the highly publicized West Coast congestion." Additionally, there is a secular shift occurring which "continues to favor East/Gulf Coast ports due to their proximity to a great concentration of the U.S. population."
With many great East Coast port options to choose from, how do you decide which one is best for your business? Cargo fluidity, berthing, ocean services, trucking capacity, chassis availability, and inland distribution capabilities are all important points to consider when selecting the best ports for your supply chain.
In this article, we'll explore seven reasons why choosing the Port of Virginia can be advantageous for importers and exporters in 2022, and why you should incorporate Norfolk into your supply chain this year.
1. Fluidity and growth in a challenging market
It's no secret that the past few years have seen supply chains stretched beyond their limits. Despite these issues, Port of Virginia has remained steadfast in its dedication to maintaining cargo fluidity and supporting businesses throughout the Hampton Roads region.
"This year presented challenges to world trade beyond what we, and the industry, could have ever imagined. We kept our focus and delivered a best-in-class performance with solid efficiency, customer service and a record amount of cargo. It was truly a collaborative effort between our entire team and all of our partners," Stephen A. Edwards, CEO and Executive Director of the Virginia Port Authority, shared in a recently published interview.
The port closed its year having processed more than 325,000 TEUs (Twenty Foot Equivalent Units) in December 2021, making it the most productive month in its history. It is also no surprise that the Port of Virginia has had its most productive year on record in 2021, with an unprecedented 25% growth in container volume for a total of more than 3.5 million TEUs. Edwards attributes the record-setting year to multiple factors: an experienced operations team, constant preparation, as well as the newest trend: ocean carriers shifting services to Virginia to capitalize on efficiency of all-water routes.
All told, Virginia Ports are primed for growth and their success in recent years, despite pandemic challenges, shows their strength and tenacity.
2. New equipment, added capacity, and few berthing delays
Port of Virginia has invested nearly $1 billion recently on improvements and upgrades to enhance cargo throughput, making it the most technologically advanced port in North America. Its deep channels and new equipment enable the port to handle the world's largest container ships safely, quickly, and efficiently. Some of those upgrades include:

Ship to Shore (STS) Cranes
26 Suez-class ship-to-shore cranes port-wide
Two STS cranes added Q1 2021 - Total 200,000 lift capacity increase
Two more STS cranes added in March 2022 - Additional 200,000 lift capacity increase
Energy-Efficient Shuttle Trucks
20 Hybrid shuttle trucks from Kalmar for VIG (Virginia International Gateway) added in Q2 2021
Since 2019, the Port of Virginia has also added over 1 million TEUs of capacity, meaning it has ample space to process the cargo that makes its way across Norfolk's docks. The port continues to grow. In March 2022, Port of Virginia handled 314,698 twenty-foot equivalent units, 12.6% higher year-over-year, and higher than January's volume of about 262,000 TEUs and February's 297,000.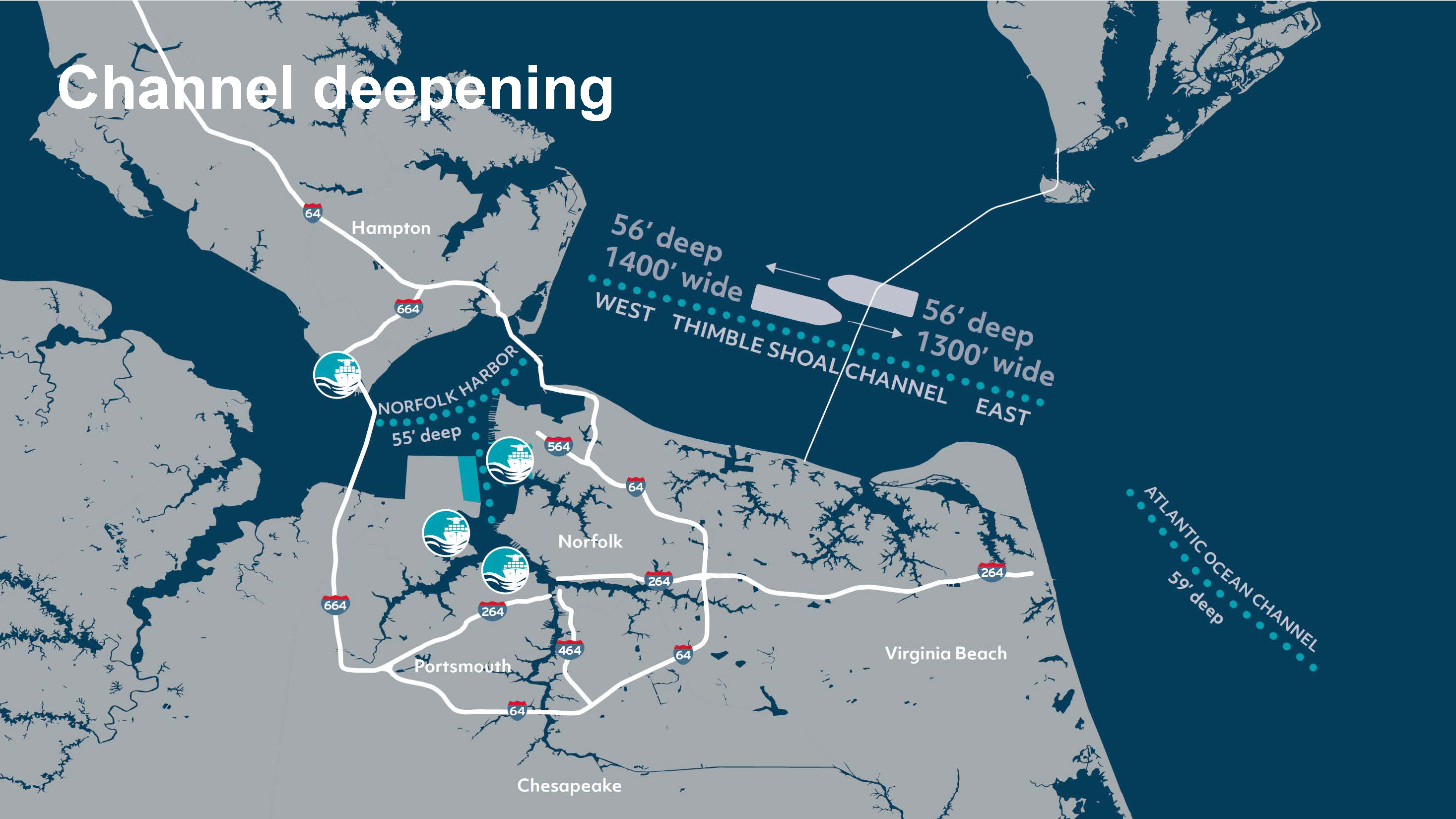 "In terms of overall volume, this March ranks as the fourth most productive month in our history. We are processing heavy volumes and doing so with fluidity, which continues to draw interest from ocean carriers and cargo owners. This means we are keeping our focus on those operational issues that drive efficiency and meeting the needs of all port users," Edwards said.
Because of these investments, the port has seen only minor impacts due to port congestion, making quick work of any vessel queues that have popped up.
3. A boatload of ocean services to choose from
Another key factor for shippers to consider is the ocean services available at the port. The Port of Virginia has become a major beneficiary of the trend back to all-water services between cargo-rich ports in Asia and terminals on the East Coast of North America.
"More importers are eyeing the East Coast for 2022," said Michael Van Hagen, Sr. Vice President, Supply Chain, World Distribution Services. "One driver is the fear of a West Coast labor strike. With vessel delays in southern California reaching record highs in previous months, any labor disruption could further erode conditions."
"Transit times from Asia to the East Coast may prove faster in 2022. We see importers, especially larger retailers, quickly increasing their East Coast distribution footprint," Van Hagen added.
In preparing for the volume shift from West to East, the Port of Virginia has been working with carriers to establish more ocean services from Asia, providing viable alternatives to clogged West Coast ports. In fact, the Port of Virginia has added more ocean services than any other East Coast port since 2020 – from both Southeast Asia and India Subcontinent. 12 weekly services from East Asia and 4 weekly services from India Subcontinent now call on Norfolk's marine terminals.
4. Fast & Efficient trucking
Here's a perk that benefits both shippers and truckers: the average truck turn times at the Port of Virginia, including queue time outside the gates, are less than 60 minutes. This means truck drivers aren't sitting around wasting time waiting in line and shippers get their freight faster.
The port's efficiency is great for truck drivers as many of them are paid by the mile. "For most truckers, if they're not moving, they're not making money," says Van Hagen, "so, the fact that Norfolk's turn times are so fast makes it a prime location for drayage truckers to operate."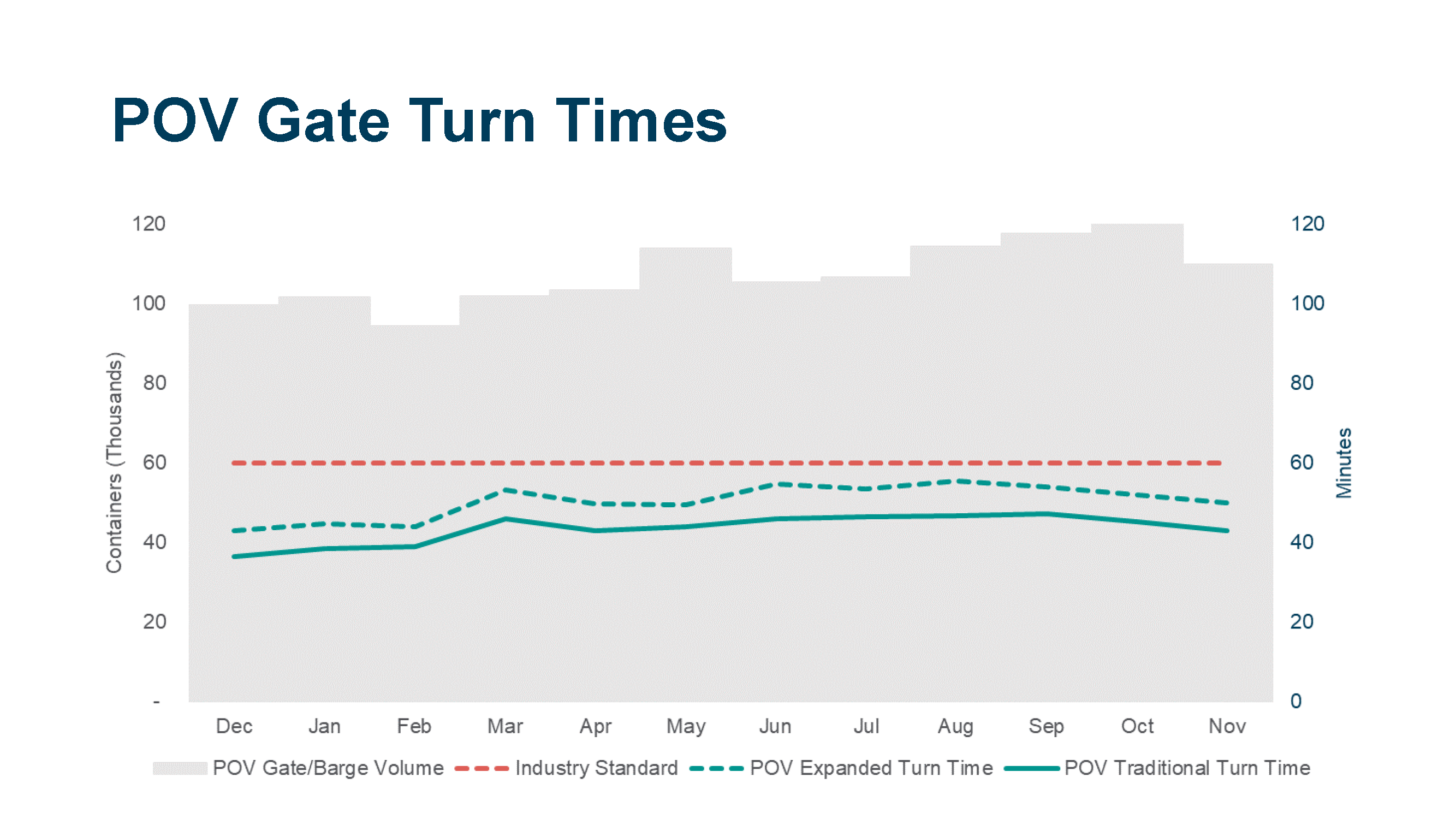 With the Port of Virginia having a near 50/50 balance of imports and exports, the port is set up well to facilitate dual transactions for truckers. This means that the cargo inflow matches the outflow, which makes it much easier and more efficient for drivers to drop off full containers and pick up empties in the same visit.
Fast turn times also mean drivers can make multiple port runs in one day, making them more profitable. Drivers who are making money are happy drivers, and happy drivers mean more capacity options for shippers looking for carriers to haul their goods.
5. Ample, new chassis are easy to find
Finding chassis is not a problem for shippers who choose the Port of Virginia: There is no shortage of roadworthy chassis in rotation at the port's many marine terminals.
An ongoing chassis fleet renewal program has been a major initiative for the port, dropping the average chassis fleet age from 18 years in 2019 to 3 years by Q2 of 2022. This has resulted in the port's chassis pool being stocked full of new equipment in good working order, with the Hampton Roads Chassis Pool (HRCP) boasting a 99% in-service rate.
HRCP has a supply of 15,000 chassis in a gray pool, with an additional 3,100 chassis added in Q1 2022, and an additional 3,000 by the end of 2022
3,100 Order (Frames from Thailand, Assembled in Emporia, VA) – delivered from Oct 21 – Q2 2022.
3,400 Order (All U.S.-Manufactured): An additional 50 x 20'TA, 150 x 20SL, 2000 x 40GN and 1200 x 40/45SL – Production to start in February and delivery throughout 2022.
The chassis are also easy for truckers to access and use – gray pool chassis are available at all container handling terminals in Virginia and the Greensboro, NC (Norfolk Southern) intermodal ramp.
6. Close to major population centers
Another important benefit that Norfolk port boasts is its proximity to major population centers. This is extremely important for many industries (especially eCommerce) and a reason shippers should consider adding a lane through Virginia to their supply chain strategy.
The Port of Virginia's container terminals and rail yards are conveniently located near major highways I-64 and I-264 for reduced port drayage costs and quick transportation across the nation; Norfolk is just two days drive from 75% of the US population.
"Having product or merchandise in multiple locations builds in more agility and flexibility, allowing you to get those goods to your customer more quickly," said Dale Young, Vice President of World Distribution Services (WDS), a UWL sister company that provides warehousing, transload/cross-dock, and distribution services across the US.
"What's more, being closer to population centers is almost a requirement in today's 'next-day delivery' e-commerce marketplace, which will continue to be a driver for where and when to build warehouses in both the short- and long-term future," shared Young.
The port also has the largest intermodal rail port on the East Coast, with convenient rail access that allows shippers to easily reach major population centers across the inland US by CSX or NS (Norfolk Southern) rails, with 16 major inland points reached and over 7 miles of on-dock rail track.
7. Quality Warehousing & Distribution Services in Norfolk, VA
The Port of Virginia offers an attractive array of benefits and world-class amenities. A robust selection of distribution centers nearby support its cargo operations and help shippers process their freight and deliver it to consumers.
"WDS finds itself in good company in Virginia. We're in the center of a robust economy, a world-class port, a congestion-free, deep-water facility, a willing workforce, and superb inland transportation to ensure our customers get their cargo on time. We are proud to partner with the Port of Virginia and its growing business community," said Young.
WDS, with two active warehouses in the Hampton Roads region, has been investing in Virginia businesses and is highly involved with the maritime community there. Jason Strickland, WDS Director of Domestic Pricing, has recently taken the helm of the Propeller Club of Norfolk which supports the local supply chain community with networking events, resources, and advocacy.
With locations in Virginia Beach and Chesapeake, WDS offers cross dock services at both facilities, allowing for sorting and timely dispatching of cargo by rail or truck so that storage is not necessary, and cargo can reach its final destination on schedule. The Virginia Beach location is just 15 minutes from NIT (Norfolk International Terminals) and about 20 minutes from VIG, and the Chesapeake location is 20 minutes from NIT and just 15 minutes from VIG. WDS's sister company, ContainerPort Group, has owner-operators dispatched out of Chesapeake, so customers can take advantage of their drayage services in addition to WDS's warehousing services.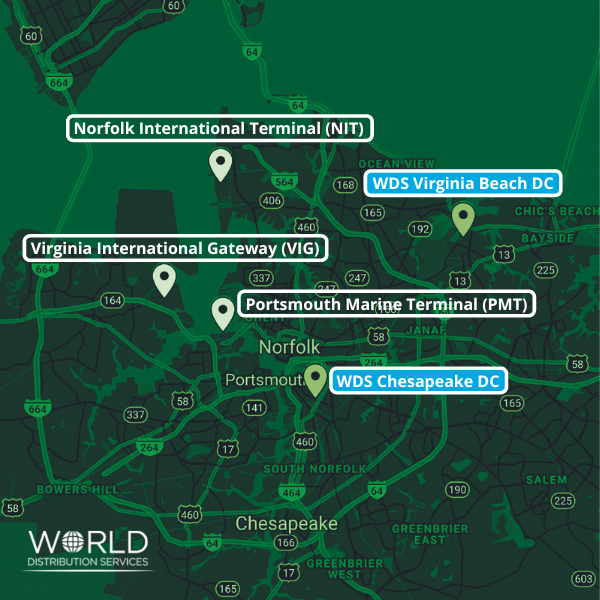 In terms of available warehouse space in Virginia, the Virginia Beach warehouse alone boasts 320,000 square feet and 40 dock doors. This volume of space allows for the import and export of a wide variety of goods. It is also ABC certified for handling alcoholic beverages, FDA (Food and Drug Administration) and USDA-certified, food grade, and has first-class security, with property fully fenced and guarded and 24-hour video surveillance.
Shippers who choose the Port of Virginia can be confident that the region has plenty of new, Class A warehouse space to assist them with their inland distribution and delivery needs.
Partnering with Virginia Ports for Future Growth
The Port of Virginia is a solid choice for shippers who are looking to grow their business on the East Coast. In addition to the seven benefits covered above, the port continues to invest in future improvements to better serve its constituents.
"We are finding more ocean carriers, cargo owners and logistics companies like World Distribution Services taking advantage of the present-day efficiencies here that are driven by a diverse, ultra-modern port complex that is delivering best-in-class efficiency to its users," said Stephen A. Edwards, CEO and executive director of the Virginia Port Authority.
"But what many may not yet realize is that we are investing $1.3 billion between now and 2025 to create more rail capacity, modernize and renovate two of our berths and convert them to an RMG operation (rail-mounted gantry), dredge our channels to 55 feet deep and widen them for two-way traffic of ultra-large container vessels. The Port of Virginia is building capacity for decades to come, so our users can expand without concern about our ability to grow and meet their long-term needs," said Edwards.

Some of those investments include:
Dredging:

When complete in 2024, the port's channels will be 55 feet deep and wide enough to accommodate two ULCVs in the channel at once.
NIT Central Rail Yard: The project's $80 million budget was approved. When complete, the Central Rail Yard at Norfolk International Terminals (NIT) will be able to accommodate 610,000 annual container lifts.
Equipment: Two new super-post Panamax ship-to-shore cranes will be in service by the start of summer 2022.
Offshore Wind: Portsmouth Marine Terminal will be used for staging and pre-assembly area for the components

Sustainability:

Goal of being net-carbon zero by 2040
In parallel to the daily effort at the terminals, the port's continued infrastructure investment includes long- and short-term projects aimed at driving efficiency, capturing more cargo and preparing for the future.
Final Thoughts
For shippers looking to make the switch from West Coast to East Coast, or for those who are considering adding another East Coast port to their supply chain, the Port of Virginia is a great option. The port's state-of-the-art infrastructure, fast gate turn times, large chassis pool, high-quality distribution options, and continued investments are just a few of the reasons why shippers would do well to partner with the Port of Virginia for future growth.
Resources
Environmental sustainability. Port of Virginia. (n.d.). Retrieved April 14, 2022, from https://www.portofvirginia.com/who-we-are/environmental-sustainability/
Final piece of federal dredging investment ok'd; deepening Project Fully-funded, on Schedule. Port of Virginia. (n.d.). Retrieved April 14, 2022, from https://www.portofvirginia.com/who-we-are/newsroom/final-piece-of-federal-dredging-investment-okd-deepening-project-fully-funded-on-schedule/
Hagen, C., & Young, R. (2022, January 5). Capacity and Fluidity in a Challenging Market. PDF. Norfolk, VA; Port of Virginia
Marsh, J. (2022, April 8). Higher loaded imports drive up march volumes at Port of Virginia. FreightWaves. Retrieved April 14, 2022, from https://www.freightwaves.com/news/higher-loaded-imports-drive-up-march-volumes-at-port-of-virginia
Miller, G. (2022, March 23). East Coast ports about to get slammed by a lot more ships. FreightWaves. Retrieved April 14, 2022, from https://www.freightwaves.com/news/east-coast-ports-about-to-get-slammed-by-a-lot-more-ships
Record-setting volumes, no congestion and a new round of Strategic Investments close port's 2021. Port of Virginia. (n.d.). Retrieved April 10, 2022, from https://www.portofvirginia.com/who-we-are/newsroom/record-setting-volumes-no-congestion-and-a-new-round-of-strategic-investments-close-ports-2021/
Young, D. (2021, December 13). 5 lessons learned for the post-pandemic supply chain. Supply and Demand Chain Executive. Retrieved April 14, 2022, from https://www.sdcexec.com/transportation/3pl-4pl/article/21940917/world-distribution-services-wds-5-lessons-learned-for-the-postpandemic-supply-chain