IMO 2020 Impact: What is the Freight Market Doing?
By:

Kellie Lynch

Date:

Dec 12, 2019 11:45:00 AM

Categories:
My, how time flies! January 1st will be here before we know it, and with that date comes the implementation of IMO 2020, a new environmental regulation limiting sulfur content in marine fuels. Why should you care about IMO 2020? Ocean freight rates will rise next year because of it. As IMO 2020 draws near, let's take a look at what the freight market is doing heading into Q1 2020.
Quick Refresher: What is IMO 2020?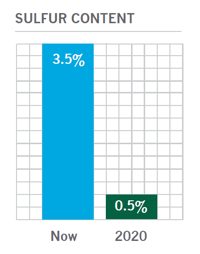 Emissions from burning high-sulfur fuel can cause respiratory disease in humans and contribute to acid rain which damages crops, forests and aquatic life.
The International Maritime Organization (IMO), the United Nations group that regulates the shipping industry, has taken an interest in the impact of these harmful emissions on our health and ecosystem.

As a result, on January 1, 2020, the regulation, commonly referred to as IMO 2020, will drop the existing maximum sulfur content limit for marine fuels down from 3.5% m/m to just 0.5% m/m. This change will result in a nearly 85% reduction of sulfur emissions from the shipping sector globally ̶ a huge win for air quality and the environment. But, it comes at a cost.
Why will freight rates increase because of IMO 2020?
According to Reuters, the shipping industry consumes around 4 million barrels per day (bpd) of marine bunker fuels, and the low sulfur rule changes will impact more than 50,000 merchant ships across the globe.
To comply with the regulation, carriers have several options to consider, from buying more expensive low-sulfur fuels, installing scrubbers to clean ship emissions, or pioneering new green technology, like liquefied natural gas (LNG), and developing the infrastructure support it.
"The cost of compliance with the new regulation will be significant, so the cost of shipping will increase," Maersk explained. "It is also expected that the volatility of fuel costs for shipping will increase as the regulation enters into effect."
Come January 1, all ocean carriers must comply and they will be restricted from using the traditional cheap bunker fuel they're accustomed to. In fact, vessels will even be banned from carrying high sulfur fuel oil in their bunker tanks after March 2020 unless the ship is equipped with a scrubber.
IMO 2020 Impact on the Freight Market
This month, we saw the first signs of IMO 2020 fees hitting the spot market, with almost all carriers applying some level of cost increase starting December 1.
Ocean carriers are calling the environmental fees by different names. And they're all taking varying approaches to both compliance and how they pass these costs onto their customers. Some are calling them low sulfur surcharges (LSS), some environmental fuel fees (EFF), and some are rolling the costs into their existing bunker adjustment factors (BAF).
If you're curious about the different fees and approaches, you can check out our IMO 2020 Definitions Glossary here.
How on earth is a shipper supposed to keep track of all the different fees and acronyms??
If you're a UWL client, don't worry! We want to make dealing with IMO 2020 as easy as possible, so we've made our ocean freight rates all-inclusive.
Now for the part you've all been waiting for...
Trends to Expect in Q1 2020

How much will shipping costs rise because of IMO 2020?
We're expecting that the price impacts due to low-sulfur, environmental fuel will vary between the East and West Coasts and by carrier.

Effective January 1, for freight moving from Asia, the India Sub-Continent, and Europe to the U.S. and Canada Ports of Discharge and inland points via said ports, we're seeing the below spreads:
US West Coast:

From as low as $50 to as high as $194 for a 20' Container
From as low as $101 to as high as $216 for a 40' Container


US East Coast:

From as low as $71 to as high as $317 for a 20' Container
From as low as $139 to as high as $368 for a 40' Container
5 impacts of IMO 2020 on shipping
In addition to raising prices, we predict IMO 2020 will impact shippers in the following ways:
Instability/Volatility in the Market - When IMO 2020 goes into effect, many carriers will begin updating their rates on a monthly basis instead of quarterly, with each carrier using different formulas, and the cost varying by distance, fuel price, and availability of fuel or technology being used. This will cause volatility in rates and make it difficult for shippers to forecast costs over the next few months until the market stabilizes.


Tighter Capacity – The run up to IMO2020 could see capacity tighten as ships are removed from service and dry-docked to either flush out low sulfur fuel (1+ week) or be retrofitted with scrubbers (1-2+ months). Once in effect, vessels may restrict cargo weight, carry less cargo, or roll heavy cargo to later dates to balance cargo carried with fuel economy. We may see an increase in the scrapping of old vessels that can't be retrofitted with scrubbers, taking some capacity out of the market. Carriers are also dealing with lowered demand from the ongoing trade disputes, so they will continue to blank sailings as a result. With fewer ocean carriers, they've gotten a lot smarter at matching supply with demand and the decisions are coming quickly.


Longer Routes Most Affected - Longer routes consume more fuel, so it makes sense that freight transported over greater distances will see the largest cost increases. According to Paul Bingham, director of transportation consulting at IHS Markit, "The BAF adjustment upwards in shipping prices could have an impact on East Coast versus West Coast port competition, because the extra sailing distances consumes a significant amount of additional fuel." Cargo could also be diverted to shorter routes or transshipped more often.


Increased Slow Steaming and Longer Transit Times – The faster a vessel moves, the more fuel it burns. Steamship lines may slow their vessel speeds to control their fuel consumption and lower costs, a practice called "slow steaming". This could result in longer transit times. Additionally, lack of available low sulfur fuel at some ports in Africa, South America and Southeast Asia could detour vessels and cause delays.

Add on Effects for Inland Distribution and Air Freight - Changes in the oil market can have an add-on effect raising the price of gasoline and diesel, which could cause land transport costs to increase, especially for OTR and long haul trucking. We could also see the aviation industry impacted if the price of jet fuel rises due to increased demand since jet fuel can be used to blend down high-sulfur fuel oil into compliant low-sulfur fuels.
Chinese New Year: Another Q1 Trend to Consider
Another key event taking place in Q1 2020 is Chinese New Year, which takes place on January 25th. Factories across China will start closing down for the holiday from January 10 to January 15 and will remain closed for the month, returning from February 6 through February 10. Because of this, there will be a big rush to get cargo out of China and on its way before things shut down, so we will see capacity tighten end of December through mid January.
Conclusion
IMO 2020 is coming the first of the year, and it will cause ocean freight rates to go up anywhere from $50 per container to USWC on the low end to $368 per container to USEC on the high end. It could also contribute to cargo delays, tighter capacity, and market volatility.
However, it's not all doom-and-gloom. Advances in new technology, like LNG, spurred by this regulation, will bring greater efficiency and cleaner transportation to the shipping industry. Reducing harmful sulfur emissions at this level is a huge step forward for the environment, and these changes will improve air and water quality for many generations to come.
UWL is monitoring the effects of IMO 2020 on the freight market, and we will continue to keep our customers updated as we see changes.
If you have any questions about the impact of IMO 2020 on your supply chain, please contact your UWL Logistics Coordinator for more information, or contact us today.
Go Deeper: Latest IMO 2020 News & Resources
Get up to speed on the latest IMO 2020 happenings. Check out these helpful articles below.
Oil & Gas Perspective: What shipowners, refiners, and traders should know about IMO 2020 | McKinsey & Company
Green Energy Pioneers: Launching of the World's Largest LNG-Powered Containership and Future CMA CGM Group Flagship
Fuel Availability Outlook: Global refiners raise cleaner shipping fuel output ahead of IMO 2020 | Reuters
JOC Insight: IMO 2020 impacts will linger far beyond next year
Preparations Intensify: Carriers must train their crews for IMO 2020 or risk criminality, warns seafarer union | The Loadstar
Trouble Ahead for Scrubbers: Malaysia Bans Open-Loop Scrubbers | The Maritime Executive