From Factory-to-Foot – Innovation at the 'Sole' of Footwear Supply Chain Transformation
By:

UWL

Date:

Aug 10, 2022 11:04:26 AM

Categories:
UWL's Michael Van Hagen joins other supply chain leaders on panel at FDRA's Shoe Sourcing Summit
As the shoe industry's foremost educator, the Footwear Distributors and Retailers of America (FDRA) empowers its membership to navigate the ever-changing global footwear landscape. Their annual Shoe Sourcing & Supply Chain Summit held in NYC from July 19-20, 2022, for example, focused on supply chain risks, new traceability and sustainability strategies and tools, and global sourcing shifts impacting global shoe production.
In fact, the footwear supply chain is at a crossroads, in search of solutions to meet the increased need for faster delivery. Suppliers must reimagine their entire supply chain to adapt quickly to keep up with changing consumer purchasing habits.
As a panelist at the conference, UWL's Michael Van Hagen, SVP, Supply Chain, took part in a session centered on "A Wholistic Look at the Movement of Goods." The panel, moderated by Thomas Crockett, FDRA's Vice President of Government Affairs, also included Donna Lemm, CCO of IMC Companies, Michael Piza, SVP, Corporate Business Development of Apex Logistics International, and Chris Thomas, Vice President, Business Development, UPS Supply Chain Solutions. They discussed the need for a more adaptive, demand-driven approach in response to rising expectations for the footwear supply chain.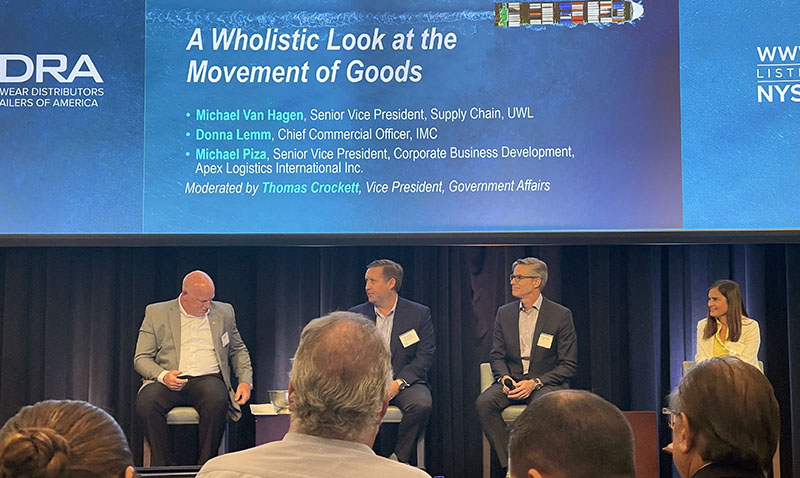 Left to right: Chris Thomas, UPS Supply Chain Solutions, Michael Piza, Apex Logistics, Michael Van Hagen, UWL, and Donna Lemm, IMC Companies

During the panel discussion, Mr. Van Hagen highlighted that most footwear suppliers have been compelled over the past two years to work with a variety of unreliable freight forwarders--buying capacity from numerous unfamiliar companies in China and Vietnam. As a result, it has become crucial to diversify the supply chain's vendor pool in a way that fosters confidence in their dependability and adaptability.
However, the challenge has been figuring out how to bring together vendor partners across the supply chain for a single customer—warehousing, drayage, NVOCC, ocean, and air – and working as collaborators rather than as competitors.
Despite this backdrop, the silver lining is that incredible innovation is taking place as a result of listening to customers who are tired of not having access to equipment while expenses rise.
Case in point, consider UWL's new Southeast Asia-to-Seattle express service as an example of supply chain innovation. It highlights the significance of specific niche solutions that will supplement footwear supply chains to meet growing demand.
In contract with Swire Shipping, UWL's new express service gives footwear suppliers access to equipment and capacity - guaranteed or your money back. As a result, many shippers are looking to this solution as an alternative to air freight transport, which is struggling with its own capacity challenges. It also avoids the congestion that plagues California ports while offering footwear suppliers with fast time-to-market turnarounds.
Mr. Van Hagen also pointed out the critical strategic role that warehousing plays throughout the supply chain. Working with best-in-class experts like World Distribution Services (WDS) can make all the difference in enabling global footwear brands and retailers to unlock robust omnichannel distribution and fulfillment capabilities. Proactive inventory management, cross-docking logistics and order consolidation are just a few examples of how partnering with an expert warehousing provider ensures scalability, flexibility and customization.
To transform the footwear supply chain, UWL anticipates a growing market opportunity for these types of niche innovative solutions to address the persistent pain points of trust and flexibility, resulting in buoyant resiliency and improved fluidity.
As an FDRA member, UWL is dedicated in its support of the footwear industry by offering innovative solutions that facilitate smooth supply chain operations from factory-to-foot. We are all in this together!