Jane Colazzo honored with 2023 Rock Stars of the Supply Chain Award
By:

UWL

Date:

Feb 14, 2023 2:03:31 PM

Categories:
Recognized for infusing marketplace with new refrigerated equipment to facilitate cold chain fluidity for customers

Cleveland, OH, February 14, 2023—UWL, a top-10 American-owned NVOCC and global logistics solutions provider, announces that Jane Colazzo, Senior Vice President, Strategic Development at UWL, has been honored with the 2023 Rock Stars of the Supply Chain award presented by Food Logistics. This award recognizes influential individuals in the industry whose achievements, hard work, and vision have shaped the global cold food supply chain.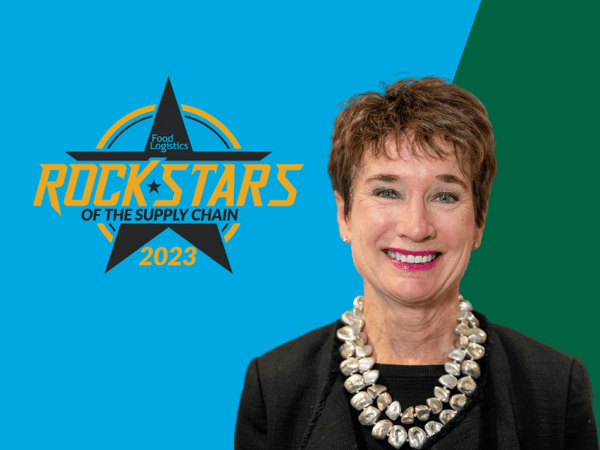 Responding to the needs of UWL's cold chain export customers and their equipment challenges, Ms. Colazzo increased the reefer fleet in the Pacific Northwest at a time when it was nearly impossible to find, buy, or build refrigerated containers.
UWL's parent company, World Group, has committed to growth and investment in the Pacific Northwest and this infusion of reefers was critical to delivering on its promise to its customers in the region.
"Jane has a long history of conceiving, believing, and achieving, and in 2022, she brought that philosophy to the Pacific Northwest. She was an integral part of bringing our vision of growth in the region from concept to reality. She not only contributed to cold chain fluidity with additional reefers, but also helped launch our innovative Sun Chief Express Service," said Duncan Wright, President, UWL.
Ms. Colazzo leveraged her experience, connections, and bridgebuilding skills she developed during her 35-plus years at UWL to help launch and ensure the success of the Sun Chief Express Service, which provides the fastest ocean transit time from Seattle to Vietnam. Operated via a contractual relationship between UWL and Swire Shipping, Sun Chief departs fortnightly from Seattle and arrives in Vietnam in as little as 21 days.
"As the daughter of World Group's founder, Jack E. Hunger, Jane is passionate about growing the organization and the tenacity to deliver solutions for our customers, who are looking for the consistency and reliability offered by Sun Chief," said Mr. Wright. "Cold chain customers in particular need their cargo to move swiftly before spoilage and waste occurs, and Sun Chief provides the assurance they need for peace of mind."
Further demonstrating Ms. Colazzo's commitment to the Pacific Northwest is the introduction of a new Tacoma-based warehouse by UWL's sister company, World Distribution Services (WDS). This new 480,000 square foot warehouse will not only support UWL's Sun Chief Express Service, but also drive supply chain fluidity and provide full-time employment opportunities in the region.
"These rock stars rock, period. They're shaping the future of our global cold chains. And, they're doing so in a way that's both humble and pragmatic. Every year, I'm honored to celebrate these go-getters, and this year is no exception," says Marina Mayer, Editor-in-Chief of Food Logistics and Supply & Demand Chain Executive.
Many of the winners are actively involved in understanding customers' needs, creating problem-solving solutions, ensuring the safe transport of cold food and beverages and adopting sustainable measures. The words used to describe them range from strategic, motivated, and dedicated to passionate, educator and transformative.
Recipients of this year's award will be profiled in Food Logistics' Jan/Feb 2023 print issue. Go to https://foodl.me/5rwho7 to view the full list of winners. Go to https://www.foodlogistics.com/awards to learn more about other Food Logistics' awards.
About UWL
UWL is a top 10 American-owned NVOCC and leading provider of global 3PL services. They take pride in delivering seamless supply chain solutions backed by a team of creative problem-solvers. UWL specializes in ocean transportation, air freight, project cargo, warehousing and distribution, chartering, bulk liquid logistics, and customs house brokerage. Proof is in their owned assets: a national network of distribution centers, dependable trucking capacity, and a proprietary user-friendly data management platform, WorldScope, delivers transparency and data to customers' supply chains. To learn more, visit www.shipuwl.com.
About Food Logistics
Food Logistics reaches more than 26,000 supply chain executives in the global food and beverage industries, including executives in the food sector (growers, producers, manufacturers, wholesalers and grocers) and the logistics section (transportation, warehousing, distribution, software and technology) who share a mutual interest in the operations and business aspects of the global cold food supply chain. Food Logistics and sister publication Supply & Demand Chain Executive are also home to L.I.N.K. and L.I.N.K. Educate podcast channels, L.I.N.K. Live, SCN Summit, SupplyChainLearningCenter.com and more. Go to www.FoodLogistics.com to learn more.