East Coast Port Congestion: Updates from Baltimore, Chicago and Newark
By:

UWL

Date:

Feb 7, 2019 11:23:05 AM

Categories:
With record import volumes coming into the United States at the end of 2018, it's no secret that congestion has been affecting ports and rail ramps in many major cities across the East Coast. We got the inside scoop on what is going on in some of the hardest hit areas: Newark, Baltimore, & Chicago. Keep on reading to learn more.
Newark
Update 2/25/19: Congestion continues to impact APM Terminals (APMT) at the Port of New York and New Jersey.
Below are some of the important actions that APMT is taking in response to congestion:
Diverting vessels to other facilities within the Port of NY/NJ. Diversions are being considered through the end of February.
Significant import rail volumes are being barged on a weekly basis from APM New York to Norfolk and are being loaded on the rail there for on-carriage inland.
No demurrage is being charged on import rail boxes which are being delayed.
The ACL service has left the terminal and is now calling at PNCT. It will not return to APM.
Additional resources placed at MMR rail ramp/APMT Rail department to improve communication
Continued weekend gates
Additional labor has been hired and is currently being trained
Additional container handling equipment has been added
6 of 8 RTG transferred from Pier 400 are now in service
8 rental container handlers have arrived
16 new purchase top handlers to arrive throughout Q1 and early Q2, first 2 due mid-February
With these actions, APMT is expecting the following results:
Facility restored to normal condition sometime in March
Diverted vessel services will be returned to APMT in a phased manner
Seasonality, holidays, and increased volumes from front-loading of shipments to beat tariffs have caused ongoing delays in Newark.
These delays started around Christmas time due to back to back 3-day weeks. They peaked with the ports closing for MLK day and anticipated weather issues. It is winter in the Northeast and in the Atlantic. Weather issues and pier delays have caused pro-forma on ocean vessels to spike for certain lines and cause vessel bunching at terminals.
"Now that the Bayonne Bridge has been raised and the ports of NY/NJ can accept Ultra Large Container Vessels (ULCVs), each vessel discharge brings more containers per discharge despite less vessel arrivals," Movshin explained.
While the winter has been generally mild, each weather incident pushes the terminal delays further as truck power is needed to move freight and create terminal space for the next vessel discharge.
Another notable cause of terminal delay has been the increased volume from January 2019 vs January 2018.
"Import volumes for the month have more than doubled," said Movshin, "Most agree that this spike was from shippers trying to beat the expected Asian tariffs and these increases will continue while the tariff outcome remains uncertain."
The secondary effect of this increased volume has been the depletion of the available chassis pool. The pools cannot support the current volume as warehouses struggle to accept all of the incoming freight. The result is increased dwell on containers/chassis and more containers sit on terminal.
APM terminal has seen the worst of these volume increases and are seeing the largest delays. Drivers average 240-minute turn times depending on vessel discharges. The terminal had increased their hours in an attempt to accommodate the volume but those hours did not last long. At this time, many Steamship lines have diverted vessels to the other area ports. Terminal operators have even begun sending containers by barge to Norfolk.
"As the other terminals are now accepting additional volume, we have seen delays at these terminals as they all attempt to take on more to eliminate port delays," said Movshin, "You can see how one terminal's struggles can cascade to all area piers."
Finally, the ELD mandate, HOS restrictions, and a general driver shortage have a big impact. There are simply not enough available port hours and port drivers needed to clear the increased volume at the piers quick enough to create space for incoming vessels.
"Each time the trucking community comes close, there is another weather delay or port closure that sets back the terminals," Movshin said.
Vessels arrive at port seven days a week, yet pier gates are normally only open five days a week. When holidays bring work closures, and the gates are only open four days with free time on weekend vessels all falling on the same day, the congestion becomes unbearable and nothing is able to give. Each week blends together and it can take days, if not the full week in order to recover.
Baltimore
Labor disputes are causing a number of issues at the Port of Baltimore which has effected turn times and caused subsequent delays. While the International Longshoremen's Association (ILA) signed a new contract for five more years in June 2018, the local union has filed a grievance and there have been ongoing issues since. In fact, truck drivers told local Baltimore news station WBAL that they can spend as many as seven hours sitting inside their trucks at the terminal waiting to pick up or drop off a load due to the labor disputes.
Currently, turn times have been elevated to a 200-minute average. This is well over the 60-minute target for single moves and the 90-minute goal for double moves. Longer turn times combined with the Electronic Log Device (ELD) mandate and increased focus on Hours of Service (HOS) have reduced the numbers of turns a driver can complete daily.
"On most days, a driver can turn the pier no more than twice, where in the past, they would have been able to turn the pier three times and deliver to the customer," said CPG's Rob Movshin, Vice President, Northeast.
In addition, changes at the port in December resulted in the chassis pool being removed from the pier. This increased turn times because drivers no longer have the ability to swap a chassis in the pier based off of size, type, or pool depending on the customer or steamship line requirements.
"Now, a driver must physically leave the port to change a chassis where in the past they could remain in the pier and get that done as well as any other minor repairs required by DOT for roadworthiness," explained Movshin, "Minutes matter in a business that charges penalties for delays."
However, there is good news on the horizon. Ports America and the labor union went to arbitration on Jan. 25. Ports America won the hearing and Labor agreed to abide. Unfortunately, on Jan. 30, the local drivers decided to have an action at the pier and not work. Port management has addressed this and made some concessions to the port community.
Starting Feb. 2, Ports America held Saturday hours from 0700-1300. In addition, they increased terminal hours from 0600-1700 all the way to 1900 daily until further notice. They have also extended free time for demurrage as encouragement to the trucking community to move more containers and create more room on the terminal for subsequent vessels.
Chicago
The Chicago intermodal market has long been one of the busiest markets in the industry. All that activity brings with it many logistical challenges, and 2018 has marked one of the most difficult years for intermodal in Chicago thus far. The driver shortage, rail delays, and lack of equipment have contributed to congestion in the area and caused subsequent delays. A winter storm also hit Chicago at the beginning of February which caused several railroads to cancel or delay services.
The truck driver shortage has been an issue for many years now. Driving a truck is not as attractive as it used to be and drivers do not take home the same paychecks they could in the past. The ELD Mandate has caused major issues for drivers, and delays at the rail yards cause drivers' on duty hours to dwindle when they could be making deliveries.
"It is mainly affecting drivers that go into the rail more than once a day, so the local markets are seeing the biggest strain," said Paul Kennedy, CPG Chicago Terminal Manager. "A driver who is accustomed to making 4 turns (deliveries) a day is now being capped at two. The road drivers, who would do pre-pulls at the end of their days, are now stuck at one since they do not have the time to go back into the rails for a second or third," said Kennedy.
Lack of ability to move inside the rails can cause demurrage issues that then have to be absorbed by the customers and carriers. However, steamship lines and railroads are still continuously refusing to see the demurrage as an issue that they need to address themselves.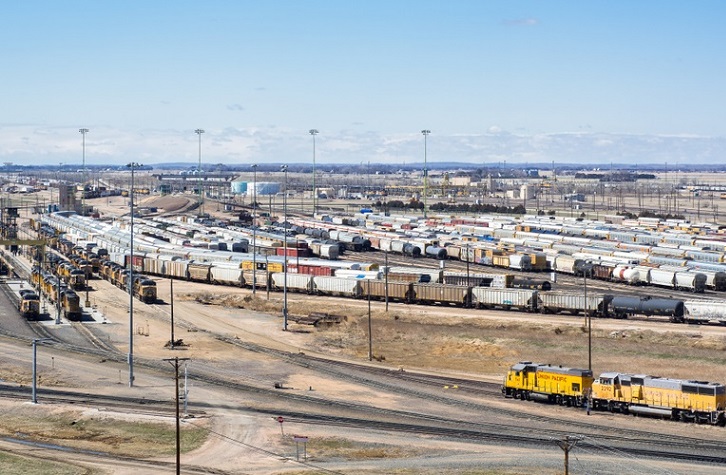 Most of the issues at the rails can be attributed to the massive amounts of freight coming in and a lack of space to store the loaded units.
"To make room, some rails have stacked containers higher and closer together than they ever have before," said Kennedy, "This makes it hard for drivers to find their containers and direct the crane operators where they should go."
Larger railroads are spending more time focusing on unloaded their trains than moving drivers in and out. While they have the storage space, they often do not have the equipment needed to mount the containers, leaving drivers to scuffle for chassis and get the containers mounted, a process which in and of itself causes greater delays to the drivers and more congested traffic at the rails.
The last major issue is crippled chassis pools. The three chassis pools in Chicago cannot handle the current freight volumes in the area. The pools are notorious for a lack of good order equipment which further shrinks their size and availability.
"We have had talks with one of the chassis pools who are bringing in chassis stacks at a time. The only issue is the stacks are only three chassis. They need massive influxes of units to provide the proper amount of chassis needed to cover all of the steamship lines," said Kennedy
The carriers with the largest chassis pools (whether leased or owned) seem to be able to move the most freight, however, customers have to be willing to pay the flips and split fees or it makes using a private chassis a loss.
These three issues that make up the main problems seen in Chicago do not even begin to address the intricacy of intermodal in Chicago. Every situation has multiple factors that affect the outcomes. Constantly changing return locations, pick up points for chassis, and traffic compound with the above factors to create difficult situations and decisions for dispatchers and drivers alike. When it comes down to it, the dispatchers use their knowledge to help the drivers out, but these drivers can only do so much.
So what is a shipper to do?
If you are importing cargo into the East Coast and struggling with the current congestion issues, know that you are not alone. Congestion effects everyone. When truckers get stuck waiting for several hours to be serviced, other jobs get pushed back which makes other BCOs experience delays, too.
In the mean time, it is important to do what you can to understand what demurrage and detention charges are and why they are charged. To learn more, check out our comprehensive guide here: Clarifying the Difference Between Demurrage, Detention, and Per Diem Fees
Remember: Sometimes delays are unavoidable. Always try to allocate extra transit time where possible and build in a cushion to avoid missed deadlines, especially during peak shipping season and during the winter months.
Also, always pick up containers as soon as possible and return them back to the designated terminal as quickly as you can. This helps keep equipment flowing through the system.
Lastly, be prepared to load or unload when the driver arrives at your facility. Keeping a driver waiting can cause you to incur driver detention fees and can cause the driver to miss other appointments, which creates a cascade effect throughout the supply chain.