COVID-19 Update: Transpacific Trade Blank Sailings & Ocean Freight Impacts
By:

Kellie Lynch

Date:

Apr 8, 2020 11:43:30 AM

Categories:
Blank sailings jump as COVID-19 continues its global spread
2020 certainly has not let up. Just as sailing schedules were beginning to return to business as usual after conditions in China had improved, COVID-19 spread across the globe, causing widespread shut downs and disruption.
As demand continues to fall due to stay-at-home orders and business closures, ocean carriers have announced a slew of service cancellations. In this article, we'll take a look at blank sailings on the Transpacific trade lanes, carrier reliability, and equipment availability.
These rapidly changing market conditions can make planning a challenge. We'll be sending out biweekly updates with the latest blank sailings data, so be sure to sign up for UWL Market Updates if you haven't yet already.
Blank Sailings On The Rise Again in Q2
Declining demand leads to deterioration of ocean liner services
In response to the global virus outbreak, carriers across all major alliances have announced a staggering number of blank sailings. Empty and near empty sailings due to lack of demand are causing ocean carriers to pull vessels out of rotation to avoid substantial operational losses. In just a matter of days, Q2 blank sailings shot up from two to 120 globally with more cancellations expected into mid-May and June if the situation does not improve.
Even though China's manufacturing is coming back online, many shippers are dealing with falling demand in the wake of the pandemic, causing them to cancel orders and bookings, stop containers from being loaded onto vessels, and search for storage at destination ports. The goal is to slow the supply chain as much as possible.
However, ocean shipments are still moving to and from the U.S. — from food to pharmaceuticals, demand for "essential" products is still very strong, and the carriers are doing what they can to keep these supply chains open.
Whether you're looking for flexible storage options or need to get critical supplies delivered fast, UWL is here to help.
Q2 Transpacific Trade Blank Sailings: By the Numbers (Updated 4/22)
Note: In this article, we are focused on cancelled transpacific sailings from East Asia to all USA and Canada destinations.
273
Announced So Far in 2020
123
Announced in Q2 2020 as of 4/22


| | | | | |
| --- | --- | --- | --- | --- |
| | THE Alliance | Ocean Alliance | 2M Alliance | Total |
| Q1 | 36 | 78 | 36 | 150 |
| Q2 | 30 | 42 | 51 | 123 |
| Total | 66 | 120 | 87 | 273 |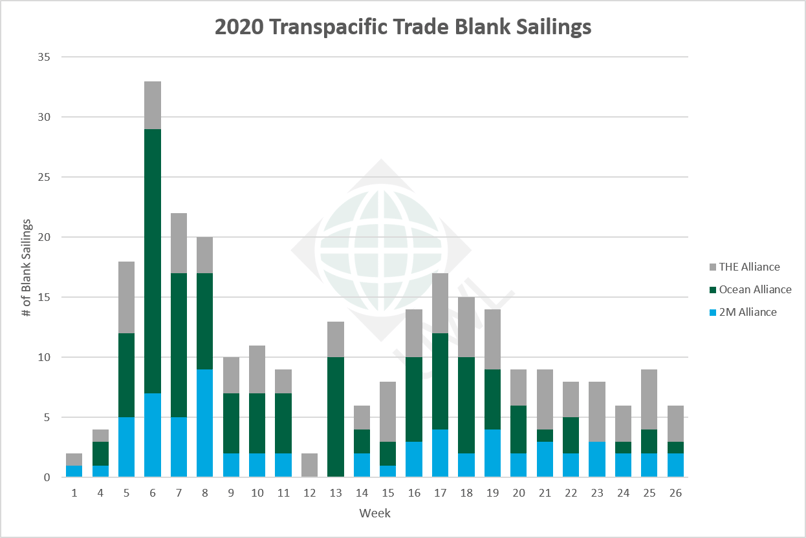 For a complete list of announced blank sailings and all the details, click the button below to download the report.
(Excel .XLSX 1,148 KB) | Updated on Apr 22, 2020
Ocean Carrier Reliability
Reliability for non-cancelled sailings plummets amid COVID-19 pandemic
Schedule reliability plunged to 65% in February, the lowest score recorded since 2011 according to data from Sea-Intelligence. We could see reliability further deteriorate in coming months once the impacts of reduced volumes and blanked sailings are realized.

"Based on the consultancy's data, Hamburg Süd was the most reliable top-15 carrier in February 2020 with schedule reliability of 74.7%, followed by Maersk Line with 73.0%, and Wan Hai with 72.2%. The following 9 carriers recorded February 2020 schedule reliability of 60%-70%.

There were only 3 carriers that had February 2020 schedule reliability of less than 60%, PIL with 59.2%, OOCL with 58.9%, and Yang Ming with the lowest February 2020 schedule reliability of 56.8%. ZIM was the only top-15 deep-sea carrier to record a month on month improvement in schedule reliability, of 2.0 percentage points," World Maritime News reported.
The average delay for late vessel arrivals rose to five days in February, according to FreightWaves, the highest since the U.S. West Coast labor dispute in 2015.
Our advice: Expect vessel delays due to port congestion as import containers pile up, transshipments become more frequent, and equipment becomes scarce.
Equipment Availability
Plan ahead to secure equipment in a tight market
Import containers are piling up at ports and warehouses, making storage space harder to find. This is causing a shortage of equipment throughout the country since many containers are tied up and being used as "mobile warehouses" as importers look to slow their supply chains.
We are continuing to see equipment shortages at all major inland points and we've seen at least one carrier report being out of equipment in Houston.
Check out this article for a detailed list of where to expect shortages and tips to secure equipment in a tight market.
On the bright side, UWL is uniquely positioned to obtain equipment for our customers through our unique relationship with one of the largest container yard (CY) operators east of the Rockies.
We have access to plenty of used containers available for sale or on-site storage (both wheeled and ground) in many markets - including Cincinnati, Cleveland, Columbus, Detroit, Indianapolis, Louisville, and St. Louis. We can also facilitate used container needs throughout the country, so if you need any assistance, please let us know.
So what is a shipper to do?
Here are three tips to help you get through these unprecedented times:
Plan ahead. We recommend booking well in advance for all trade lanes. Equipment is released on a first-come, first-served basis, so make sure to reserve your bookings at least 6-8 weeks in advance to secure your space. This will give carriers notice to plan for your shipments and you will have better luck obtaining containers in a tight market.


Use online tools when possible. Because operations at ports and ocean carriers are being impacted by COVID-19, most are not accepting paper documents, including hazardous declarations. Be sure to submit your documents electronically. Carriers are also asking shippers to make their payments electronically rather than by check, and to use their online tools whenever possible.


Forecast, forecast, forecast. The best way to get ahead of this situation is to proactively forecast the shipments you expect to move in coming weeks. If you're a UWL Customer, share your forecast with us and we'll share it with ocean carriers so they can plan ahead and work with their equipment managers to support your bookings. Check out this article to download our handy forecasting planner.

We will continue to keep you informed of the latest coronavirus developments. Should you have any questions, please contact your local UWL customer service representative.
Additional Resources
For more information, check out some of our other resources below:
Global COVID-19 Cases Map
Credit: Johns Hopkins Center for Systems Science and Engineering