AAFA Industry Chat Session with UWL President Duncan Wright
By:

UWL

Date:

Aug 29, 2022 1:49:05 PM

Categories:
Innovation Driving Specialized Niche Services for Apparel & Footwear Supply Chains
Apparel and footwear supply chains have never been more complex, and the industry's "perfect storm" of challenges has created an unprecedented need for innovative solutions like never before.
The American Apparel and Footwear Association's Stephen Lamar and Duncan Wright, President of UWL, recently had a conversation about these issues and how innovation is fostering the growth of specialized niche solutions providing game-changing alternatives for today's apparel and footwear supply chains.


Watch now: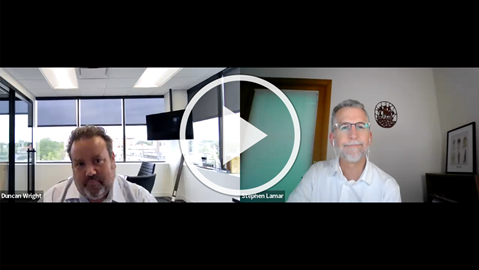 During the session, Mr. Wright highlighted the benefits of UWL's new Sun Chief express ocean service and how it was specifically designed to help shippers avoid the ongoing issues at Los Angeles and Long Beach. Their chat yielded the following informative and relevant insights:
AAFA: Shippers continue to face numerous challenges as a result of port congestion, trucker protests, labor disputes, and the possibility of a recession. Are there any silver linings out there?
DW: What you're seeing is simply a continuation of the supply chain challenges that many of us have faced over the course of our careers. Indeed, we are currently dealing with an infrastructure challenge, particularly in the U.S., as freight continues to grow and exacerbate some of the other inefficiencies and issues that resulted from the post-COVID crisis. And now we have uncertainty with China, as the country continues to implement lockdowns and shut down manufacturing.
Given this backdrop, it's difficult to see any immediate silver linings. However, it has bolstered innovative thinking across the industry. In fact, in response to these ongoing issues, UWL has recently contracted with Swire Shipping to launch a new direct Vietnam-Seattle express ocean service solution.
AAFA: Innovation seems to be a game-changer. So, what factors contributed to UWL's new express ocean service?
DW: To begin, at UWL, we are continually seeking new approaches to better serve our customers. Our dedication to excellence propels us every day. For this new service, a couple of motivating factors were in place to make it possible.
Our customers required capacity. When the COVID crisis hit, there were numerous blank sailings. As a result, we had to find a way to create capacity and move cargo.


Using our own containers reduces risk. As a top 15 NVOCC in the United States, UWL has a dedicated, closed-loop equipment pool with 6,000+ containers to mitigate any potential risk for our Sun Chief customers.


Leveraging our long-standing relationship with Swire Shipping, one of the world's top carriers in terms of reliability and timely delivery, they've been in the industry for 200 years. This service represents a true collaboration between two industry pioneers, Swire and UWL, to create something entirely new and innovative in the market today.
AAFA: What advantage does this new service offer to the apparel and footwear supply chain?
DW: The direct express ocean service is both extremely fast and reliable. Our eco vessels travel from port-to-port providing the shortest transit times from Vietnam to the United States in today's market — 17 days from Haiphong and 19 days from Ho Chi Minh City to Seattle's T30 terminal.
Furthermore, our dedicated feeder service connects Phnom Penh and Ho Chi Minh City for efficient transit to the Pacific Northwest in 25 days – the fastest transit time from Cambodia to the U.S. West Coast. As a result, this provides our customers with a cost-effective and time-saving alternative to overland cross-border transit in the region.
UWL guarantees space for our shippers through a block space agreement. With no blank sailings, our schedules are published nine months in advance, with two sailings per month. Swire Shipping guarantees the freight with 100% transit time performance, and UWL guarantees fixed rates, fixed space, and preset equipment allocations per sailing, or your money back.
Additionally, we're in for long term. In addition to purchasing containers for the service, UWL has made significant investments in the Seattle market, including a 300,000 sq. ft. warehouse and distribution facility with transload space specifically for this service. In fact, many customers and AAFA members are using our service as a gateway into the U.S. It also includes expedited berthing at Seattle's T30 terminal, with 24-36 hours from berth to discharge. Therefore, any freight arriving on the West Coast can be routed to T30 and then swiftly distributed throughout the country.



AAFA: Speed is certainly something everyone's looking for. So how is this different from other existing services?
DW: Looking at the top global carriers, you will notice that they have these complex relationships with VSAs, alliances, massive megaships visiting multiple ports, blank sailings — this is necessary in order for them to fully utilize their assets. At UWL, we don't have any of that. We're small and we're nimble. In fact, there is a rising need for specialized niche solutions as shipping companies become larger and infrastructure becomes more challenging. For example, UWL's Sun Chief express ocean service employs smaller, more agile ships to more swiftly and reliably meet the supply chain demands of the apparel and footwear industries.
AAFA: Finally, where can someone go to learn more about UWL and your express ocean service program, and who can they contact?
The best way to learn more about new direct express ocean service is by visiting our website or call us at 440-356-5353, which will connect callers directly to a UWL team member. You can also connect with Duncan on LinkedIn.
As the conversation between Mr. Lamar and Mr. Wright drew to a close, both industry leaders agreed they could have talked endlessly about the myriad of shipping and logistics challenges facing the apparel and footwear industry supply chain. But the upside is that every challenge is creating an opportunity for change and improvement—which not only benefits the apparel and footwear industry, but advances the entire global supply chain.