🛳️ Transpacific Ocean Freight Market Update | Week 5
By:

Kellie Lynch

Date:

Feb 8, 2021 10:30:00 AM

Categories:
This week's latest ocean freight news and updates.
Asia-Transpacific Trade Updates
In less than two weeks, origin offices in Asia will go offline as workers head home for Chinese New Year (CNY), which runs from Feb. 11 - Feb. 26 this year.
With the COVID pandemic raging on and new outbreaks springing up, 2021's CNY is a bit different from the traditional CNY celebration. Last year, CNY was extended for a month or more due to COVID.
This year, there was worry that parts of China would go on lockdown due to new COVID outbreaks, so some factory workers left early to get home to their families. Expect isolated incidents where factories may not have enough workers left to complete orders on time, leading to cancelled bookings.
Some factories, however, will remain open during CNY, which is not typical of the season. "In Shenzhen, the government has requested workers to stay and not travel, providing extra pay to give up their trip home," shared WWL's Jon Monroe. Factories are also working through a backlog of orders. The table below shows expected factory status by major origin ports.
Factory Update for Chinese New Year 2021
| | |
| --- | --- |
| Port | Factory Status |
| Dalian & Tianjin | Closing Factories early due to COVID outbreaks in N. China |
| Qingdao | More factories will stay open for the Lunar New Year |
| Shanghai & Ningbo | Possibly factories working/not working 50/50. Some factories stay open while others closed early this week and last week. 60% of truck drivers have left for their home town earlier this week. |
| Xiamen & Shenzhen | Most factories will stay open. |
Source: Worldwide Logistics, Jon Monroe, COVID Supply Chain Update 2021: 2-3-2021.

The CNY period normally lasts two to three weeks. However in 2021, when workers arrive back, they will need to go through a 14 day quarantine before returning to work.
"The new government COVID regulations require anyone who travels outside the town where they are located, be quarantined for two weeks," explained Monroe. "For migrant workers, this means leaving early, quarantining for two weeks in their home town, spending one week for the holiday, and being quarantined another two weeks upon their return."
We may see factory production coming back online more slowly than previous years as a result.
Limited trucking power at origin
We may have isolated incidents where it is hard to procure trucking at origin due to COVID. Many truckers also went home early for the holiday, so securing capacity will become more challenging the further we get into February. Bookings are sometimes cancelled because agents are unable to find a trucker at origin to move the freight.
Congestion is also an issue at some ports in Asia. LinkedIn User Bin Champion Chen shared the below images of truckers trying return full to the Yantian port.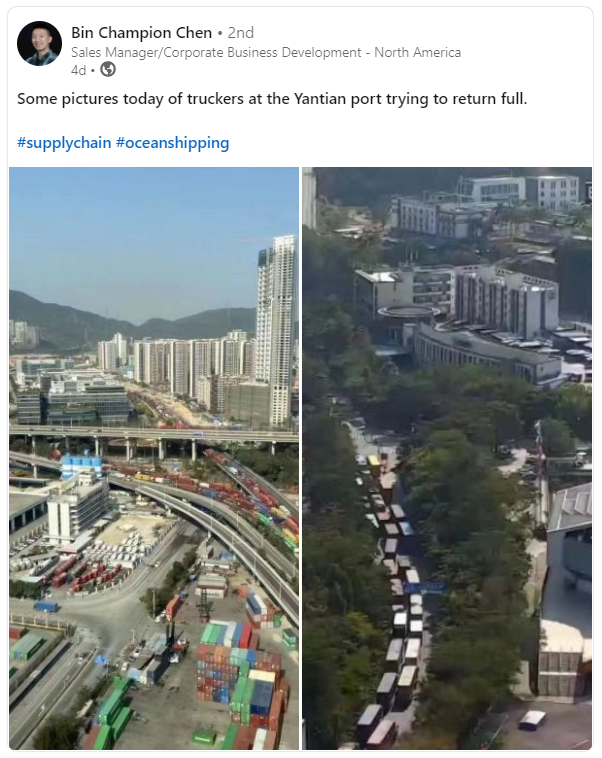 At times, COVID-related restrictions can cause delays of 30 days or more. We have seen isolated incidents out of Wuhan and Nantong where trucking was unavailable to get the freight to Shanghai. An alternative option is to ship the cargo there instead, but this comes with 30 day delay and storage charges.
We're working diligently with origin on booking and re-booking cargo, and working to secure the space and equipment to support your business and keep your freight moving.
Can you get space without paying a premium now?
Yes, in the current environment, it is sometimes possible to get vessel space without paying a premium, but it is isolated per agent and origin office. Premium is still the safest bet to get your cargo on a ship.
"Carriers have limited the amount of space that can go FAK (freight all kinds), so sometimes they'll have availability, but a vast majority of bookings are being pushed to premium right now due to high demand and equipment availability issues," explained Carston Cash, UWL Import Pricing Supervisor.
A note about Premium bookings: Remember, premium bookings have a cancellation penalty, so only cancel this type of booking if you absolutely have to. The cancellation fee is explained up front in the booking terms. This is an origin fee, billed by agents in China to the shipper overseas. It is between the shipper, agent, and ocean carrier. On rare occasions, carriers may choose to waive the cancellation fee in the event of a government lockdown, but the shipper who placed the booking is ultimately responsible for the fee when a premium booking is cancelled for any reason. Be sure your suppliers and vendors are aware of these fees so that no one is taken by surprise. Consider this before making a premium booking where there is a potential risk that it may get canceled, and note the amount of the penalty so that you are prepared in the event that it is cancelled.
The equipment shortage continues, and carriers are clamping down on free time
Since the pandemic first hit, the shipping industry has been dealing with an equipment imbalance. A shortage of equipment at origin even caused some ships to sail with empty slots last year, with no containers available to fill them.
"Given how long this equipment shortage has gone on, we fully expect carriers to push back and clamp down on free time into the U.S.," said Martin Karczewski, UWL VP, 3PL Services. "So if you previously had 10, 14 days of free time in the past, it's going to be a real struggle and we're not sure where it's going to land at this point, but I highly doubt things will exist as they have existed in the past."
We expect carriers to lessen the amount of free time they give in 2021 to keep equipment flowing, especially with how big a challenge managing equipment has been in the last year.
Blank sailings by the numbers
There were several blank sailings announced in the run up to CNY, but extra loaders have also been added in.
"Carriers have really maxed out their available capacity and they have everything they can online right now," explains Karczewski,
The "new" blank sailings are actually due to delays and port congestion in LA/LB. "There are so many ships waiting to berth that they essentially cancelled the sailings because they're so far behind schedule," he said.


| | | | | |
| --- | --- | --- | --- | --- |
| | THE Alliance | Ocean Alliance | 2M Alliance | Grand Total |
| Q1 | 21 | 9 | 2 | 32 |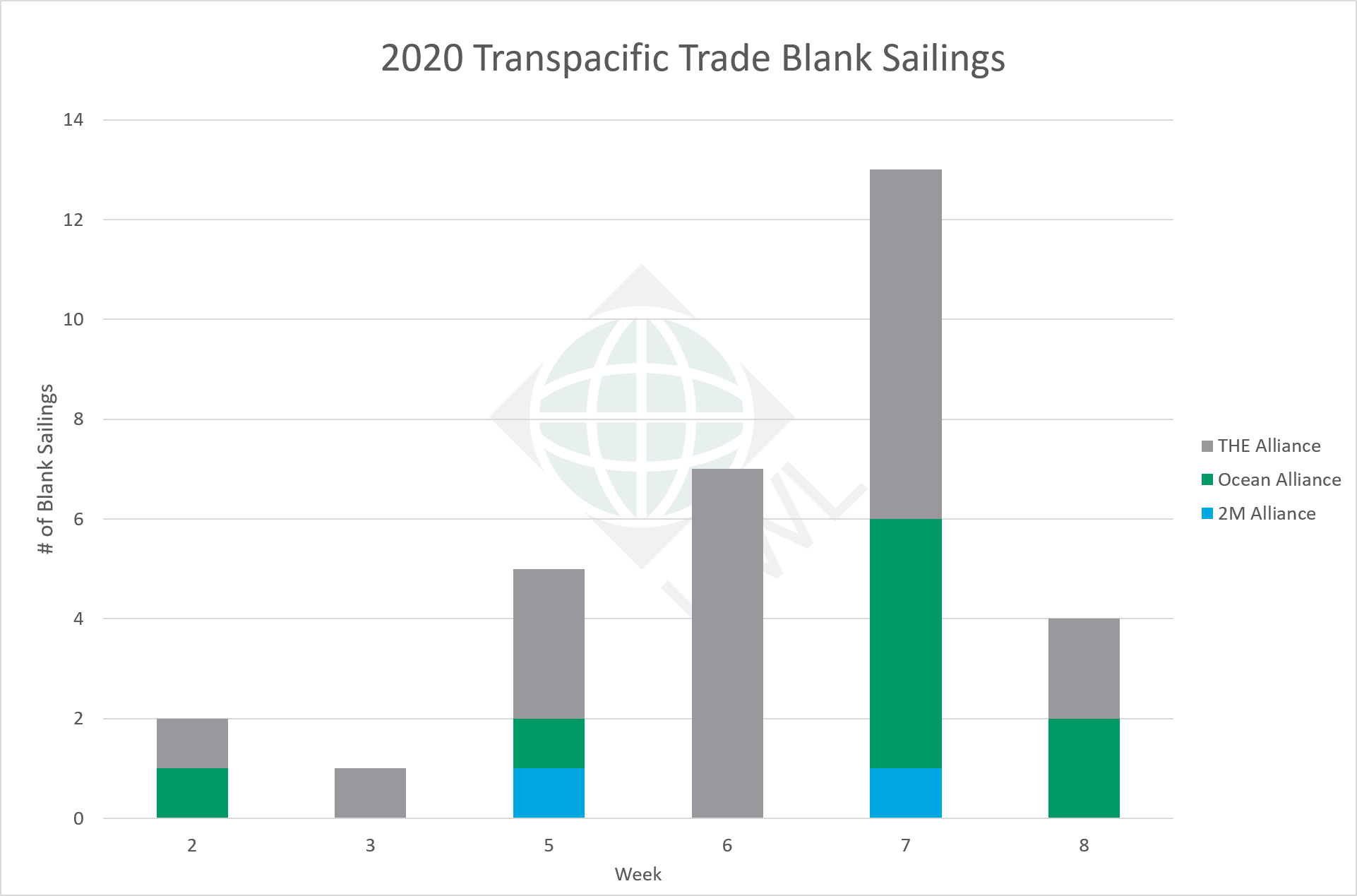 Get the latest blank sailings list, extra loaders list, and equipment availability by Asia origin in this handy report. Updated 2/3/2021. 1.5 MB .XLXS
Port congestion causing delays at LA/LB
Vessels are backed up waiting to berth outside of the Ports of Los Angeles and Long Beach.

"A record 38 container ships are awaiting berth space—36 at anchor and two more that were directed to wait in designated areas at sea until anchorages are available, the Marine Exchange of Southern California said in a note late Thursday (Jan. 28). It's the first time since 2004 that so-called drift zones have been used to manage traffic into the neighboring ports," Brendan Murray of AJOT reported.
The back up is causing delays between one to four weeks for some shipments.
Winter weather causing trucking challenges
A big snowstorm slammed the Northeast region, dumping between 18-24" inches of snow on the ports of New York and New Jersey. It began on Monday, Feb. 1, and was one of the worst storms to hit the region in five years. Expect delays and drayage issues in the region as a result.
We've seen trucking delays in Chicago due to a winter storm that dropped 12+ inches of snow there as well.
Highlighting the need for flexible, multi-port supply chain solutions
Unprecedented congestion and delays like we're seeing in LA/LB have illuminated the need for flexible supply chain solutions. When major ports are backed up, shippers need to have alternative routing options.
"In the future, it is imperative that you have flexible and multiple port solutions and distribution models, versus a one or two port/DC model," UWL President Duncan Wright explained.
We are proactively adding new ocean and distribution services into the Gulf, NY, SE ports, and Seattle/Tacoma to supplement existing flows through LA/LB and NY/NJ.
"We don't see the congestion getting any better in the near future. Multi-port and flexibility will be the new normal," said Wright.
---
📅 Mark your calendars for Global Supply Chain Week (2/22 - 3/3) which will be streaming on FreightWaves TV. Our very own Duncan Wright, president, UWL, will be speaking at this virtual event so don't miss it! Register for FREE today.
---
Lead Time Chart
It's important to be proactive in the current conditions. The chart below provides some updated timing guidance for planning your shipping activities this year compared to pre-COVID times.
Expected Lead Time (Cargo Ready through delivered in DC)
| | | |
| --- | --- | --- |
| Activity | Time Needed (2019 Activity) | Time Needed (2021 Activity) |
| Booking | 2 weeks | 4 weeks |
| Safety Time (allow for rolling) | 0 week | 1 week |
| Transit | 2 weeks | 2 weeks |
| Waiting to Berth (S. Cal) | 0 weeks | 1 week |
| On Terminal | 2 to 4 days | 4 days |
| Delivery | 1 day | 1 day |
| Total Time | 4 to 5 weeks | 8 to 9 Weeks |
Note: Add 4+ weeks for LA/LB Ports.
Source: Worldwide Logistics, Jon Monroe, COVID Supply Chain Update 2021: 2-3-2021.
Where do we anticipate the market is heading in 2021-22?
We should have a much better idea of where the market will be heading in terms of rates and how the carriers will want to negotiate by March 1, 2021.
Stay tuned for our next article which will be all about the 2021-2022 Contract Season and what you need to know.
Dig Deeper