🛳️ UWL Ocean Freight Market Update | Week 11
By:

Kellie Lynch

Date:

Mar 22, 2021 8:00:00 AM

Categories:
This week's latest ocean freight news and updates.
Asia-Transpacific Trade Updates
It's March and that means Bid Season is underway! What should transpacific importers prepare for as they enter into ocean freight negotiations this year, and how will today's market conditions influence those discussions? Find out in our latest Market Update.
2021's Theme: Bring the Volume
Ocean freight bid season typically runs from March through April, with the new contracts beginning on May 1st. This year, we anticipate that negotiations will wrap up a bit earlier than usual — both BCOs and our agents are expecting space to go quickly. There is only so much, and once it's gone, it's gone.
What is the best way to ensure you can get your hands on some of that highly coveted capacity at a fair rate? According to UWL Import Pricing Supervisor Carston Cash, you have to bring the volume.
"There has to be enough volume on a given port pair, which is typically 300 TEU annually, with consistent weekly volumes," says Cash.
Carriers prefer to see consistent, weekly bookings because predictable volumes are easier to plan for and manage. Accurate volume forecasts help the carriers proactively plan loads and reposition equipment. Compare this to periods with no activity and then a sudden, sporadic spike in volume — handling that is much more challenging from a carrier-perspective.
"Of course, there will be occasional slow periods which is understandable, but what they're really looking for is that continuous, dependable business." he said.
"Be cognizant of your weekly allocation over the 52 weeks and make sure to show up with volume," Cash explains. "We expect this market will be challenging through November and the winter holidays. What happens after that is still up in the air."
Let's take a look at what's going on in the market now and what to consider as you look to negotiate contracts this spring.
Considerations for 2021 Ocean Freight RFQ Season
Here are some of your biggest questions about the market going into contract season, answered. If you have a question that we didn't cover here, shoot us an email at marketing@shipuwl.com or contact your UWL rep and we'll help you.
What are ocean freight rates currently compared to last year? With transpacific rates to the West Coast hovering between $3700 - $4065 and rates to the East Coast sitting around $4520 - $5721, the cost is nearly 250% more than the same time last year. This is heavily influencing contract negotiations in 2021. "The carriers have all the power," Jon Monroe, one of our agents at WWL told The Loadstar.
There was no GRI on 3/15, so rates are holding steady. However, premium services are still being pushed hard and even Freight All Kinds (FAK) shipments are being pushed to premium. We are seeing some inland point interchange (IPI) cost increases due to congestion issues, and some carriers are limiting their inland bookings out of California as a result.
"What a situation," said Mr. Monroe. "Normally this time of the year, carriers begin to blank sailings to keep space tight to keep rates up, but this year there is no need. Vessels are waiting for berths in Savannah, southern California, Oakland and Vancouver. In any given day this week, we have had 700,000 TEU off the shores of US ports waiting to be offloaded."
And the demand keeps coming.
What should we expect in terms of demand for 2021? While we can never be 100% certain what will happen in the future, and demand will vary by product/industry, the National Retail Federation (NRF)'s Global Port Tracker forecasts retail imports for the first half of 2021 at 11.7 million TEU, up 23.3% from the same period in 2020.
How long will it last? Amit Mehrotra, head transportation analyst at Deutsche bank, predicts the bull run for imports is nowhere near over.
"Now, if you look at inventory dollars per store, they're actually up year-over-year. What has changed is that sell-through rates are way faster. Inventories are flying off the shelves faster than companies can replenish them. That is why the inventory restocking cycle is still in the early innings," said Mehrotra.
Read the full interview in Greg Miller's piece, Deutsche Bank on import bonanza: 'You ain't seen nothing yet' on FreightWaves.
What about free time? After all of the equipment issues we've faced in 2020, free time will definitely be under scrutiny this year. As we shared in our last article, if an importer traditionally had 10-14 days of available free time, we're anticipating carriers to clamp down on that, dropping to 7 calendar days, possibly 10 free days as a best-case scenario.
Carriers need to keep their equipment moving, especially given the intense demand they're seeing right now, and they don't want their boxes tied up for weeks waiting to be unloaded. They need to get those empties back into rotation and cutting down on allotted free days is one way to do that.
Will we still see equipment availability issues in 2021? Unfortunately, yes. We had a brief reprieve over the CNY holiday. Now that factories are ramping back up, we're running into same equipment availability issues we were seeing last year.
Equipment is a big problem across the board in Southeast Asia, and especially in Vietnam.
Make sure to forecast your future volumes and place your bookings early so that you can get equipment where and when you need it. See the equipment availability chart on our Blank Sailings report below to view current container availability by origin.

How will fuel/bunker cost factor into the market this year? A year ago, everyone was worried about IMO 2020 - a new sulfur regulation that many feared would cause fuel prices to jump drastically. But then COVID-19 happened and the cost of marine fuel actually dropped.
Now, there is a renewed focus on sustainability, and market factors are causing the price of Very Low Sulfur Fuel Oil (VLSFO) to increase. In fact, we saw a change of +$200 per metric ton from Oct. 2020 to now.
You can see the trend of rising fuel costs in the chart below from ShipAndBunker.com, which looks at marine fuel prices in LA/LB over time. If this trend continues, we expect to see freight rates rise in 2021 due in part to the rising cost of fuels.
Bunker Prices: VLSFO in Los Angeles / Long Beach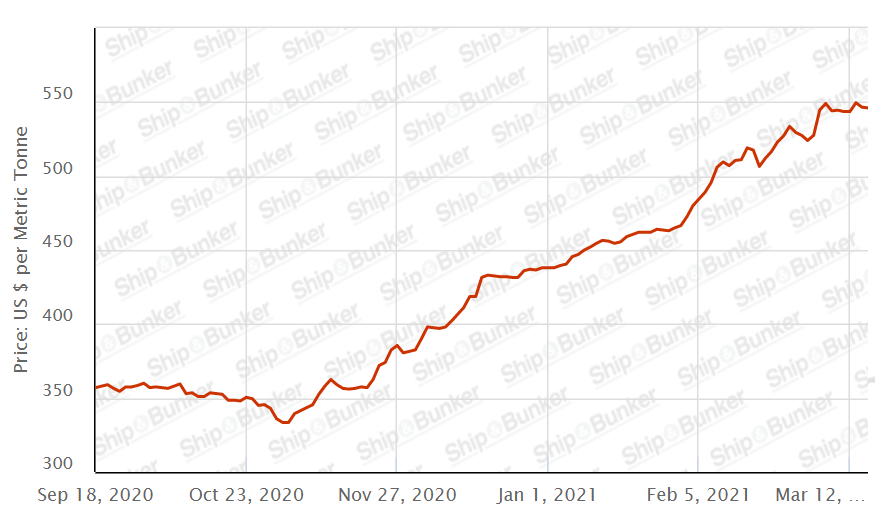 Source: ShipandBunker.com
Tips to navigate 2021 negotiations
As you head into contract negotiations this year, consider the following:
Try to come up with the most accurate volume forecast you can. Use tools like WorldScope to visualize your volumes and equipment usage.


If you're experiencing growth right now, use that volume to your advantage to be aggressive in your negotiations with carriers.


Negotiate tiered rates - a lower fixed rate with an increase during peak.


Demand clarity and transparency. Just like in any relationship, be upfront about your expectations and commitment to each carrier and ask them to do the same for you.


Space will go fast, and once it is gone, it's gone - so don't wait until the last minute. Demand is expected to stay strong this year, so carriers are at an advantage.


Always have a Plan B. Make sure to line up a backup to your main carrier (or carriers) and consider alternate ports. This will help you adjust to changing market conditions, like when capacity is tight or congestion is impacting port throughput in certain areas.


Have you thought about your warehousing and distribution strategy lately? Consider the following:



Do you have a "four corners" strategy? If not, you should highly consider implementing one. When congestion or other issues strike, it can be risky to have all your business flowing through just one port.


What is your current warehouse throughput? What can you do to speed it up? With pressure on free time this year, detention charges could become a problem for slower-moving facilities.


Have you considered transloading and cross-docking? These services can often speed up your shipping times and get your products to inland customers faster than traditional warehousing.



Build extra lead time into your import cycle (see chart below).


Expected Lead Time (Cargo Ready through delivered in DC)
| | | |
| --- | --- | --- |
| Activity | Time Needed (2019 Activity) | Time Needed (2021 Activity) |
| Booking | 2 weeks | 4 weeks |
| Safety Time (allow for rolling) | 0 week | 1 week |
| Transit | 2 weeks | 2 weeks |
| Waiting to Berth (S. Cal) | 0 weeks | 1 week |
| On Terminal | 2 to 4 days | 4 days |
| Delivery | 1 day | 1 day |
| Total Time | 4 to 5 weeks | 8 to 9 Weeks |

Note: Add 4+ weeks for LA/LB Ports.
Source: Worldwide Logistics, Jon Monroe, COVID Supply Chain Update 2021: 3-17-2021.
Other Notable Market Updates
Blank sailings by the numbers
There have been 14 blank sailings announced so far from Week 11 to Week 17.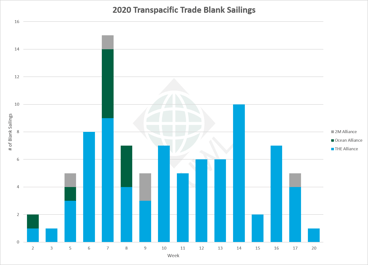 | | | | | |
| --- | --- | --- | --- | --- |
| | 2M Alliance | Ocean Alliance | THE Alliance | Grand Total |
| Q1 | 4 | 10 | 53 | 67 |
| Q2 | 1 | 0 | 24 | 25 |
| Total | 5 | 10 | 77 | 92 |
Get the latest blank sailings list, extra loaders list, and equipment availability by Asia origin in this handy report. Updated 4/13/2021. 1.5 MB .XLXS
Port congestion causes delays at major US Ports
Due to continued heavy congestion in Los Angeles / Long Beach, we're seeing a lot of cargo be diverted to use PNW/USEC/CANADA routing to inland destinations. The space to PNW and USEC is currently very tight, and if the situation in LA/LB does not improve, it will only get tighter. Now, let's look at conditions at three major gateways.
Los Angeles / Long Beach - According to a recent update from carrier Hapag Lloyd, as of Friday, March 12th, there were 24 container vessels awaiting berths in LA/LB. A spike in import volumes and limited labor / split shifts due to COVID-19 are the primary drivers of the severe congestion.
"The demand for available labor affects all terminals, turnaround time for truckers, inter terminal transfers, the number of daily appointments available for gate transactions and generates delays in vessels operations," the update said.
Changes of destination (COD's) and container "dig outs" are being restricted due to limited terminal space. "Customers are urged to continue to expedite the pickup of import containers and inform any COD requests at least four days before the start of vessel operations," according to Hapag's update.
Terminal congestion and COVID-19 related labor shortages on the trucking side are also limiting trucking power and contributing to delays for all door and ramp intermodal moves. For rail out of California, capacity constraints and railcar shortages are causing delays of more than a week to some inland ramps.
New York / New Jersey - Congestion at the Ports of NY/NJ doesn't seem to be letting up. Import dwell times are higher than normal, and there are even reports of containers sitting, waiting to get on the rail since February with no luck. The increased import volumes are causing long truck lines and traffic jams on port roads. Truckers are having difficulty getting chassis, which is decreasing their productivity, leading to longer turn times and fewer dual transactions. The unexpected closure of a major storage yard near the port also caused issues for truckers this month, making it difficult for them to return empty containers. Saturday gates and extended hours at some facilities have been implemented to help reduce wait times and improve congestion.

Savannah - As of March 12th, there were 20 ships at anchor outside of Savannah, according to Hapag's update. These ships could be stuck waiting for 4-5 days to berth. What has caused the delays? An intense fog in earlier weeks caused periods of river closures. The weather has improved since and the terminal is now working through the backlog, with the primary focus of getting empty containers off the port.
Updates on recent containerships that lost cargo overboard
If you have questions related to either of the below vessels, please contact your UWL Representative for more information.
ONE APUS has successfully departed Kobe on March 16, 2021, 1300 hrs. Her estimated date to arrive at Long Beach remains to be on or around March 30, 2021, without guarantee and subject to change (Source: ONE Customer Advisory).


As a result of the harsh weather met on her voyage, the Maersk Eindhoven 103N will arrive into LA on March 20. We anticipate the possibility of additional containers that may have incurred damage but did not require cross-stuffing at the berthing in Yokohama. We will know further once discharge operations in Los Angeles commence. (Source: Maersk Customer Advisory).
Export News
Port of Virginia firms receiving dates for export containers
In March, the Port of Virginia put in place firm exporter receiving dates (ERDs) for containers for all outbound vessels, JOC.com reported.
"When delays occur, terminal operators will push back ERDs — the earliest available date and time an exporter can drop off its container," explained JOC's Ari Ashe. "The official ERD is important because exporters will book drayage and chassis accordingly. When a terminal operator pushes back the ERD, exporters pay storage and chassis rental fees as their container idles, often in a drayman's drop lot."
Floating ERDs have been one of exporters' top concerns, and this move by POV should bring them more schedule certainty as well as some cost savings. "With a fixed ERD, exporters in Virginia will no longer be exposed to those charges," Ashe reported. ERDs will begin seven days before the vessel is scheduled to arrive, with a notification 48 hours before the receiving window opens, the Virginia Port Authority said.


Congress calls on FMC to push carriers on issue of empties vs. exports
111 members of Congress sent a letter to the FMC urging them to take action on the issue of carriers choosing to load empty containers instead of American exports. The letter read:
"Over the past year, American producers, exporters and entire economic sectors have grappled with widespread delays, bottlenecks and increasing fees at our ports.

These challenges are exacerbated by reports that VOCCs [vessel operating common carriers] are delivering shipments to US ports and then electing to leave without refilling empty containers with American goods for export.

Such activity constricts entire supply chains and propels trade to move only in an inbound direction. These conditions are unsustainable for exporters, put significant strain on the U.S. economy and simply unacceptable."
We'll continue to monitor this story and will report should the FMC take action.
Latin American Ocean Freight: Capacity is tight
Capacity to and from Brazil is tight on several key routes:
There are problems with space from Europe to Brazil, bookings are available only for the end of April and filling up fast.

Space is also tight from Brazil to USA, be sure to submit bookings three or four weeks in advance.
We have a lot of routes from Brazil to USA via Cartagena, and Cartagena is congested, so we are seeing some problems with delays in these lanes.
Trade & Compliance
Global Trade Accountability Act bill reintroduced
In March, Senator Mike Lee (R-Utah) reintroduced a bill called the "Global Trade Accountability Act" which would require Congressional approval for unilateral actions enacted by the president to increase trade barriers. Learn more about the bill and why it was introduced here or read the full text of the bill here.
Importers may need to re-evaluate First Sale Customs Programs
"First Sale" Customs Programs may be under scrutiny after the U.S. Court of International Trade (CIT) issued a decision in Meyer Corp., U.S. v. United States. The decision questions the continued viability of first sale for suppliers located in non-market economies, US Trade Monitor reported. Learn more about this important ruling and its potential ramifications here.
Dig Deeper